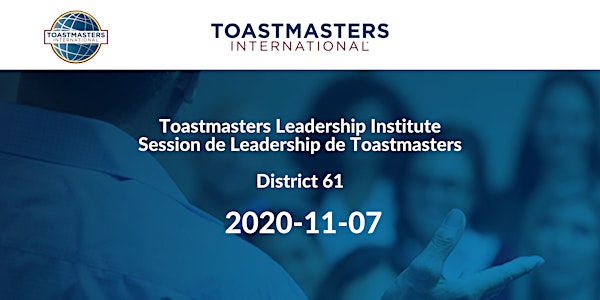 Toastmasters Leadership Institute/Session de leadership de Toastmasters
District 61 proudly offers Online Club Officer Training / Le District 61 offre fièrement la formation en ligne des officiels de club
About this event
Club Officers Training is commonly referred to as the Toastmaster Leadership Institute (TLI), during which officers are trained on the processes, procedures, information, and lessons learned from other members. Training enables more organized clubs, with satisfied members, including hosting exciting club meetings, and achieving the desired Distinguished Club award.
Logistics:
Date: 2020-11-07
Time: 07:00 - 13:30
07:00 Doors open
07:30 Early bird session
08:45 Plenary and keynote
Location: ONLINE

Meeting link will be sent in the confirmation email
Purpose:
Develop your club officer leadership skills
Discuss questions, issues, and concerns club officers encounter
Share best practices with fellow club officers
Agenda:
Select the officer training time slot that works best for you (one training session for each officer role you hold)
Attend the plenary for key district messages and a keynote on Best Practices for Online Meetings
Attend a workshop built around enhancing club quality
Workshops:
Pathways: A pragmatic view: One click at a time
This workshop is designed for New to Level 2 users. This interactive, hands-on workshop will walk you through the steps to feel more comfortable and confident in Pathways. This workshop has the following prerequisites:
1. Have your Toastmasters.org login details at hand
2. Enrol in Pathways and select a path
3. Attend on a computer, not through dial-in
Virtual Club Culture
This workshop will help you transition your club meeting into a fun, exciting filled event where members feel valued and encouraged to participate!
Guest to Member
This workshop will give you the tools and confidence to transition visiting guests to active members. You will practices your inspiration and persuasion skills, understand and identify guests needs and develop skills on how to tie the value of Toastmasters into their needs.
Creating a Sensational Club
Are you looking to transition your great club to a sensational club? Identify key elements that make a sensational club and how to use the Distinguished Club Program to monitor and track your success.
Le district 61 est fier d'offrir la formation des officiers de club, en ligne
La formation des officiers de club est communément appelée « Session de leadership de Toastmasters » (SLT). Pendant cet événement, les officiers sont formés selon des processus, des procédures, de l'information et des leçons apprises des autres membres. La formation favorise une meilleure organisation des clubs, la satisfaction des membres incluant la tenue de réunions agréables et excitantes, de même que l'accomplissement du prix convoité de "club remarquable".
Logistique:
Date: 2020-11-07
Heure: 07:00 à 13:30
07:00 Ouvrir la porte
07:30 Session lève tôt
08:45 La plénière et conférencier
Endroit : en ligne

Le lien de la réunion sera envoyé dans l'e-mail de confirmation
Objectifs:
Développer vos compétences d'officier de club
Discuter de questions, de problèmes, et de préoccupations rencontrés par les officiers
Partager les meilleures pratiques avec les collègues officiers de club
Ordre du jour:
Sélectionnez l'horaire pour la formation d'officier qui vous convient le mieux (une session de formation par rôle d'officier que vous avez)
Assistez à la plénière afin d'obtenir les messages clé du district ainsi que ''la meilleure pratique pour les réunions en ligne'', donnée par un conférencier
Assistez à un atelier conçu pour l'amélioration de la qualité du club
Atelier:
Pathways: une vision pragmatique: un clic à la fois
Cet atelier est conçue pour les nouveaux usagers du niveau 2. Cet atelier interactif et pratique vous aidera, étape par étape, à vous sentir plus confortable et plus confiant dans Pathways. Voici les prérequis pour cet atelier:
1. Ayez en main les détails pour entrer dans Toastmasters.org
2. Enrôlez-vous dans Pathways et sélectionner un parcours
3. Assistez en vous servant d'un ordinateur seulement
Culture du club virtuel
Cet atelier vous aidera à transformer votre réunion de club en un événement plaisant débordant de choses motivantes dans lequel les membres se sentent valorisés et encouragés à participer!
Invité à membre
Cet atelier vous donnera les outils et la confiance nécessaires pendant la transition de visiteurs invités en membres actifs. Vous pratiquerez vos compétences d'inspiration et de persuasion, vous identifierez et comprendrez aussi les besoins des visiteurs, et finalement vous développerez des compétences dans la liaison de la valeur de Toastmasters à leurs besoins.
Créer un club sensationnel
Cherchez-vous à transformer votre club génial en club sensationnel? Identifiez les éléments clés qui créent un club sensationnel et la façon d'utiliser le program du club distingué pour la supervision et le suivi de votre succès.