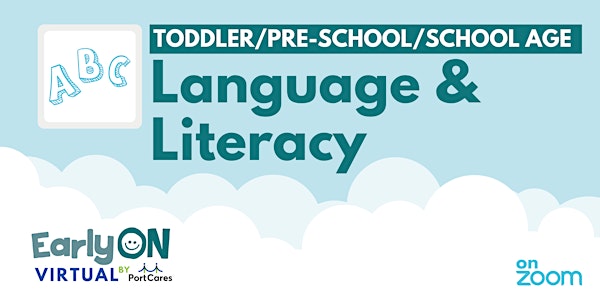 Toddler / Pre-School Language & Literacy - Zoology: Cows
Each week features different fun activities that supports language & literacy development for ages 1-6.
About this event
About This Session: Zoology - Cows
Come learn about Cows as we make a fun and educational craft along learning about them! Children will enhance their knowledge of an animal of the week as well as the world around us. Fine motor skills will be utilized while making a creative. Self-esteem will grow when kiddos share their experiences with friends and family. Every week the virtual team will be on zoom educating others about different types of animals, read a book and create an animal keepsake!
Materials Needed:
- White construction paper
- Black construction paper
- Brown construction paper
- Yellow construction paper
- Googly eyes
- Glue
- Markers
- Scissors
About our Language & Literacy Sessions
Building language & literacy skills from a young age is imperative! We make learning FUN buy getting creative, interactive and silly from the comfort of your home! EarlyON staff provide an interactive session for you and your toddler / pre-schooler. Each week features different fun activities for your little ones to explore and learn from.
Register and you'll be emailed a link for this free zoom session.
Brought to you by Port Cares' EarlyON team.
PLEASE NOTE: For security and reporting purposes, registrants must indicate their city and the names of the children in attendance. If you do not provide this information, you will not be admitted into the zoom session. We thank you for your understanding.
Have a question about this session?
Give us a call at 905-834-3629 ext 258 Monday - Friday 8:30 - 4:30.
Visit our Facebook Page and Instagram for more fun and activities! @earlyonvirtual
Disclaimer: This zoom session may be recorded for quality assurance and training purposes. Please know that recordings will never be distributed outside of our organization and are recorded directly. You may be notified once joining zoom that the session is being recorded. Participants are not able to record the session; only the host, which is EarlyON. Please note that only the speaker / facilitator is recorded and not participants, unless they unmute themselves. By registering for this zoom session you agree to be and are aware of potentially being recorded. We also have activities that are posted to our Instagram and Facebook pages. You can also email us to set up a one-on-one session with one of our Registered Early Childhood Educators.
If you have any questions about this, please contact us at earlyon@portcares.ca
_____________________________
Note: You will need a zoom account to attend this session. Download zoom to your computer or mobile device https://zoom.us/signup
New to zoom? Learn how to use it here.