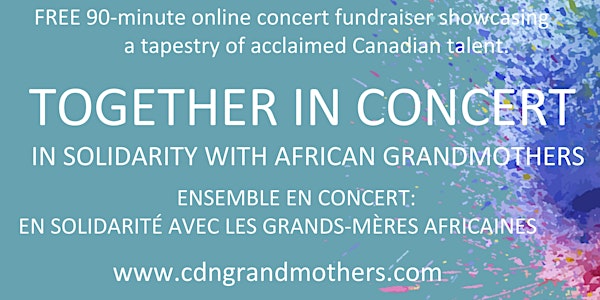 Together In Concert: In Solidarity with African Grandmothers
A TAPESTRY OF CANADIAN TALENT LENDS THEIR TIME AND DONATES THEIR TALENT TO THIS CROSS CANADA VIRTUAL CONCERT FUNDRAISER!
About this event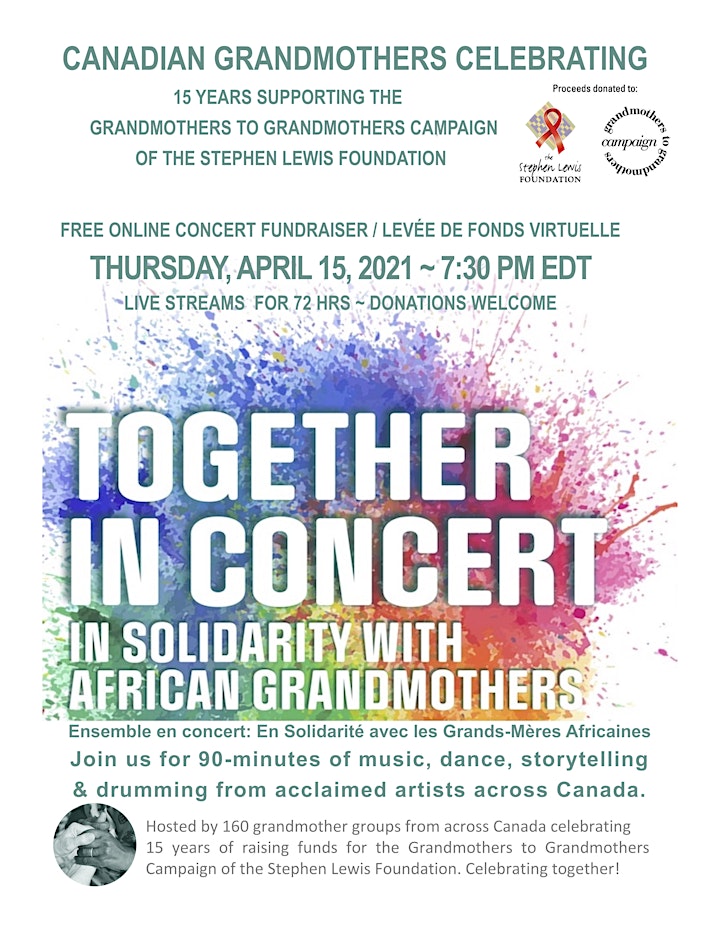 We are pleased to invite you to attend a 90-minute virtual performance called; Together in Concert: In Solidarity with African Grandmothers. It features a tapestry of Canadian talent from across the country.
It airs onThursday, April 15 at 7:30 pm EDT and the link will be available until Sunday April 18, 2021 at 7:30 pm EDT (72 hours).
We are delighted and grateful that acclaimed Canadian artists, from across this country, are joining together for this unique concert of music, dance, storytelling and drumming featuring Jackie Richardson, Steven Page, National Ballet of Canada, David Myles, Stratford Festival, Sheree Fitch and statements from the Stephen Lewis Foundation.
They will be joined by Canadian talent including: Bridge Brass Quintet, Canada's National Ballet School, the della kit, Feels Like Home, Forte, Genticorum, Kids of Note & The Notations, Kym Gouchie, Lorraine Klaasen, Sya VanGeest & Nicholas Stoup and stories from Canadian grandmothers who visited Africa.
Enjoy the performance!
We represent 160 grandmother groups across Canada celebrating our 15-year milestone of raising funds for the Grandmothers to Grandmothers Campaign of the Stephen Lewis Foundation. We will not rest until they rest.
We hope you will donate, please click here:
https://slf.akaraisin.com/ui/grandmotherspledges2021/t/togetherinconcert
Your donation to this concert is immensely appreciated! It will ensure that the community-based organizations providing vital care programs will be sustainable for the grandmothers, children and adults now living with two active pandemics, HIV and AIDS, and COVID-19. Donations of $20 or more to the Grandmothers Campaign will receive a tax receipt directly from the Stephen Lewis Foundation. Thank you for making a difference!
We greatly appreciate your generosity!
Concert website: https://www.cdngrandmothers.com