Description
Help Welcome Refugee Newcomers in Ontario!
Build stronger, more integrated communities by forming a Welcome Group of 5 or more volunteers to be matched with Government-Assisted Refugee newcomers for friendship and support.
Join us at our orientation session to learn more about the basics of volunteering with Government-Assisted Refugees in Ontario, the Welcome Group Model, and how you and your friends can get involved!
On behalf of COSTI and Together Project, we would like to thank the Ontario Ministry of Citizenship for funding this initiative, and our partner London Cross Cultural Learner Centre, whose mandate is to provide settlement services and support to newcomers and to promote intercultural awareness and understanding.
COSTI is a community based multi-cultural agency that provides employment, language training, social and settlement services to newcomers. In addition, COSTI and London Cross Cultural Learner Centre work with Government Assisted Refugee (GAR) newcomers to help settle them in Canada.
In partnership with: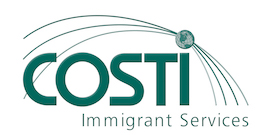 Funded by: