Description
Together Project, COSTI Immigrant Services and the Thunder Bay Multicultural Assocaition will be hosting a workshop focused on Together Project's second manual, entitled "CONNECT".
The most important aspects of the first months of newcomer settlement include accessing healthcare and education, starting sustained and consistent language practice, and making use of the range of available community services and supports. Welcome Groups can play a key role in all of these connections. The CONNECT manual and workshop cover how Welcome Groups can help their matched newcomers connect with a variety of different community resources and services, like those mentioned above.
All Together Project volunteers are asked to attend this workshop, and those who may be interested in volunteering in the future are equally welcome. The workshop will provide a great opportunity to meet other existing and potential volunteers.
A brief overview of some of the important concepts covered in our first manual, "WELCOME", will also be provided, namely trauma-informed care and empowerment vs. charity. You access the WELCOME manual by clicking this link.
On behalf of COSTI and Together Project, we would like to thank the Ontario Ministry of Citizenship for funding this initiative, and our partner Thunder Bay Multicultural Association, whose mandate is to promote and facilitate the reception of newcomers to Canada to assist them realize their full potential in Canadian Society. COSTI is a community based multi-cultural agency that provides employment, language training, social and settlement services to newcomers. In addition, COSTI and Thunder Bay Multicultural Association work with Government Assisted Refugees (GAR) newcomers to help settle them in Canada.
In partnership with: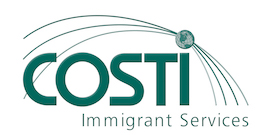 Funded by: