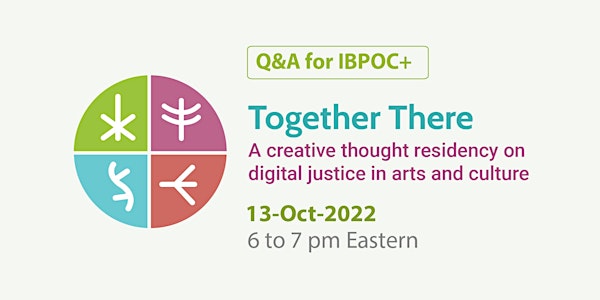 Together There: Q&A for IBPOC+
Want to learn more about Together There? Have questions about the call for visionaries and whether the residency is a good fit for you?
About this event
Calling IBPOC+ visionary creatives, changemakers, futurists!
Join us to learn more about Together There, a creative thought residency on digital justice in arts and culture. We will provide an overview of the program and answer questions to help you decide if the residency is for you.
This session is open to Indigenous, Black, and other racialized people of colour who have an interest in the residency. It is the last of several Q&As that are planned before the residency application deadline on October 17, 2022.
In a supportive environment, embark on an inspiring journey to challenge inequality and nurture caring pathways to justice in, and through, the digital world.
About the Residency
This paid16-week residency runs from November 7, 2022, to February 24, 2023.
Compensation for participants includes a $4,500 fee plus $1,000 for supplies and materials.
Eligibility: applicants who are residents of Canada and who self-identify as Indigenous, Racialized, Disabled, or live in a suburban, rural, or remote community outside the core.
More info: https://togetherthere.ca/residency-call