Location
Eagle's Club
170 West 3rd Street
North Vancouver, BC
Canada
Description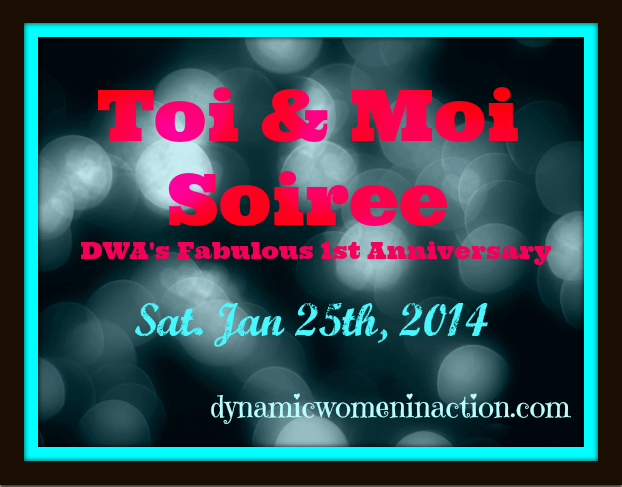 Toi & Moi Soiree: Celebrating Dynamic Women in Networking
The 1st Annual Toi and Moi Soiree is here and it's time to celebrate and connect with other dynamic business women on January 25th at the Eagle's Club (170 West 3rd St. North Van) from 7pm to 11ish.
An absolutely great event to kick off the New Year, where the member's of Dynamic Women In Action and other dynamic professional women and female business owners get to meet, and build strong connections.
Included in this a wonderful night:
• Fun activities to meet new people
• Delicious appetizers (included in ticket)
• Wonderful Swag bags
• Fabulous door prizes
• "Two minute Business Tips" from some industry experts. (These are not sales pitches they are true educational moments with tangible tips for your life and business.)
• A special presentation by a Dynamic Woman
• and of course lots of opportunities to meet women who are knowledgeable in their industries, who create authentic relationships and who are ready to share and support business development.
Get your tickets today!
$35 Solo ticket
$60 for member and guest
Grab a bunch of your friends, colleugues and employees and make it a great way to kick off 2014!
---
Additional Information:
Not a member? Well this is your chance to find out what makes us the most dynamic networking group in Metro-Vancouver.
Dynamic Women In Action is at 170 member (and growing) group for Metro-Vancouver professional women.
We are unique because:
We foster friendships first, business second

Who you are matters more than what you do

We support each other through challenges, and celebrate each other's success
Members rave that it is by far, the best networking group they've ever joined because we encourage everyone to be REAL and develop true friendships.
What members have said:
After joining the DWA I felt motivated again to connect authentically with others, feeling safe in the knowledge that just like me they craved meaningful relationships with new people.
All the DWA women are so approachable, and I know that I can get to know them on a personal (not just business) level through the meetings, events and even outside of those—one on one.