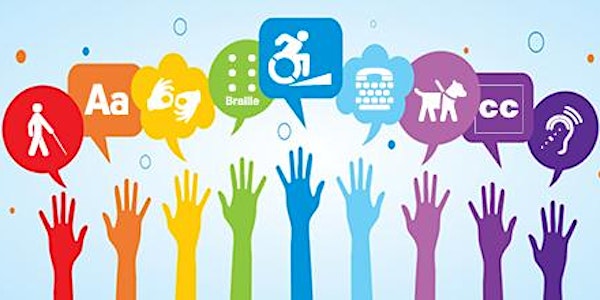 Toronto Accessibility Plan Consultation (East)
When and where
Location
Scarborough Civic Centre 150 Borough Drive Committee Rooms 1 & 2 Toronto, ON M1P 4N7 Canada
Description
Toronto Accessibility Plan Update
The City of Toronto is undertaking an update of our multi-year Accessibility Plan that outlines the City's strategy to prevent and remove barriers, and meet requirements under Accessibility for Ontarians with Disabilities Act (AODA).
Tell us about your needs!
Feedback on the experiences, preferences and diverse needs of a broad range of people with disabilities is very valuable in identifying, preventing and eliminating barriers in the Toronto Public Service.
As part of consulting the public and people with disabilities, the City is seeking feedback using an online survey, and in-person public consultation at Civic Centres located in four quadrants of the City.
We invite you to register to attend a public consultation. This registration page is for residents in the Toronto East area:
Date and Time: Wednesday, June 14, 2017, 6:00 – 8:00 pm
Location: Scarborough Civic Centre, 150 Borough Drive, Toronto ON M1P 4N7 (McCowan Road and Ellesmere Road)

Room: Committee Rooms 1 & 2
We hope you will participate!
Facilities, washrooms, and meeting rooms are accessible. Please use this registration page to let us know if you're coming. You can also let us know if you require any accommodation at this event.
Additional Information
The consultation meeting will include an overview of the City's Accessibility Framework and our approach to identify barriers, and plan for their prevention and removal, as well as consultation with break-out groups.
We would like to understand the source of barriers you have experienced, and what we could have done differently to reduce the impact of that barrier. We will use the following four (4) key accessibility barriers as our themes for consultation and collecting feedback:
Attitudinal Barriers

Systemic Barriers (Policies and procedures)

Information, Communication and Technology Barriers

Physical Barriers in Facilities and Public Spaces
Public feedback will be collected and analyzed and brought back to the responsible Division(s) to incorporate into their plan for barrier removal and prevention.
Please note that attendance is voluntary and a public service. Attendees will not receive remuneration or compensation for time or expenses.
If you would prefer to provide feedback using our online survey, you can find the survey here: http://cityoftoronto.fluidsurveys.com/s/TO-Access-Consult/
If you would prefer to attend at a different location, consultations will also be taking place at Metro Hall (downtown), North York Civic Centre, and Etobicoke Civic Centre