Description
Toronto Artificial Intelligence Summit
We are bringing together the best and brightest on the Canadian Artificial Intelligence Community for a night of great presentations, panel discussion, & networking.
What to bring
Bring your questions for the AI Panel
With a presentation by Ozge Yeloglu - Chief Data Scientist Microsoft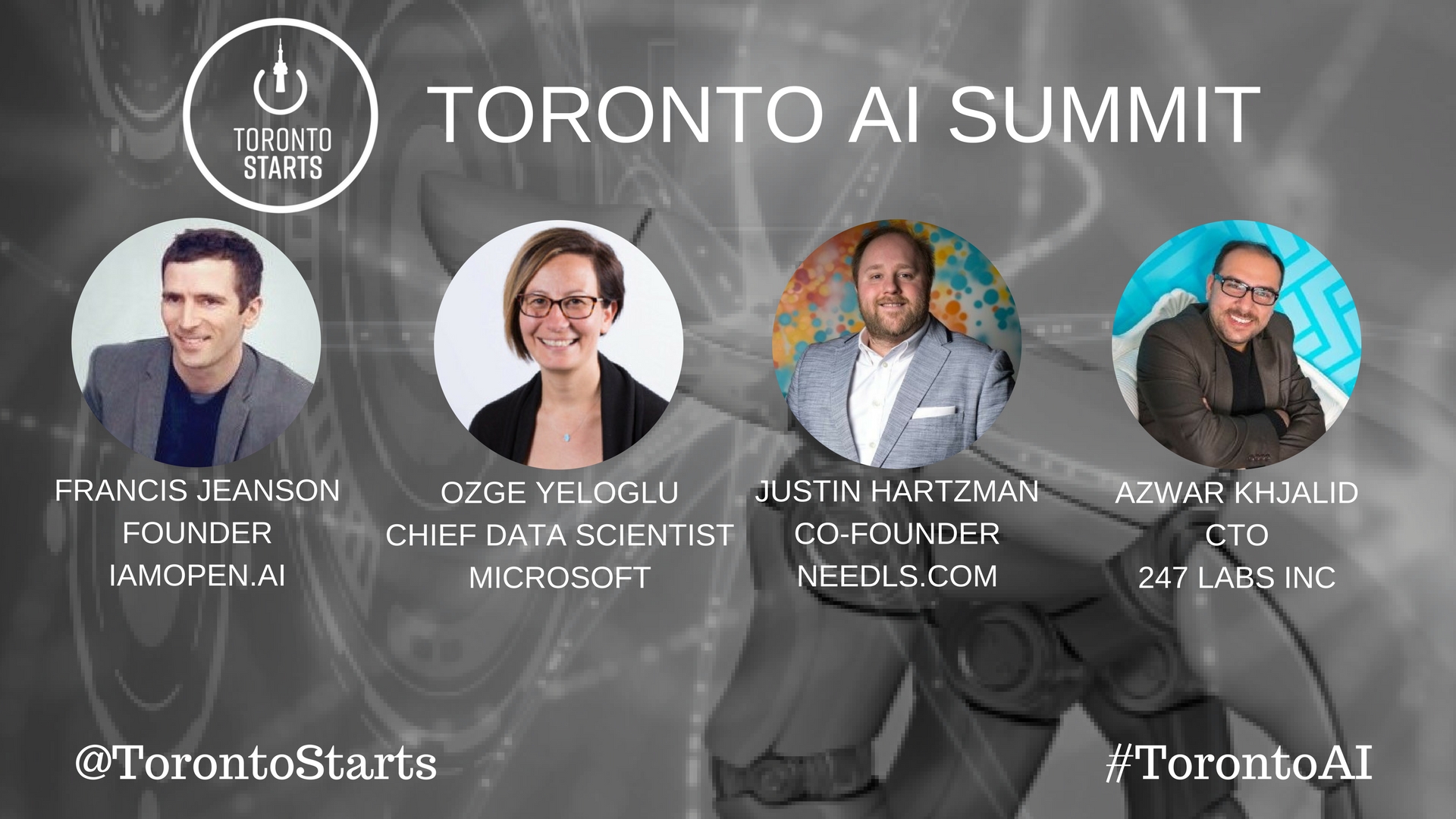 The Startup Coach believes strongly only by helping early stage Toronto startups succeed will we truly see the Toronto Startup Ecosystem truly evolve. TorontoStarts is built to help entrepreneurs be successful. As a matter of fact, we have developed a series of workshops and crash course designed to give every entrepreneur the skills they need to be successful.
Knowing validated learning is the core activity of any startup, we start with the Lean Startup Idea Validation Workshop. Equally important is the understanding of your business model. The Lean Startup Business Model Canvas Workshop covers this. Other classes not only includes lean startup marketing & PR, and Lean Startup Social Media, but also Startup Law. In a like manner, entrepreneurs need to understand that marketing is the key to success. The Lean Startup Growth Hacking Crash Course is essential for growing customer base. Together with the Lean Startup SEO Crash Course in order to drive traffic to your site. Finally, the Lean Startup Social Media Crash Course to grow your brand following and awareness. Of course, the Startup Launch Accelerator program offers even more. In fact, if you want to take your idea to launch the Startup Launch program is for you.
Curious about Crpytocurrency? Read What is Bitcoin
BROUGHT TO YOU BY:
TorontoStarts Toronto's Entrepreneur & Startup Community - Join Toronto's Most Active Startup Community
Startup Launch 8 Week Accelerator Program - Now taking applicants for the next Cohort
Startup Social Open Pitch Open Bar Open Network (formerly Startup Drinks)
Startup Pitch - Toronto's Premiere Quarterly Entrepreneur & Startup Pitch event
Startup Coach - Workshops and One on One Entrepreneur Mentoring with The Startup Coach