Description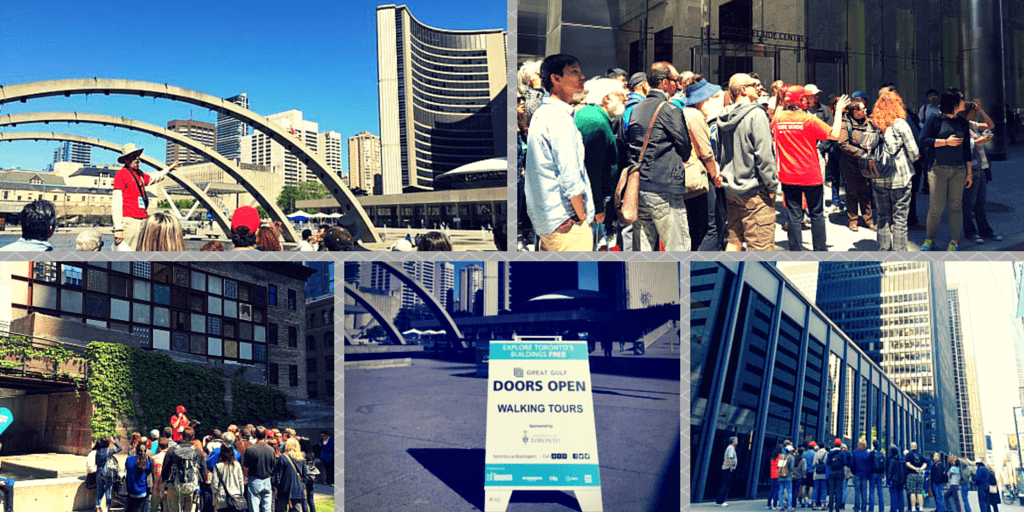 Join the Toronto Society of Architects' guided outdoor walking tours and learn about some of the city's best contemporary architecture. Our highly trained volunteer guides will take you to iconic buildings designed by world-renowned architects and explain the design context, details, and unusual features that make these buildings notable. Fun and informative, Toronto Architecture Tours provide the stories behind the buildings and demonstrate why architecture is such a powerful communications tool for businesses, organizations, and the city.
Towers Tour

Toronto's downtown skyline began a dramatic transformation in the mid-1960s that continues in the 21st century. The extraordinary design of City Hall launched Toronto as a modern metropolis with the major banks competing to erect the city's tallest and most iconic buildings. More recently, condominiums and hotels compete with the corporate towers.

Featured Bulidings:
City Hall,1958-65 Viljo Revell with John B. Parkin Associates

Bay Adelaide Centre, 2007-09 WZMH

Trump Tower, 2007-11 Zeidler Partnership Architects

Toronto Dominion Centre, 1963-69 Ludwig Mies van der Rohe with John B. Parkin Associates, Bregman & Hamann


First Canadian Place, 1972-77 Edward Durell Stone Associates with Bregman & Hamann

Former Toronto Stock Exchange, 1936-37 George & Moorhouse with S.H. Maw; renovated as Design Exchange, 1994 KPMB

Scotia Plaza, 1985-88 WZMH

Commerce Court, 1968-72 I. M. Pei & Partners with Page & Steele; 1994 renovation Zeidler Roberts Partnership


former Montreal Trust Head Office, 1965 Page & Steele

One King West, 2006 Stanford Downey Architects


Prudential Building, 1958 Peter Dickinson

Brookfield Place, 1989-91 Bregman & Hamann with Skidmore Owings & Merrill; galleria 1987-92 Santiago Calatrava

Royal Bank Plaza, 1972-76 WZMH

DETAILS:
WHEN:
Weekly on Saturday afternoon at 1:30pm to 3:30pm DURATION: 2 hours DISTANCE: Approx 1.9 km with some stairs to and from buildings (accessibility can be accommodated)

MEETING PLACE:
Near Queen St. W. & Bay St. (exact location provided with your e-Ticket);
Finish: Near Toronto Union subway station
** ONLINE ticket sales close at 9:30AM the day of the tour. CASH TICKETS MAY BE AVAILABLE FROM THE GUIDE at the start of each tour if not sold out.**
Children age 12 and under are free provided they are accompanied by paying adult(s).
TSA Members in good standing may bring one (1) complimentary guest. Use the promo code provided with your membership or email Membership@TorontoSocietyofArchitects.ca to confirm your membership standing and get your promo code to access your special member tickets.
Tickets are non-refundable within 24 hours of your registered tour date/time. To cancel or change tickets in advance, please email walk@torontosocietyofarchitects.ca.

Tours are conducted entirely by trained volunteers who are passionate about buildings and people. If you enjoy your tour, please feel free to tip the guides! Got feedback or comments? Send us an email at comments@torontoarchitecturetours.com or visit our TripAdvisor Page to leave a review.
The Toronto Architecture Tours are organized and run by the Toronto Society of Architects. Special thanks to our generous sponsors, supporters and volunteers who make it all possible!

...in-kind support from:
Montgomery Sisam Architects who provide the meeting space for our guide orientation and training sessions.
For more information, please contact the organizer via email at walk@torontosocietyofarchitects.ca