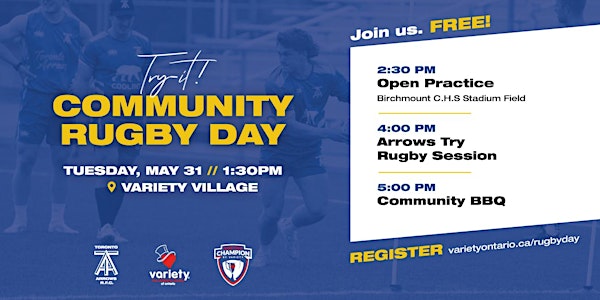 Toronto Arrows Community Day at Variety Village
Join us to take in a Toronto Arrows open practice, give your rugby skills a 'try', and end the day at a BBQ with the team!
When and where
Location
Variety Village 3701 Danforth Avenue Toronto, ON M1N 2G2 Canada
About this event
On May 31st, 2022, the Toronto Arrows will spend the day at Variety Village in Scarborough.
This community day allows rugby fans to watch the team as they open the doors on their team practice.
The day provides many opportunities to get involved, including an open practice for fans to watch at Birchmount Stadium grass field, a try it session where fans can give the sport a go, and the opportunity to enjoy a BBQ with the 2022 Toronto Arrows playing squad.
Please note: The open practice at 2:30 p.m. is open to the public.
The mixed ability try it session and the end-of-day BBQ are ticketed events. You MUST have registered to attend!
The schedule is as follows:
2:30 p.m. - Open practice at Birchmount Stadium grass field
4:00 p.m. - Mixed ability rugby try-it session
5:00 p.m. - Community BBQ
7:00 p.m. - Event closes
NOTE: There will be media and camera crews on site capturing footage throughout the day.
About Toronto Arrows
Established in 2018, the Toronto Arrows Rugby Football Club is Canada's first and only professional rugby union team.
Competing in Major League Rugby, the team is equipped to compete against top-tier North American professional club teams, providing emerging Canadian talent with enhanced and more frequent opportunities to hone their skills at an elite level.
Grab your 2 for 1 ticket special here ->
https://tix.axs.com/ggt7NAAAAAAbxxd0AAAAAAAG%2fv%2f%2f%2fwD%2f%2f%2f%2f%2fDXRvcm9udG9hcnJvd3MA%2f%2f%2f%2f%2f%2f%2f%2f%2f%2f8%3d
Please note: This link is best supported by Google Chrome.
About Variety Ontario
Life for children with disabilities should be more than accessible. It should be inclusive.
That's why we offer sports, activities, skill development, and other participatory programming in community centres and sporting facilities across Ontario.
How We Help
Variety programming empowers children with disabilities to be seen, participate, and feel included. We bring accessible facilities to life with sports, fitness, activities, summer camps, skills training, and coaching for competitive and Paralympic athletes. Through local partnerships, we extend our reach through accessibility training and education.
To learn more or donate, visit https://varietyontario.ca/