Description
This is a great way to get your hands dirty and learn from others around you. You don't have to be a coder to register for the hacker track and win thousands of dollars in prizes, just be willing to learn and stay up all day and all night to get something done.
For those that are limited in time come and listen, interact with thought leaders in the space, by signing up for the workshop track.

Attendee goers can join us on April 9th can join us for the BitAngels Startup Pitches.
Blockhack and our BitAngels Investor Events are part of the Toronto Blockchain Week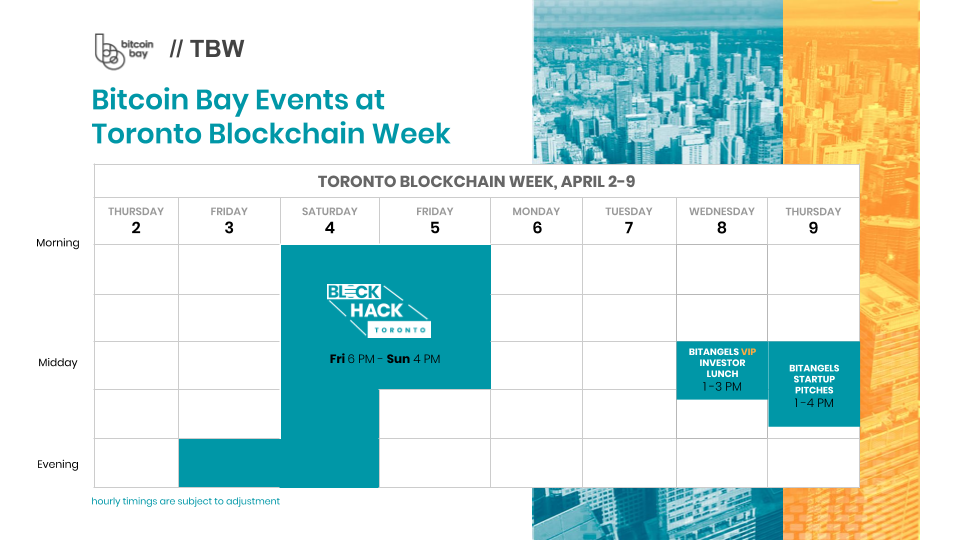 The organizer, Bitcoin Bay, is proud to partner with Toronto Blockchain Week, an open and inclusive organization whose mission is to support and grow the city into a major Blockchain ecosystem.
Check out other events taking place during the week here: www.torontoblockchainweek.io


Those in attendance include:
Developers
Starts-ups (FINTECH)
Entrepreneurs
Investors
Venture Capitalist
Blockchain and crypto enthusiast
Crypto Traders and Asset managers

---
Hackathon Tentative Agenda
Friday, April 3 2019
6:00 PM: Registration Opens / Networking
7:30 PM: Pitching Team Matching
8:00 PM: Open remarks from Host Bitcoin Bay

8:30 PM: Pre-Hack Dinner
9:00 PM: Hacking & Events Begins!
Saturday, April 4 2019
All Day Hacking.
Workshops throughout the Hackathon.
Sunday, April 5 2019
7:00 AM - 9:00 AM: Breakfast
12:00 noon: Hacker Track Ends & Workshop Track Ends
12:30 PM: Teams Presentations and Judging begins

1:00 PM: Closing Session