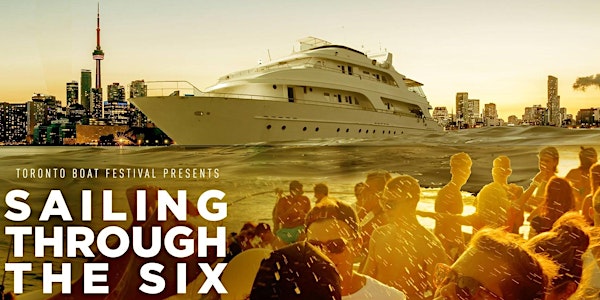 Toronto Boat Festival: Sailing Through The Six | Sun June 30th (Official Pa...
About this event
★★★ Toronto Boat Festival Presents: Sailing through the Six ★★★Multiple Boats / Thousands of People / Canada's Biggest Boat Festival/ Year 5SUNDAY, JUNE 30TH 2019 (CANADA DAY HOLIDAY/CELEBRATION)Specials Guests + DJs Join thousands of people from across Canada on multiple boats celebrating Canada Day! Boats included in the festival this year include: The Empress of Canada (11 Polson St), The Jubilee Queen (539 Queens Quay W) & More!
If one boat fails to hit capacity it will be combined with another sound and play both sounds. For example IF HipHop/R&B and Top40/Mashups boats do not sell out they will be combined on one boat to play both types of music.
**Please arrive 15 minutes prior to boarding time. Boats leave exactly at their sailing times and do not return until close to the end time.**
For Info & Sponsor Info Please Contact: TorontoBoatFestival@gmail.com
Limited Tickets Available @: www.TBF2019.eventbrite.com
Tickets for Boats will be starting at $20 (SOLD OUT) Set 2: $25 (SOLD OUT) Set 3: $30Set 4: $40---------------------------------------------------
RAIN OR SHINE BOAT PARTY GOES ON! (ALL BOATS HAVE RETRACTABLE ROOFS)
**No Refunds or Exchanges**
Organized & Run By Cl9ud Entertainment LTDBy purchasing a ticket & boarding onto the boat you are agreeing to be liable for your own well being on the boat. We are not responsible or liable for any incidents that that you may put yourself into or may or may not occur. If you are over intoxicated you may be refused entry which will result in no refunds. The security has the right to refuse at their discretion. Please be responsible & safe on the boat. Thank you!
Organizer of Toronto Boat Festival: Sailing Through The Six | Sun June 30th (Official Page)