Sales Have Ended
Ticket sales have ended
Thank you for purchasing a ticket for the Toronto Bruce Trail Club's Hilton Falls Snowshoe Hike # 6386 on 19 01, 2020
Sales Have Ended
Ticket sales have ended
Thank you for purchasing a ticket for the Toronto Bruce Trail Club's Hilton Falls Snowshoe Hike # 6386 on 19 01, 2020
About this Event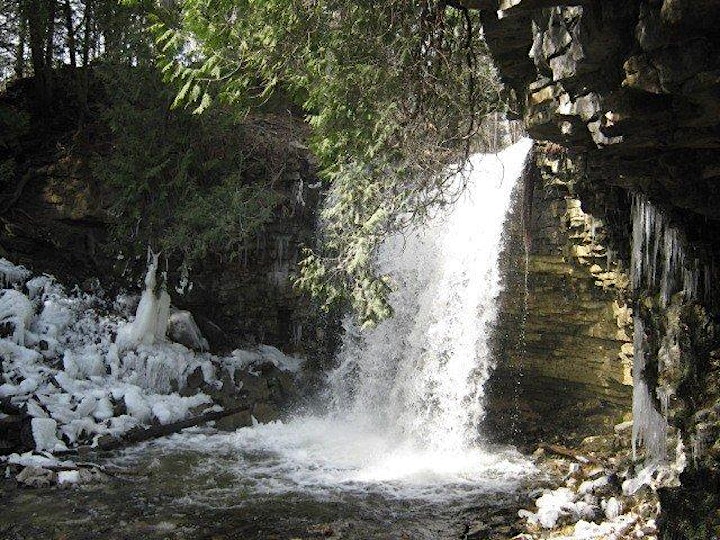 Hike Leader: Wayne Crockett Email: waynehikes@gmail.com
Category: Bus hike
Difficulty: Intermediate
Distance:14 KM
Pace: Moderate
Terrain: Hilly, Variable
Description: Join me for a snowshoe hike looping through the trails around the Hilton Falls Conservation Area. We'll do a combination of the main trail, the Hilton Falls Side Trail and several walking trails maintained by the Conservation Authority. There is a fire pit near the falls so if you want to bring anything to toast for your lunch you can. Don't break any living branches for a 'spit'! The falls are very scenic in cold weather, more than worth the effort.
After the hike we'll take the short drive into Milton for refreshments. Enjoy the winter outdoors just a few km from the city.
If conditions are not good for snowshoeing we'll do a winter hike. Icers are recommended for this option. I will let registrants know a few days in advance by email.
We will be using the parking lots at Hilton Falls Conservation Area so there will be an entrance fee which I will collect with the bus fares. The fare is based on the group rate discount per person.
Cost: $25.00 TBTC Members ($18.00 bus fare +Conservation Area Entrance Fee)
$32.00 Non-member ($25.00 bus fare + Conservation Area Entrance Fee)
$9.00 Child (12 yrs and under $5.00 bus Fare + Conservation Area Entrance Fee )
Depart: 9:00 AM
Meet at: Islington subway station: On Sundays, buses wait at the Beer Store on Bloor Street; on Saturdays they park nearby. Free parking available on weekends at TTC lot nearby.
[ Map ] [ Parking Information ]
Pre-registration details:Member pre-registration will begin on: Sat Dec 28, 2019 at: 9:00 PM
Pre-registration cancellation deadline occurs on: Wednesday, Jan 15, 2020 at: 7:00 PM
Map #: Bruce Trail Conservancy Map # 9
Additional Notes:Maximum number of participants: 44
Dropout available at: 6 km.
Refreshments after.
REFUNDS/CREDITS/PROOF OF BTC MEMBERSHIP
PLEASE READ the following Fare Rules BEFORE registering for the January 19, 2020 TBTC Hilton Falls snowshoe hike
• The Eventbrite fee is non-refundable• Hikers register for this hike online through the Eventbrite system.
• Payment for this event are collected online during the registration process by credit or debit card.
• Cash will NOT be accepted on the bus. Fees must be paid in advance of the hike.
• Cancellation: 7 days prior to hike, refund of TBTC fee will be issued to the hiker.
• Cancellation: Between 4 – 7 days prior to hike, and the seat on the bus can be filled by another hiker, a credit for the TBTC fee to be used within 6 months for future TBTC events will be issued.
• If the TBTC must cancel an event, the hiking fee will be reimbursed, and a $5.00 credit issued to offset the Eventbrite non-refundable fee. Credits must be used within 6 months
• All TBTC members accessing the TBTC reduced bus fares must present their valid BTC membership card when boarding the bus. New members or members who have renewed their registration but have not yet received their card must present an email confirmation that they membership fee has been paid.