Make new friends while enjoying nature, fresh air, and treetop trekking adventures out in the Bruce Mill Conservation Area in Stouffville!
About this event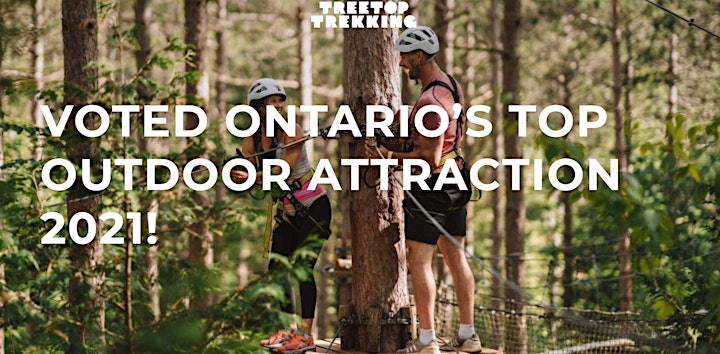 Toronto Dating Hub is hosting another unique social event open to all to experience treetop trekking altogether!
Enjoy the Saturday afternoon of the Halloween weekend for a 3 hour adventure at the Treetop Trekking Stouffville Park where we'll do the most popular activity together - the Zipline & Aerial Game Trek.
Surround yourself with nature and fresh air, as you trek from tree to tree on fun games like suspended bridges, Tarzan swings, swinging logs, cable traverses, and of course, ziplines!
This activity and event is rain or shine!!
Your ticket includes:
Admission to park and for the Zip Line & Aerial Game Treks which last about 3-hours and includes 1 ride on the Monarch Zip Line
Plus the helmet, harness and safety orientation
1 Black Fly Booze drink to be consumed after
Meeting & mingling with other awesome Torontonians - along with fun icebreakers hosted by Andrea Lo
Amazing Fall photo opportunity - and help to capture it on your phone
Entrance to Bruce Mill Conservation Area
FAQ's:
Who should come to this event?
This event is intended for singles or couples between the ages of 25-45
If you like hiking, outdoor sports, nature, etc
You're looking to make new friends and to try something new and fun!
Who is eligible to climb / do this course?
CUSTOMERS MUST MEET REQUIREMENTS TO BE ABLE TO CLIMB.
Minimum Height: 4'7″ (55 inches)
Maximum Weight: 250 lbs
Must not be pregnant
Park guides reserve the right to determine which courses each person can go on
What do I need to attend/participate?
Sign this online waiver prior to your visit
Arrive by 12:30pm: 30 min before our climb time at 1pm
A mask/face covering
Closed toed shoes like running shoes or hiking shoes (definitely no Crocs or sandals)(Long hair tied back)
Tight fitting or fingerless gloves are HIGHLY RECOMMENDED (think - what you use for workouts/weightlifting)
Anything you need to be safe and comfortable for this outdoor event - i.e. jacket, snacks, water bottle, hiking shoes, etc
Athletic / Outdoor Hiking Apparel - be comfy enough to hike /climb, but presentable - like you're going on an active date
A Halloween costume / accessory /makeup is optional and strongly encouraged- but only if it does not take away from your ability to safely climb!
Venue will refuse entry if you are suspected of being under the influence of drugs or alcohol; alcoholic drinks can only be consumed AFTER the climbing/courses are done
Feel free to bring any food or drinks if you want to stay back after 4pm to enjoy the Bruce Mill Conservation Area as your ticket gives you entry to this area and you can stay as long as the conservation area allows
Pricing:
Regular priced tickets to visit on your own is $64+taxes ($72.32) per person so we're not charging much more! This event ticket covers treetop trekking activity and the event organization. Eventbrite charges separate fees to use their service. To avoid these fees - you're welcome to e-transfer the ticket cost to torontodatinghub@gmail.com directly to secure your spot. Please be sure to confirm with the Host first before sending payment.
There are NO REFUNDS.
What if it rains?
The park and its activities proceed rain or shine so the event will go on! So let's make the most of it - bring a rain jacket and wear the right attire should it rain that day!
Will there be food & drinks?
Each attendee will receive 1 bottle of water / refreshment as part of their ticket (to be consumed post-event). Food & drinks are available for purchase at the venue - or you can bring your own. Do not consume alcohol before or during climbing.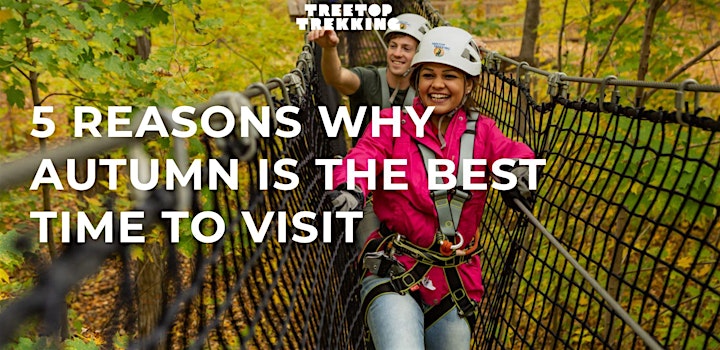 5. Smaller Crowds
There is no doubt that our parks can be quite busy during the peak summer months, but once September hits, weekends and especially weekdays become less busy which means you have more space to spread out and explore!
4. Winter is coming!
Before you know it the snow will be flying, and it will be time to hibernate and binge watch series after series. Get outside with your pals and make the most of the milder temperatures before its too late!
3. Bye Bye Bugs
Buzz off mosquitos! Those annoying bugs are long gone, so you can focus on the adventure ahead without swatting away pesky flies.
2. Cooler Temperatures
Ahhhhhh! With those muggy summer days behind us, autumn's cooler temps mean you won't be sweating through your t-shirt as soon as you step out of the car, or drinking litres of water non-stop.
1. Those Amazing Autumn Colours!
Wow! What is more spectacular than climbing through the changing leaves!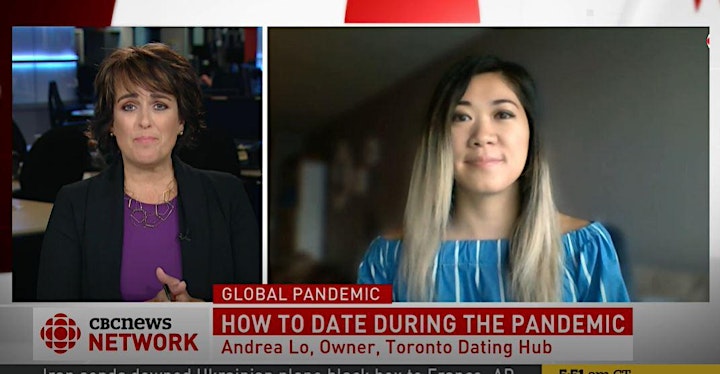 Organizer of Toronto Dating Hub: Treetop Trekking Social Event
Toronto Dating Hub is helping Toronto singles connect with like-minded people via unique, fun events & coaching services. If you've experienced challenges with getting matches, making conversation, or converting chats to dates - we can help you out. Reach out for a free 15 min consultation.