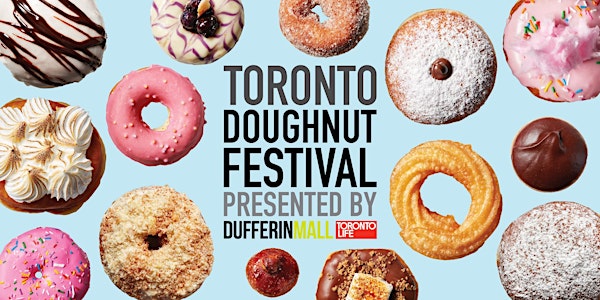 Toronto Doughnut Festival Presented by Dufferin Mall and Toronto Life
When and where
Location
Dufferin Mall 900 Dufferin Street Toronto, ON M6H 4A9 Canada
Description
You're invited to the second annual Toronto Doughnut Festival presented by Dufferin Mall and Toronto Life, celebrating doughnuts, crullers and other sweet, colourful rounds. Prepare for the sugar rush on Sunday, June 10, when Toronto's top doughnuts will be fresh and ready under one roof.
Tickets are available now, buy yours today!
Single Adult OR Youth Ticket: $15 (includes a six-pack of doughnuts)
Single Children's Ticket: $5 (child must be between the ages of 2 - 12, does not include a six-pack of doughnuts)
Family Package: $30 (includes two adults or youths and two children between the ages of 2 and 12 , as well as one six-pack of doughnuts)
Children Under 2: FREE when accompanied by an adult.
Event Details:
Dufferin Mall
900 Dufferin St. Toronto

Sunday, June 10, 2018
12:00 p.m. to 4:00 p.m.
Dufferin Mall Key Facts:
Number of Retailers: 125
Braggable Brands: Forever 21, H&M, Aldo, Winners, Marshalls, Starbucks, Bath & Body Works, Pandora and Tommy Hilfiger
Location: Conveniently located at Bloor and Dufferin, south of Bloor, a 2 minute walking distance from Dufferin subway station
Key Services: Hair Salons, Dental Office, Telecommunication, Grocery stores, Nutrition and Health Stores
Highlights: Newly renovated Food Court and Washrooms; Free Wi-Fi and Parking
Note: Festival vendors will serve doughnuts that contain gluten, nuts, dairy and other allergens.
FAQs
Can I purchase doughnuts at the event without a ticket?
There are no doughnuts available for purchase at the event. Only valid ticketholders will be able to sample doughnuts and take home a six-pack.