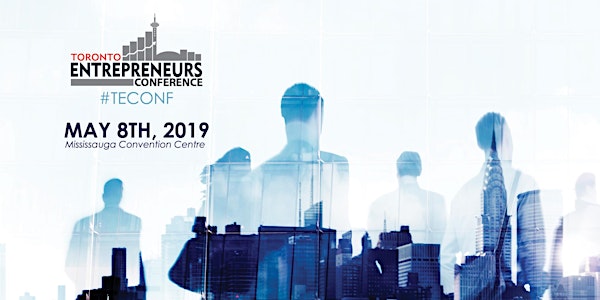 Toronto Entrepreneurs Conference & Tradeshow Registration - May 8th, 2019
By TorontoEntrepreneurs.ca
Date and time
Wed, May 8, 2019 8:30 AM - 5:00 PM EDT
Location
Mississauga Convention Centre 75 Derry Rd W Mississauga, ON L5W 1G3 Canada
Description
About the Toronto Entrepreneurs Conference & Tradeshow
The Toronto Entrepreneurs Conference & Tradeshow (#TECONF) is the prominent event in the Greater Toronto Area for empowering and connecting Small Business Owners.
We hope the day is a successful networking opportunity and you make great connections that assist your business!
---
#TECONF Conference Speakers
10:30am – 11:30am - Event Keynote Speaker: Carl Rodrigues, President, CEO, & Founder of SOTI Inc.
8:30am – 9:15pm - John Mendis, Partner, Tax, UHY McGovern Hurley LLP - "Tax Considerations when Selling a Business"
9:00am – 10:00am - Chris Cameron, Head of Speaking & Sponsorship, ClickFunnels - "Funnels... the Unfair Advantage"
9:15am – 10:00am - Mathieu Glaude, Founder & CEO, Northern Block - "Commercializing Your Blockchain Strategy"

12:30pm – 1:15pm - Marcelle Mckarris, Regional Manager, Business Markets, RBC - "5 Important Trends Shaping Small Business in Canada Today"
12:30pm – 1:15pm - Bryan Li, Managing Director, Cybersecurity Project - "Cybersecurity for Small Business" (PANEL DISCUSSION)
1:30pm – 2:15pm - Zoe Share, President and Chief Executive Schmoozer, Schmooz Media - "Social Media Marketing That Works" (PANEL DISCUSSION)

1:30pm – 2:15pm - Susan Floyd, VP, Marketing & Strategic Alliances, Toronto Finance International - "The Lending Landscape is Changing: A Deep Dive into the latest in Traditional FI & FinTech Financing Innovation" (PANEL DISCUSSION)
3:00pm – 3:25pm - Deepa Tailor, Founder & Managing Director, Tailor Law Professional Corporation - "Cannabis in the Workplace"
3:00pm – 3:25pm - Marc Belaiche, President, TorontoJobs.ca - "10 Tips for Finding Staff in a Tight Labour Market"
3:30pm – 3:55pm - Laura Beauparlant, Founder & Creative Director, Lab Creative - "It's all about Chemistry: Why Brands Succeed or Fail"
3:30pm – 3:55pm - Christine Wong, Patent Agent, Ridout & Maybee LLP - "Why Your Business Needs Intellectual Property Protection"

CLICK HERE to view to Full Event Schedule
---
For more information including information about sponsoring or exhibiting please visit: www.TorontoEntrepreneurs.ca, email info@TorontoEntrepreneurs.ca, or call (905) 812-5627 and we will happily assist you!
---
#TECONF Cocktail and Networking Reception
Join us following the event from 4:00pm-6:00pm for a Cocktail and Networking Reception, facilitated by Charles McFarland, President, Business Network International. $30-ticket includes a cocktail, appetizer stations and a chance to make meaningful connections with fellow entrepreneurs.
*Prices will increase to $40 per ticket on the day of the event.
---
Connect with us on Social Media!
About the organizer
Our events have been designed to provide entrepreneurs, whether budding or experienced, with the opportunity to expand their professional network, hear from experienced and successful entrepreneurs on tips and opportunities and learn what it takes to become successful and stay thriving.
Our Conference has welcomed over 5,000 Entrepreneurs & over 350 exhibitors since its 2011 inception.

Our Conferences have hosted several keynotes including: 

Jonathan Carroll, President, Travel Nation Canada

Robert Deluce, President, Porter Airlines

Chris Reynolds, President, Investment Planning Council

Robert Herjavec, Shark Tank

Christine Magee, President, Sleep Country Canada

Peter & Chris Neal, Founders of Neal Brothers Foods

Greg Taylor, Founder, Steam Whistle Brewing

Bruce Croxon, Dragons Den

Bruce Bowser, CEO, AMJ Campbell