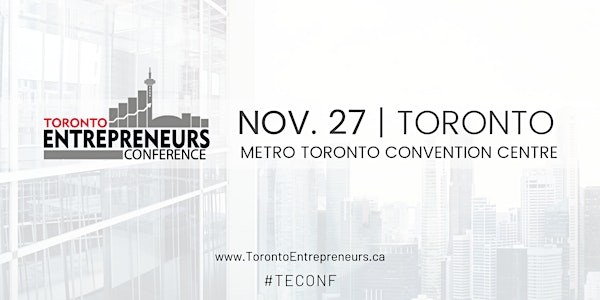 Toronto Entrepreneurs Conference & Tradeshow Registration - November 27th, 2019
When and where
Location
Metro Toronto Convention Centre 255 Front Street West North Building - Lower Level Toronto, ON M5V 2W6 Canada
Description
About the Toronto Entrepreneurs Conference & Tradeshow
The Toronto Entrepreneurs Conference & Tradeshow (#TECONF) is the prominent event in the Greater Toronto Area for empowering and connecting Small Business Owners.
We hope that the event is a successful day of making valuable business connections!
CLICK HERE to view our event video.
---
#TECONF Ticket Options
General Admission ($29): Tradeshow & Conference admission - includes Coffee & Networking session. Lunch NOT included.
Conference Admission ($69): Tradeshow & Conference admission - includes Coffee & Networking session and boxed lunch.
VIP Admission ($129): VIP Tradeshow & Conference admission - includes Coffee & Networking session, Buffet & Networking Lunch, preferred seating during conference sessions.
Conference and VIP Admission will not be available for purchase at the event.
NO REFUNDS.
---
CONFERENCE SPEAKERS
Event Keynote Speaker: Jim Estill, President & CEO, Danby Appliances – "Zero to $2 Billion."
Minister Prabmeet Singh Sarkaria, Associate Minister of Small Business and Red Tape Reduction, MPP, Brampton South - "Opening Remarks and Update from the Ministry"
Jeff Dawley, President & Founder, Cybersecurity Compliance Corp. - "'Ready, Fire…Aim.' Why technology-based cybersecurity solutions are failing small business."
Robert A. Dougan, MA, Talent Strategist, Self Management Group - "Effectively Selecting Sales Professionals"
Dr. David Weiss, President & CEO, Weiss International Ltd. - "Leading Innovation."
Hendrik Nieuwland, Partner, Shields O'Donnell MacKillop LLP - "How to Appropriately Identify, Prevent & Address Mental Health, Harassment and Discrimination Issues in the Workplace."
Michelle Beyo, Founder, FinAvator - "Fintech and Future of Payments."
Alex Saran, Director, Affiliate Partner Program, district m - "How to get clear & tangible results with digital marketing strategies."
Marie-Chantal Côté, Vice President, Market Development, Group Benefits, Sun Life Canada - "Group benefits and cloud based admin solutions – a winning combination for small businesses."
Melanie Russell, President, Kalex Valuations Inc. - "Getting Something More than Nothing for your Business: What's It Worth?"
Charles Hendriks, President, The Performance Management Academy Inc. - "The Art of Negotiation"
Susan Hobson, Founder & Principal, Elite High Performance Coaching - "How to have Max Impact: Architecting the Mindset of a High Performer."
Digital Marketing Learning Lounge in the tradeshow - led by Zoe Share, CEO, Schmooz Media. Covering the following topics:
Strategic Marketing Decisions about Social Media

Building your Company's Content Calendar

Analysis and Reporting Using Google Analytics

Nurturing Sales Opportunities and Developing and Community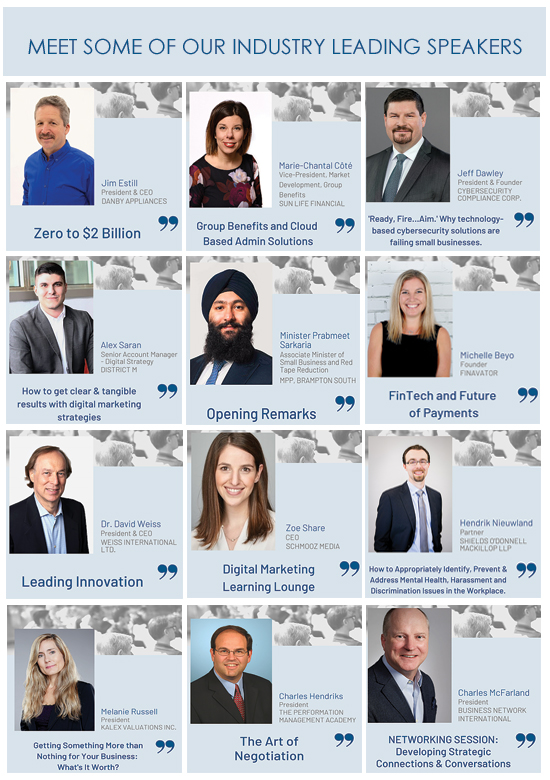 (Full conference program to follow.)
---
Afternoon Coffee and Networking Session - 4:20pm - 5:30pm
Developing Strategic Connections and Conversations - Don't miss your chance to meet like-minded business owners during this networking reception facilitated by Charles McFarland, Chapter President of BNI Business Leaders.
---
#TECONF Tradeshow
Network with 50+ Tradeshow Exhibitors, including: Sun Life Financial (event sponsor), Cybersecurity Compliance Corp. (event sponsor), HSBC Bank (event sponsor), J D Factors, GIGE IT Solutions, and more.
Visit www.TorontoEntrepreneurs.ca for Tradeshow updates.
To learn more about exhibiting or sponsoring, please Click Here, email info@TorontoEntrepreneurs.ca, or call (905) 812-5627 and we would be happy to assist you!
---
Connect with us on Social Media!