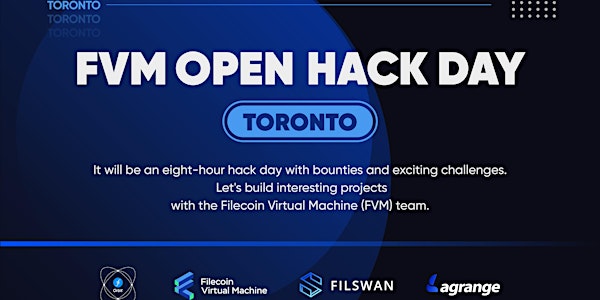 Toronto FVM Open Hack Day 2023
We are excited to host the second Orbit Community Event in Toronto.
When and where
Location
LOCO Space Lounge 15 Wellesley Street West #unit 201 Toronto, ON M4Y 0G7 Canada
About this event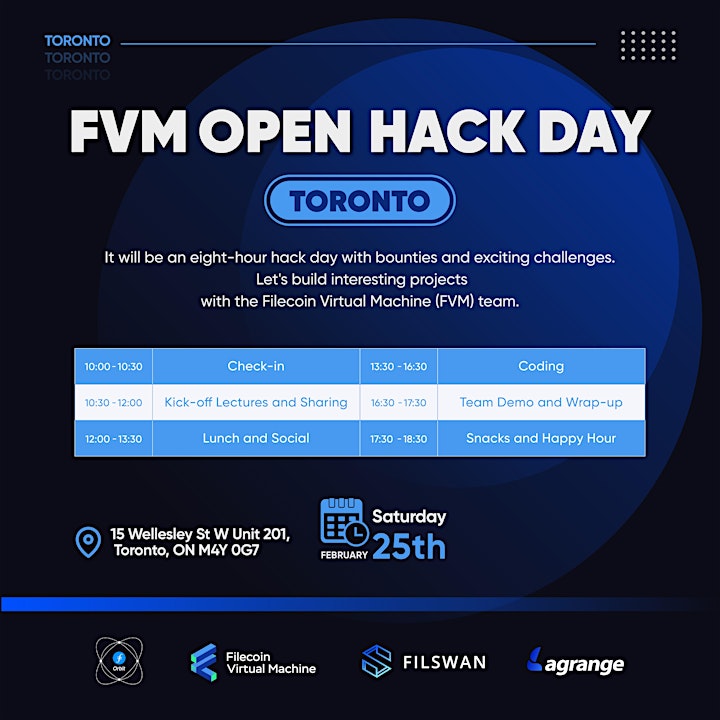 About the event
We intend to help you build with the Filecoin Virtual Machine (FVM) 8-hour hacking session coordinated by an FVM Developer Advocate with bounties and exciting challanges. Build interesting projects with the Filecoin Virtual Machine (FVM) team. Remember to carry your laptops.
$6000 pool prize
• $3,000 first prize
• $2,000 second prize
• $1,000 third prize
Winner announcement: By early March.
Timeline
10:00 - 10:30 Check-in
10:30 - 12:00 Kick-off Lecture and Sharing
12:00 - 13:30 Lunch and Social
13:30 - 16:30 Coding
16:30 - 17:30 Team Demo and Wrap-up
17:30 - 18:30 Snacks and Happy Hour
Company
Filecoin Virtual Machine (FVM)
The Filecoin virtual machine (FVM) is a runtime environment for smart contracts, also called actors, on the Filecoin network. These smart contracts can be written in Solidity, and eventually, any language that compiles to WASM will be supported.
In short, FVM = Smart contract + provable storage
Filswan
FilSwan provides a layer-2 cross-chain solution that helps Web3 projects to integrate data, computing, bandwidths, and payment into one suite.
Resources
https://docs.filecoin.io/developers/smart-contracts/filecoin-virtual-machine/
https://github.com/xBalbinus/fevm-foundry-kit
Location
LOCO Space, 2nd floor
15 Wellesley St. W
Unit 201
Toronto, ON M4Y 1EB