Looks like this event has already ended.
Check out upcoming events by this organizer, or organize your very own event.
Toronto Heritage Tree Workshop

Friday, 9 November 2012 from 8:30 AM to 3:00 PM
Event Details
Thank you for your interest in the Heritage Tree Workshop.  Pre-registration is now closed.  there are a limited number of spots still available if you would like to try walk-in.   At the door we can only take cash or cheque.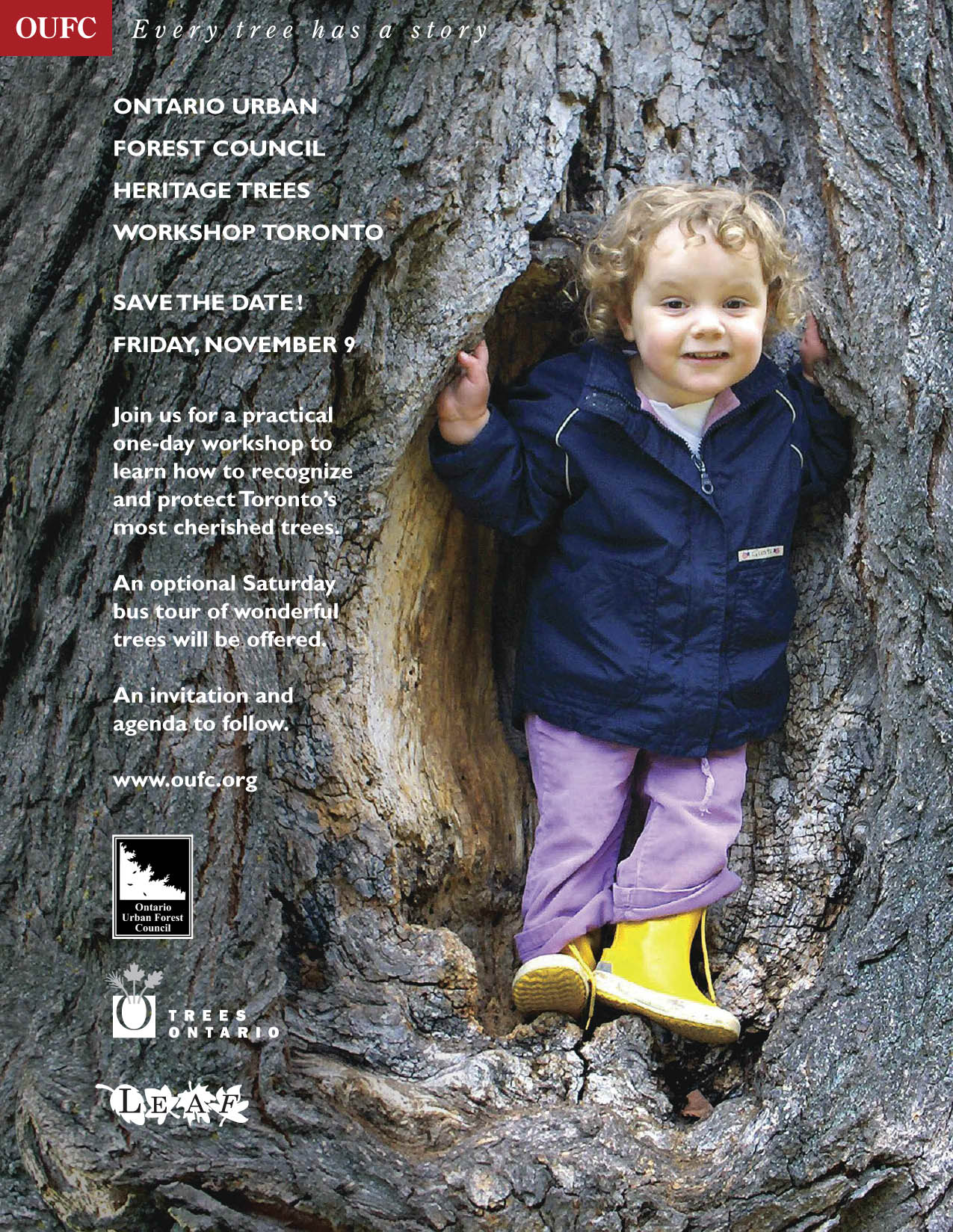 Please join us for an informative Heritage Tree Workshop presented by OUFC , Trees Ontario and local partners LEAF and University of Toronto Faculty of Forestry.
The Trees Ontario and Ontario Urban Forest Council (OUFC) Heritage Program is a premier program developed to identify, record, collect from and ensure the continuity of the Province's most important historic trees.  Any local community group or individual can nominate a Heritage Tree.  These are trees which are assessed based on their age, size,  appearance as well as cultural and historic significance.
While this program does not provide any legal protection for a tree, it is an excellent first step in galvanizing support for and key information about a tree to advocate for its protection at a municipal or provincial level.  
Special thank you to University of Toronto Faculty of Forestry for providing the space.

We are planning future workshops in Hamilton and Windsor in 2013. 
Please scroll down for the schedule and speakers bios for this workshop.
At this workshop we will discuss:
-       The formal definition and value of an Ontario Heritage Tree.
-       Stories about recognized Ontario Heritage Trees and trees protected by the Ontario Heritage Act
-       Researching, nominating and celebrating heritage trees to learn to undertake the cultural research on trees, and understand the evaluation criteria used
-       The legal and policy options available for protecting heritage trees under Toronto bylaws and Ontario Heritage Act
-       Good heritage Tree Stewardship Practices including the use of non-invasive assessment methods to determine structural stability
We are able to offer the workshop at this fabulous central location at Bloor and St George and right on the subway line for this low cost, but the location has restrictions on any catering.  Please bring your own snacks, coffee and lunch.  There is a Tim Hortons next door to OISE and other restaurants nearby, which are conveniently located, but sure to be busy when we have breaks. 
more info on the Heritage Tree Protection Toolkit  at www.  oufc. org under "publications".
Doors open at 8:00 for registration
8:30-8:50

Toni Ellis & Prof. Paul Aird
Welcome, What is a Heritage Tree?
8:50- 9:05
Rob Keen
Why look for and identify heritage trees,

 

values of heritage trees, ecologicial, economic, social, psychological.

 

Seed preservations, community spotlight, potential protection.
9:05 -9:15
Mary Johnston 
My experiences nominating a tree for heritage recognition
9:15 -9:20
Toni Ellis
Overview of three levels of Recognition Pyramid.
9:20-9:50
Jim Leonard
Cultural/ heritage criteria .

 

How do you find it ?

 

Examples of acceptable types of cultural information.

 

Archives, etc.

 

Q & A
BREAK
Break
Break
 
 
 
10:00 -10:30
Peter Dmytrasz
Visual Criteria for Tree Assessment
10:30 -10:40
Azadeh Chodek
How online recognition nomination works
10:40 -11:40
Jim Leonard
Protecting Heritage Trees using Heritage Designations

  

The Ontario Heritage Act and how it can protect heritage trees:
(a)

    

individual trees protected through designation under the OHA (Falcon Inn trees, Scarborough)

 


(b)

    

trees specifically mentioned as part of a cultural property designation (e.g. Maple Cottage, 62 Laing St., Toronto which includes the Muir Maple)
(c)

    

trees protected as part of a Heritage Conservation District;
LUNCH
Lunch
Lunch
12:40 - 1:20
Jim Leonard & Azadeh Chodek
Hands On Exercise.

 

Particpants are divided into two groups to work through various nomination scenarios, with Azadeh Chodek of Trees Ontario and Jim Leonard of Ontario Heritage Trust.

 

Participants are encouraged to bring information on a tree they would like to have recognized.
1:20 - 1:35
Jim Leonard & Azadeh Chodek
Recap of the exercise.

 

Where the stoppers were, what went smoothly
1:35 - 1:45
Peter Dmytrasz
Protection through Municipal bylaws in Toronto.
1:45 -3:00

 

Phillip van Wassenaer
Stewardship of Heritage Trees using conservation arboriculture
3:00 -3:05
Toni Ellis
WRAP UP, evaluations, etc.
3:15 - 5:15
Jack Radecki and Peter Dmytrasz
Evaluator training by invitation only.
Some of our speakers:
Paul Aird is Professor Emeritus of forest conservation policy at the Faculty of Forestry. His research interests include forest conservation policy analysis, the conservation of renewable resources, and conservation education. He specializes in forest history and the ongoing efforts to conserve biodiversity and bioproductivity.

Peter Dmytrasz has been working with the City of Toronto's Urban Forestry section, of the City of Toronto's Parks Forestry and Recreation division for over 25 years, where he has held a number of positions, including foreperson, inspections, plant health care, planning & protection, tree protection & plan review and tree by-law administration. Peter has been a director with the Ontario Shade Tree Council, now Ontario Urban Forest Council for 14 years, where he remains as an Advisor, and co-authored the Nomination and Evaluation Instrument components of the Toolkit.   

Rob Keen assumed the role of CEO of Trees Ontario in March 2011.  He first joined Trees Ontario in 2003 as Program Manager, and became Director of Operations in 2009.  As CEO, Rob is now leading Trees Ontario, its staff and overall organizational programs to sustain and generate new revenues and partnerships to support and achieve its mandate. Rob Keen is a Registered Professional Forester (RPF) who has run his own forestry consultant business since 1982. He has been involved with many facets of the forestry industry, primarily in the Great Lake St. Lawrence forest region. Trees Ontario is a not-for-profit organization committed to the re-greening of Ontario through tree planting efforts on rural lands and in urban areas. The organization delivers several granting programs to promote and support the efforts of planting agencies, partners and landowners.
Jim Leonard joined the Ontario Heritage Trust (OHT) in the fall of 2010 as the first Ontario Heritage Act Registrar. This is a new position created to develop and manage the statutory Provincial Heritage Register, as mandated under Section 23 of the Ontario Heritage Act.
From 2003 to 2010 Jim Leonard was the municipal heritage planner for the City of Brampton. He was the first full-time Heritage Coordinator hired by the City to develop its heritage conservation program. As Heritage Coordinator, his primary role was to develop and coordinate new initiatives and special projects in heritage planning, heritage resource management, listing and designation, heritage policy and outreach.  He put forward several initiatives intended to establish a municipal heritage planning infrastructure for Brampton.  
Philip van Wassenaer, B.Sc. Environmental Sciences, Master of Forest Conservation,
Philip is the principal consultant for Urban Forest Innovations, Inc., which specializes in the preservation, enhancement, and management of the urban forest using a research‐ and science‐based approach. He is an ISA Certified Arborist, member of ASCA , a Past President and Director of the Ontario Urban Forest Council from 1998 to 2007 and a 2009 recipient of the ISA True Professionals of Arboriculture Award.
Contact: (905) 274‐1022 pwassenaer1022@rogers.com
Azadeh Chodek  Azadeh Chobak is Trees Ontario's Communications Officer, supporting the organization's marketing, public relations and fundraising initiatives. She also coordinates the nomination and recognition processes of the Ontario Heritage Tree Program.  
Toni Ellis is the coordinator of NeighbourWoods on the Grand, the Urban Forest program in Elora/Fergus area. This organization got their start thanks to a Heritage Tree Hunt - and Toni maintains that capitalizing on the popularlty of and interest in heritage trees is an excellent way to draw attention to the entire Urban Forest.  She is currently President of the OUFC and is on the OUFC/Trees Ontario Heritage Tree program team.
When & Where

Ontario Institute of Studies in Education
252 Bloor Street West
Room 2214
Toronto, Ontario M5S 1V6
Canada

Friday, 9 November 2012 from 8:30 AM to 3:00 PM
Add to my calendar