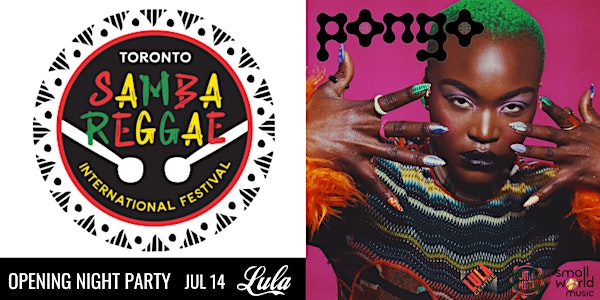 Toronto International Samba Reggae Festival Launch + Pongo
Presented by Uma Nota, Small World Music and Lula Music and Arts Centre
Location
Lula Lounge
1585 Dundas Street West
Toronto, ON M6K 1T9
Canada
A double concert night, featuring Mestre Memeu of Olodum and Adiana Portela followed by groundbreaking koduro artist, Pongo
About this event
Toronto International Samba Reggae Festival Launch
+ Pongo
A double bill of groundgreaking Afro-Lusophone international artists: Mestre Memeu and Adriana Portela followed by the queen of contemporary Kuduro, the Angolan/Lisboan based, Pongo
7:30 pm doors open for dinner and drinks
9 pm - live music begins
Tickets are $25 in advance and $35 at the door.
Check out the Lula Dinner Menu
Please note: Tickets are general admission and do not guarantee seating. For seating, please make a dinner reservation at here.
Pongo
The Queen of Kuduro
At the tender age of 16, the artist then known as Pongo Love authored "Wegue Wegue", a track that rocketed the LIsboan-Angolan act Buraka Som Sistema and kuduro into the global consciousness. Their fusion of the Angolan genre with techno and electronic sounds was a catalyst for a musical renaissance in Lisboa, in Portugal and across the globe.
Now known simply as Pongo, this groundbreaking 30-year old artist has recently released the full length album Sakidila - a riotous mix of kuduro, EDM, bass music, dancehall and pop - that has already received over 7 million streams on Spotify. Her international tour includes dates in Ottawa, Montreal, Quebec City and Toronto. This much anticipated appearance at Lula Lounge is a co-presentation by Lula Music and Arts Centre, Small World Music and Uma Nota Culture.
Toronto International Samba Reggae Festival
The inaugural Toronto International Samba Reggae Festival will gather more than 100 drummers from Canada, Brazil, the United States and Bermuda. creating what we anticipate will be the biggest Brazilian party in Toronto this year!!!!
Get ready to dance all night long! With special guests joining all the way from Salvador, Bahia, Brazil Mestre Memeu and Mateus Vidal of Olodum, Maestrina Adriana Portela of Banda Didá and Marcos Costa of Ilê aiyê. Toronto will be transformed into the carnaval of Salvador, Bahia for a few hours!!!!!!
Mestre Memeu
The leader of Olodum for more than 25 years, Mestre Memeu travels the world teaching and performing the original samba reggae from Bahia.
Marcos Costa
Currently based in Brooklyn, New York, Marcos Costa's career spans continents and festivals including Festival Internacional de Tambores in Brasília, Brazil, and Festival Massa in Abidjan, Ivory Coast. In 2011 he won first prize in the 37th Ilê Aiyê Festival of Black Music with the song, 'Curuzú Nation.'
Combining signature lyrics with Afro-samba, rock, & funk grooves, Marcos Costa's work shines as both a solo artist and an integral member of Ilê Aiyê, and he is recognized for his unique ability to infuse his music with deep soul and an unmistakable trademark style.
Maestrina Adriana Portela
The first woman to have been named Master drummer by the creator of samba reggae Neguinho do Samba and the first woman to lead an all female samba reggae ensemble, Adriana is the leader of Banda Didá a group of Afro Brazilian woman performing samba reggae
Mateus Vidal
Born in Salvador, Mateus Fernando Vidal began a brilliant career that has lasted more than 23 years playing percussion with Olodum. In 2009 he became lead singer for the legendary ensemble and has since performed with the likes of Zezé de Camargo and Luciano, Luiza Possi, Michel Teló, Gilberto Gil, Ivete Sangalo, Daniela Mercury, Carlinhos Brown, Andrew Tosh, Inner Cicle among others.
Thank you to our funders!
This event is made possible by support from The Toronto Arts Council, The Ontario Arts Council, Ontario Creates, Ontario Trillium Foundation, Canada Council for the Arts, Canadian Heritage, FACTOR and The Government of Canada.