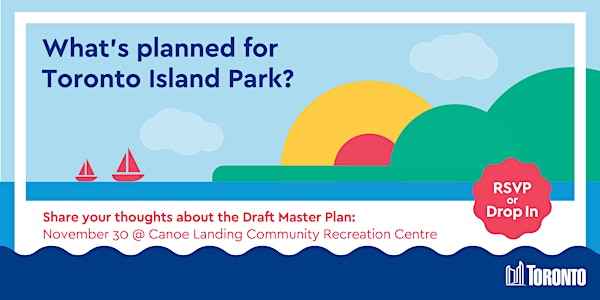 Toronto Island Park Master Plan Open House
Join us to learn more about the new Toronto Island Park Master Plan taking shape, speak with the project team and share your thoughts!
When and where
Location
Canoe Landing Community Recreation Centre 45 Fort York Boulevard Toronto, ON M5V 3Y2 Canada
About this event
As part of the third and final phase for the Toronto Island Park Master Plan we are excited to host an Open House! Over the last year and a half, we've heard thousands of ideas, from thousands of Torontonians from all walks of life about what they'd like to see in the future of the park.
Come out to the Open House to learn more about the Draft Master Plan, talk to the project team, and tell us what you think.
Meeting details:
Canoe Landing Community Recreation Centre
45 Fort York Blvd
Drop-in between 5:30 pm - 8:00 pm on Wednesday November 30, 2022
There will be an event opening at 6:00 pm with the project team.
Though not required, we encourage you to register to receive reminders and event details.
Meeting materials available online after the Open House at: Toronto.ca/IslandMasterPlan
-----------------------------------
Contacts
For project information:
Pablo Muñoz
Senior Public Consultation Coordinator
City of Toronto, Parks, Forestry, and Recreation Division
Tel. 437-220-5975
Email: islandparkmasterplan@toronto.ca
For information about the public engagement process, or to request accommodations for the Open House:
Jacky Li
Public Engagement Team (Third Party Public)
Tel: 416-572-4365
E-mail: jacky@thirdpartypublic.ca
-----------------------------------
Notice of Collection Statement
Parks, Forestry and Recreation collects personal information under the legal authority of the City of Toronto Act, 2006, SO 2006, Chapter 11, Schedule A, sections 8 and 136 (c) and City of Toronto Municipal Code Chapter 608, Parks. Your name and email address will only be used to keep you informed about the progress of the Island Stories campaign and the Toronto Island Master Plan. Questions about this collection can be directed to the Manager, Public Consultation, Metro Hall, 55 John Street, Toronto, Ontario, M5V 3C6, or by telephone at 416-338-3020.