Description
To kick off Cooperathon in Toronto we'll provide snacks, an overview of how Cooperathon works, and time to pitch and form teams.
This evening event is the local kick-off of Cooperathon in Toronto for Cooperathon participants. We want to give you a chance to hear about how Cooperathon will work, ask questions, meet other participants, and start to form your team. Note: you will have the option to pitch an idea to the group to help form your team.
This event is just to get you started. By the end of the night you don't need to have your team finalized or even know what you're working on yet.
Feel free to share and invite your friends and colleagues to the THREE FREE kickoff info and team formation for Ontario on September 28th in Toronto, Waterloo, Ottawa: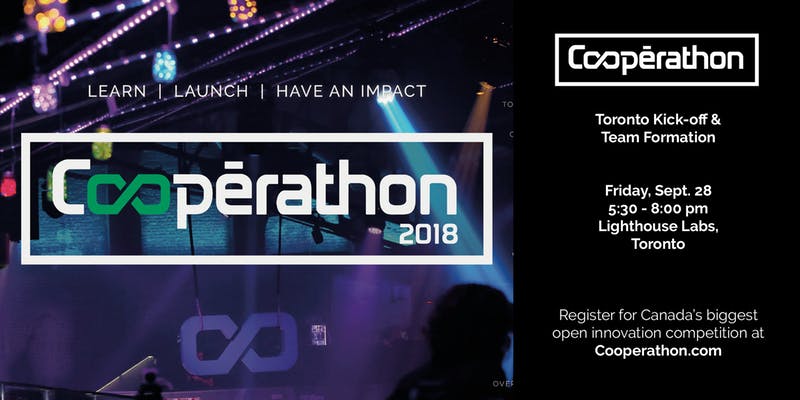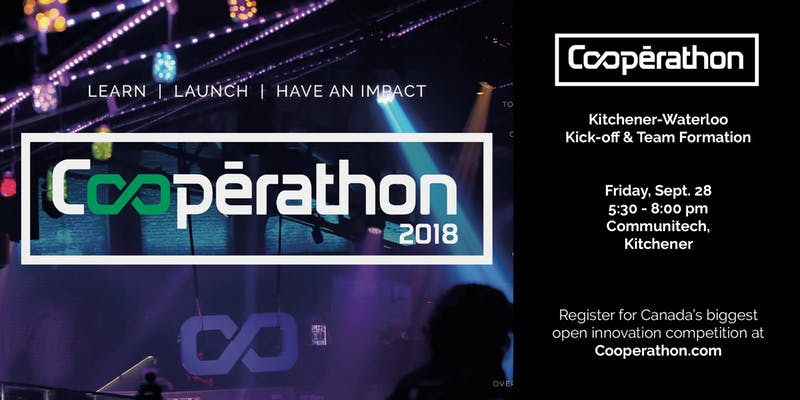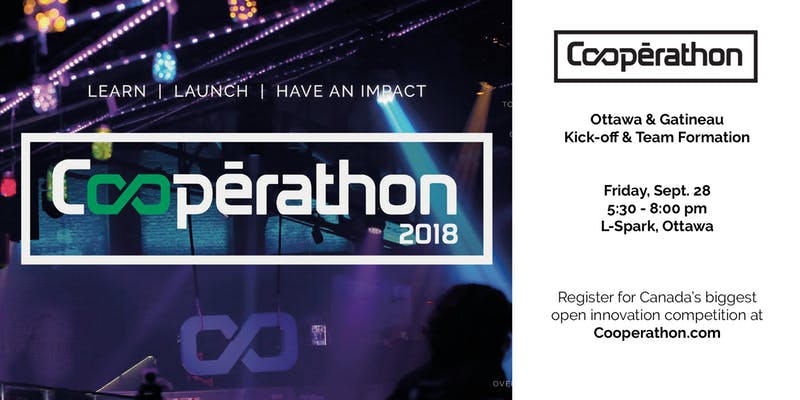 Agenda
5:30 - 6:00 pm: Arrive, mingle, eat snacks
6:00 - 6:30 pm: About Cooperathon
How it works
Schedule
Themes & challenges
Questions
6:30 - 6:45 pm: Prepare to pitch your idea & who you need on your team (optional)
6:45 - 7:00: Pitches (60 sec each)
7:00 - 7:30 pm: Discuss & form teams around pitches & new ideas
7:30 - 8:00: Next steps
Find supplementary team members on the virtual collaboration platform
Find virtual or local mentors
Sprint 1 is tomorrow
Not yet registered to participate in Cooperathon?
Watch this video to learn about Cooperathon in 60 seconds and register here.
Many thanks to our partners, Lighthouse Labs and Claro
Lighthouse Labs was created as an experiment in 2013 by a group of software developers with a passion for code, mentorship, and education. Our mission: to continuously find the best ways to train the next generation of developers and to transform the way tech education is delivered. Over two years later, we are still chasing that same mission. We aim to empower students to master the craft of software development, launch careers, and contribute to the incredible growth of Canada's tech industry. With over 80 mentors and 350 graduates who have joined the ride, we're still just a bunch of developers developing developers.
Claro Partners is an international business innovation and service design firm. We make sense of disruptive shifts in business and society to develop new market opportunities, strategies and business models. By combining social science, design thinking and business strategy, we lead our clients to solutions that create value for both business and for society.