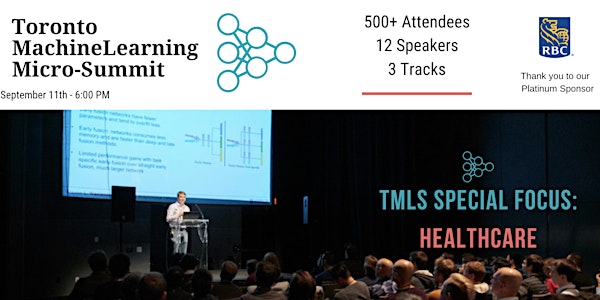 Toronto Machine Learning 'Micro-Summit' Series (TMLS) - Healthcare 2019
When and where
Location
RBC Waterpark Place 88 Queens Quay W RBC Auditorium Toronto, ON M5J 0B8 Canada
Refund Policy
Refunds up to 30 days before event
Description

Following up on our Micro-Summit Series, the TMLS team has organized another evening conference, with a special focus on Machine Learning in Healthcare.
12 speakers will explore applications of Machine Learning from both the business and technical areas of expertise. Attendees will have opportunities to meet with both academic researchers and industrial parties active in the Healthcare sector in order to gain new perspectives from each other's scope of work.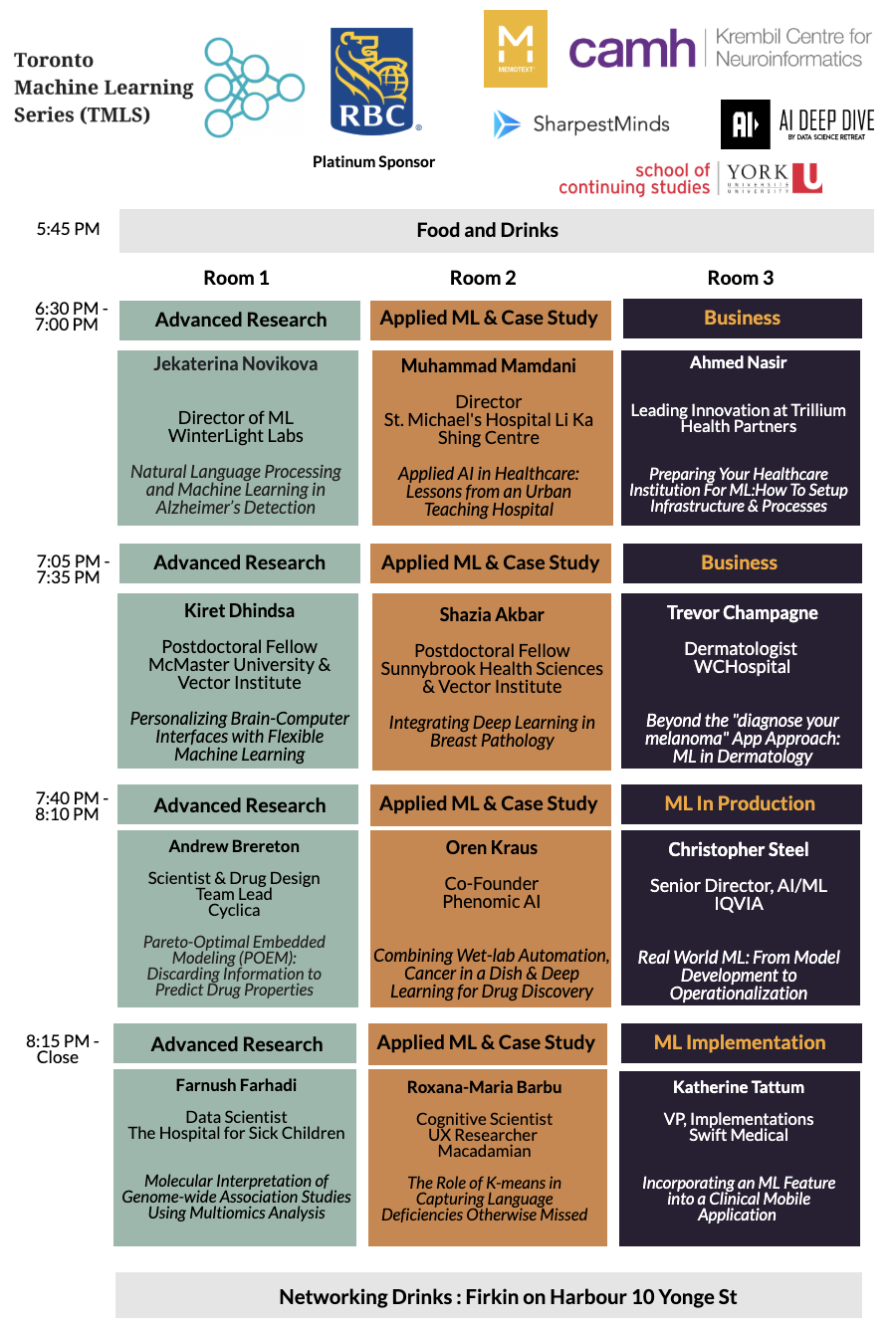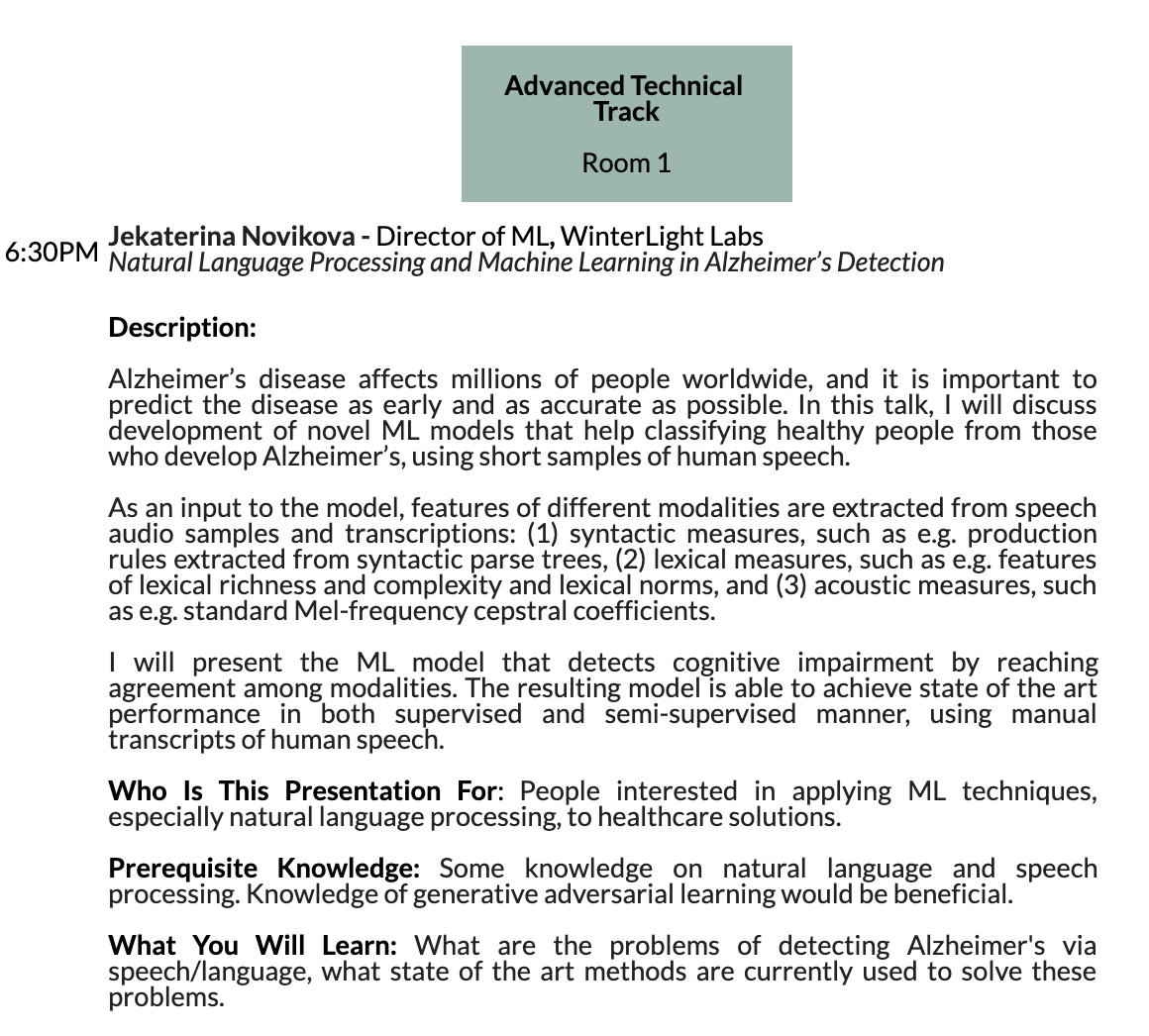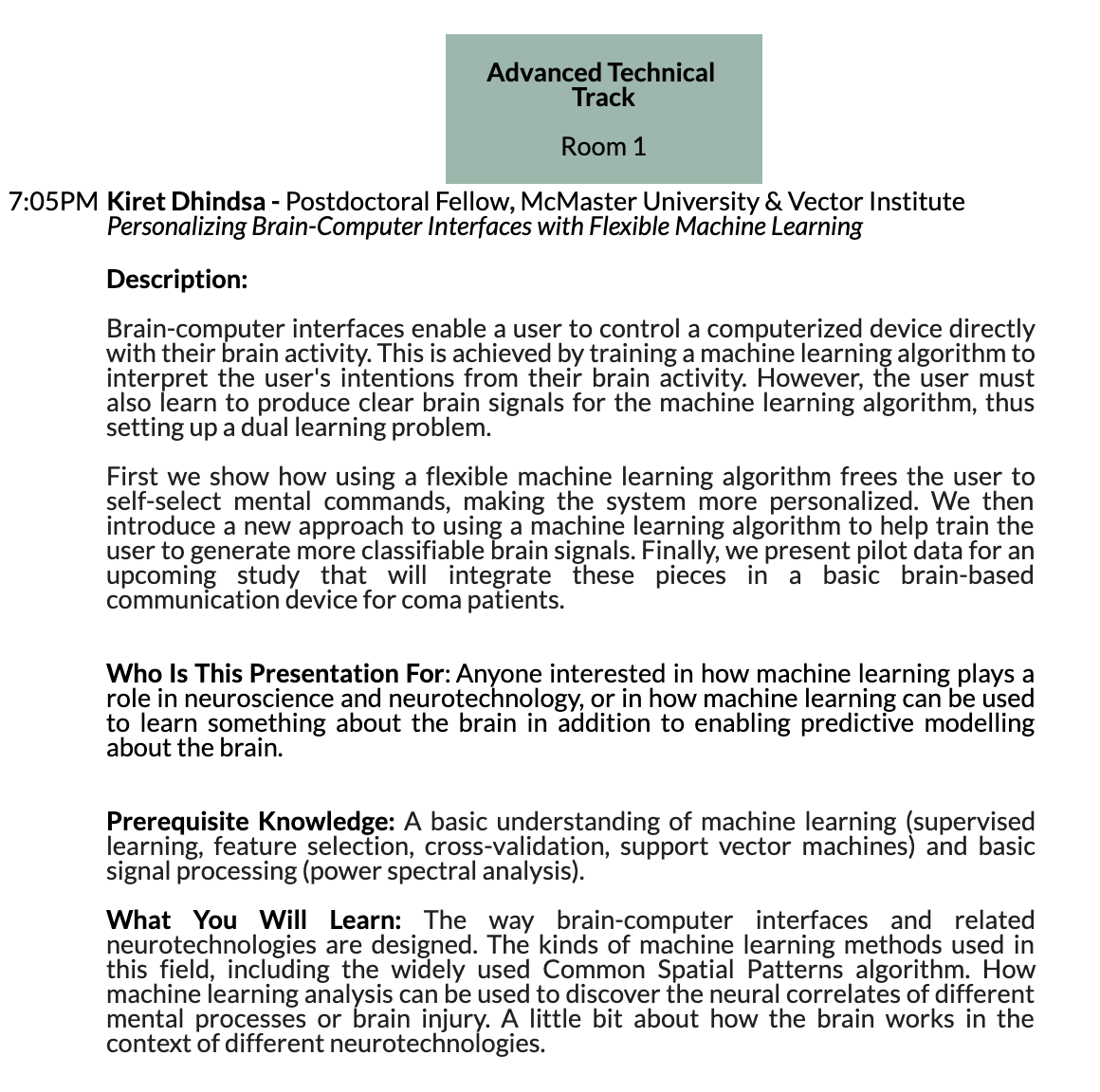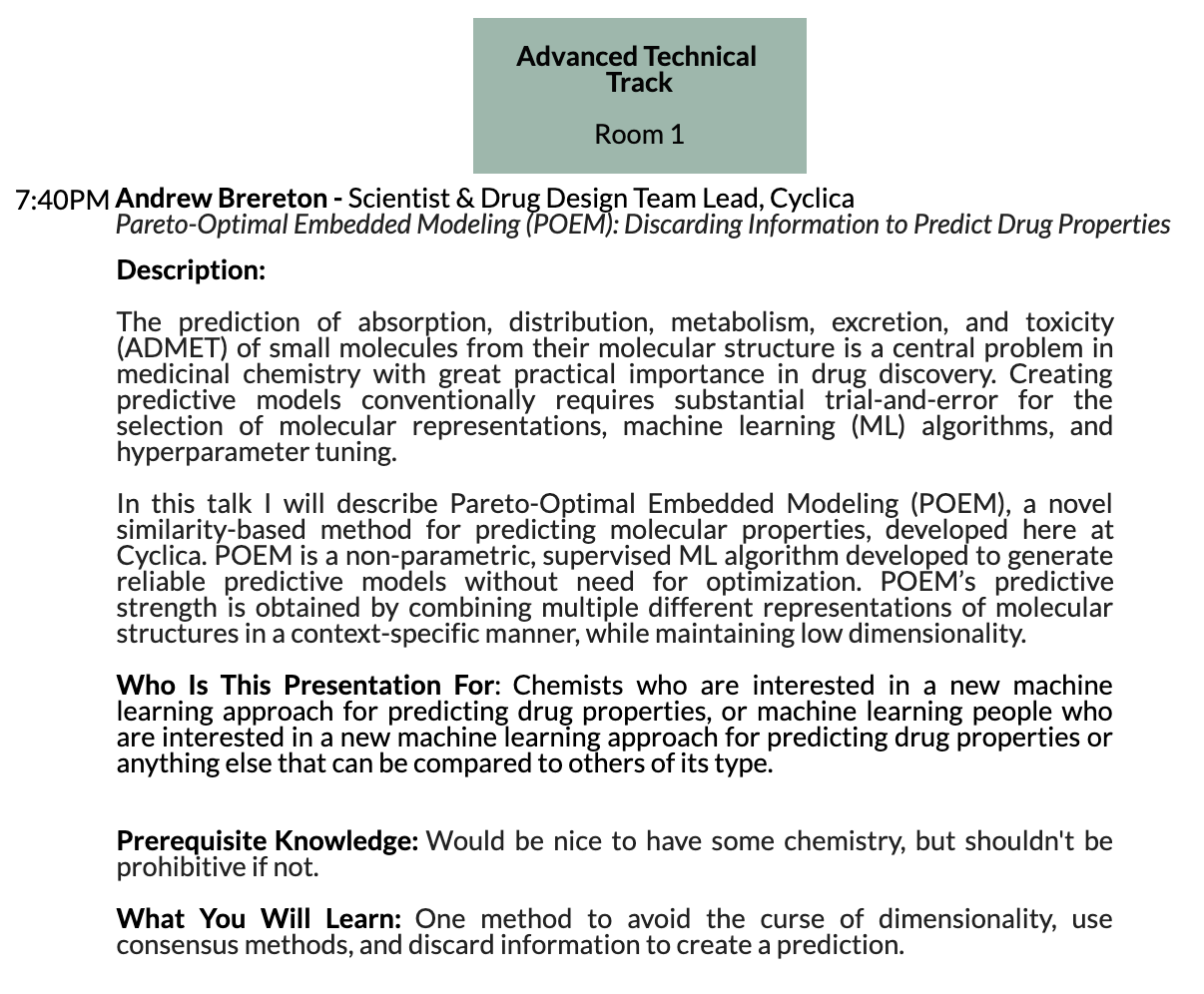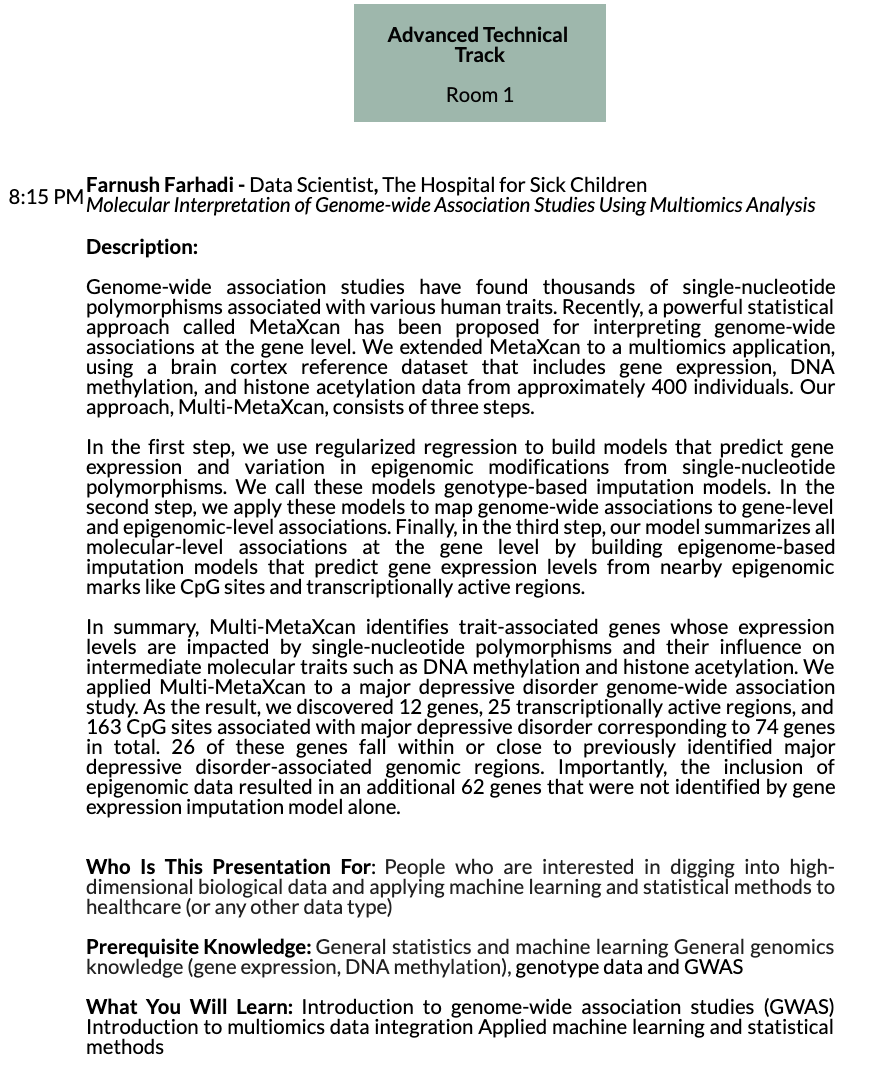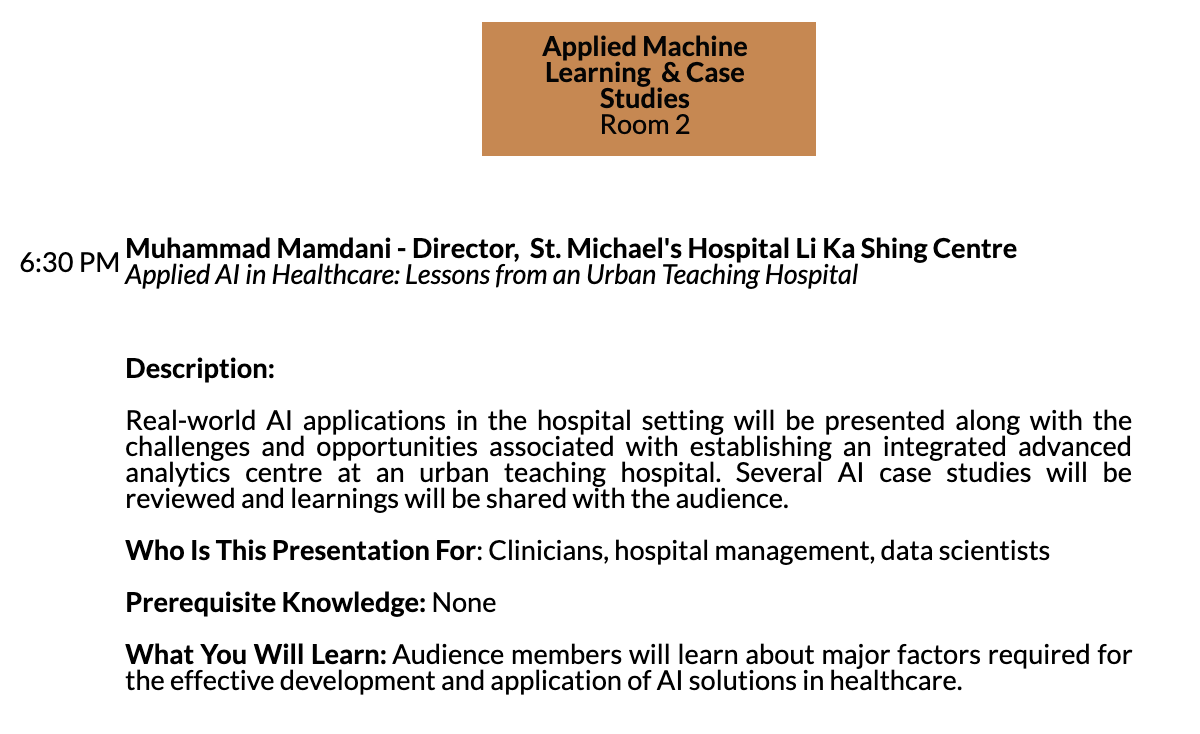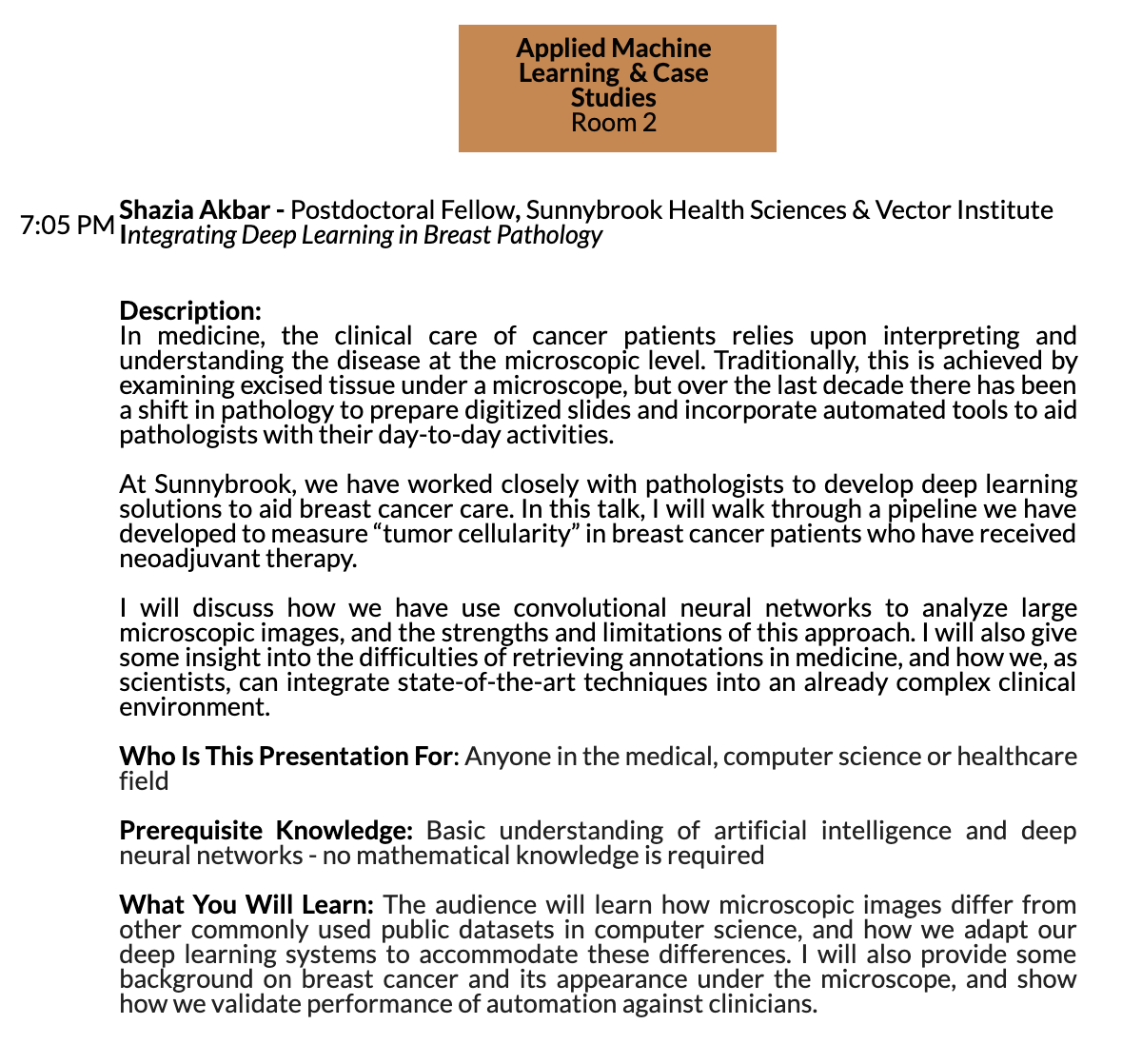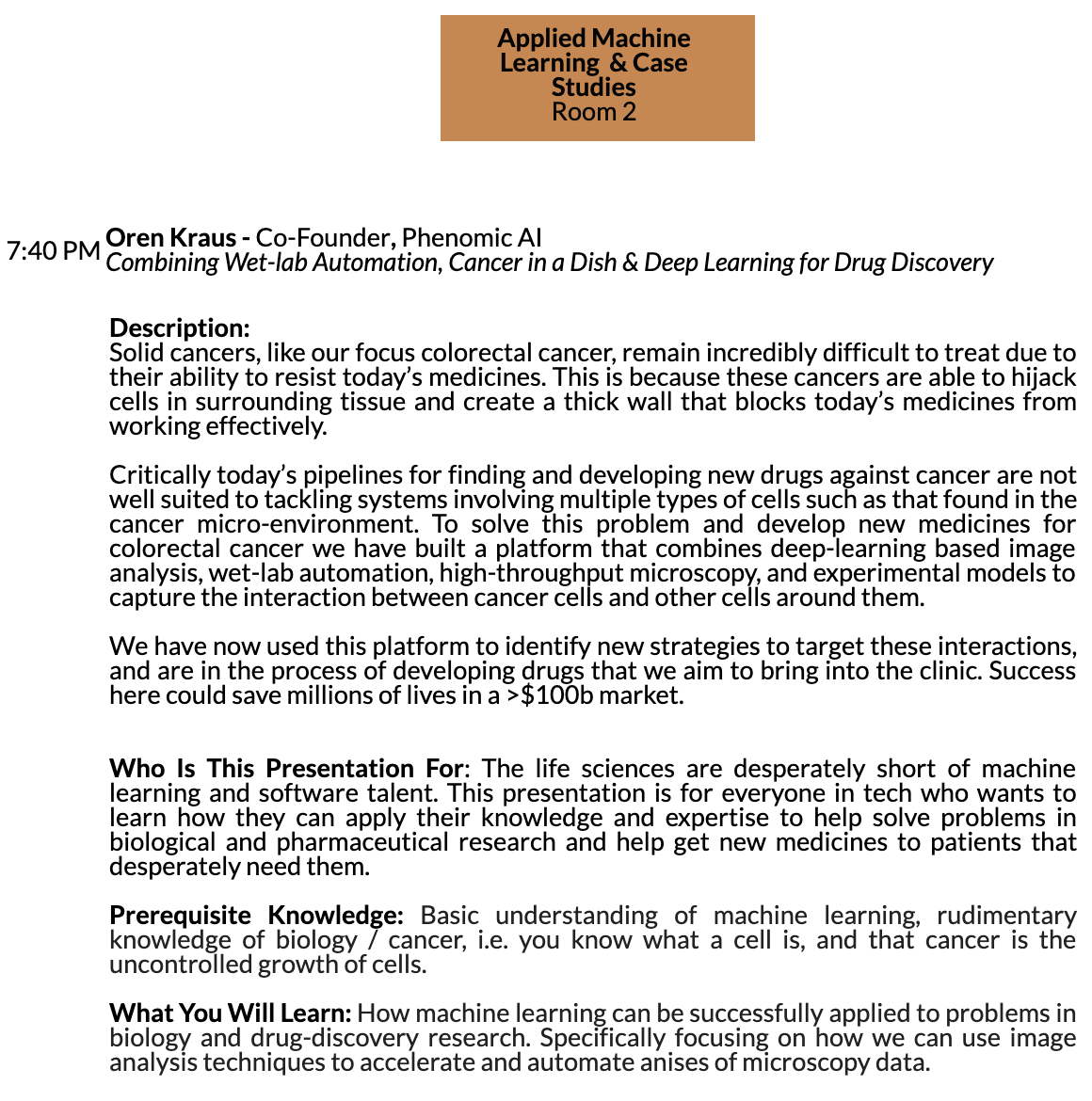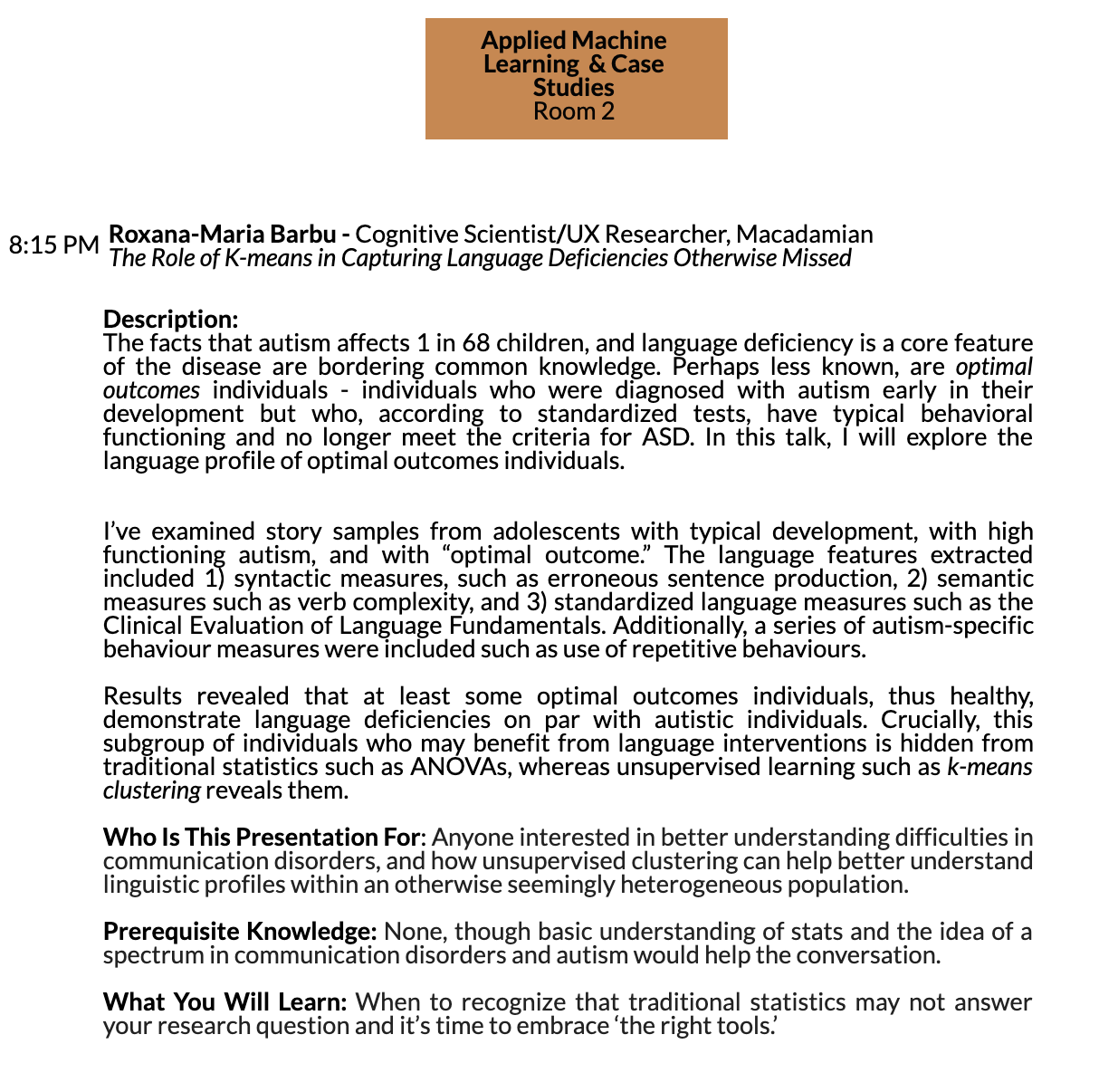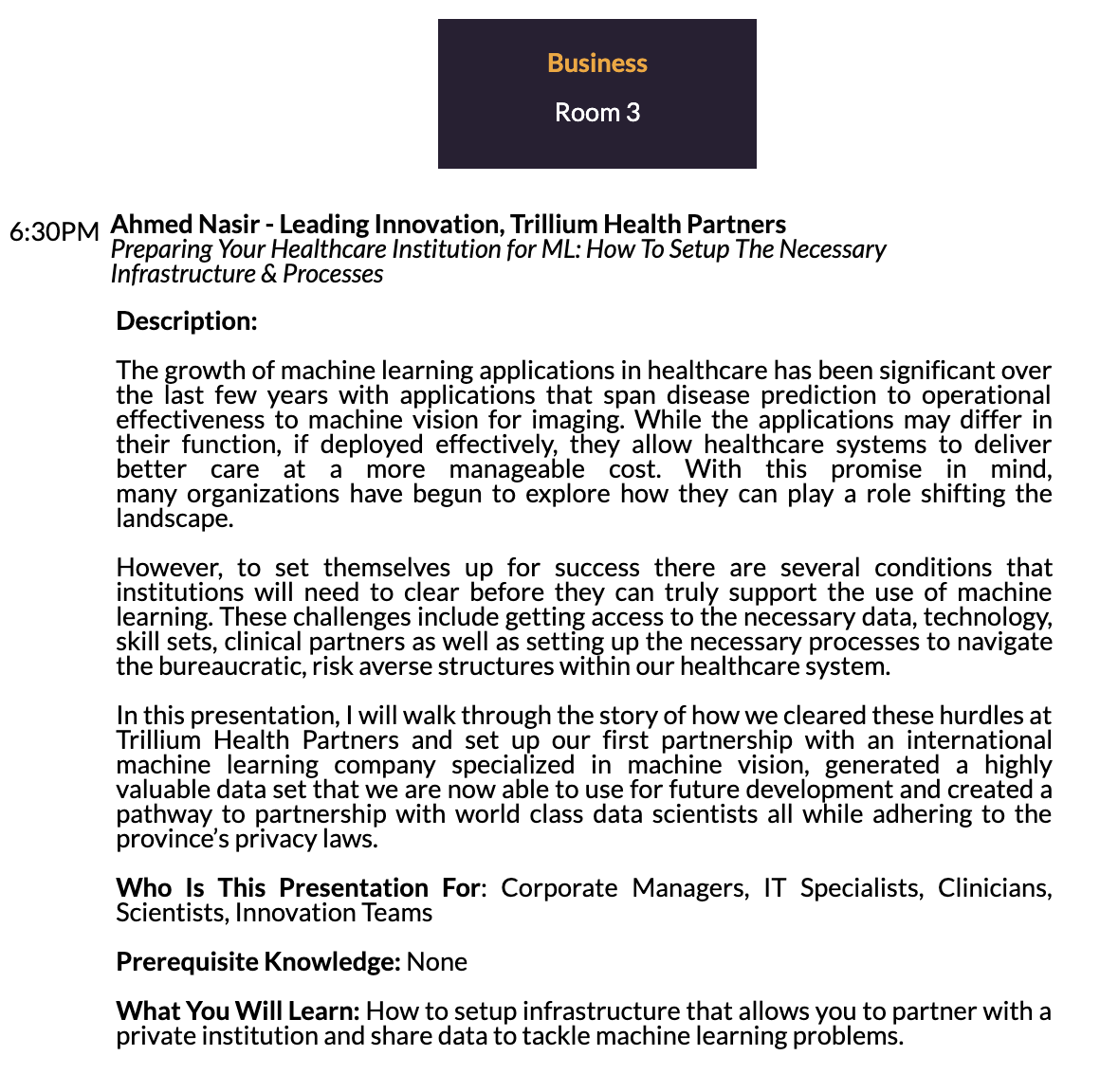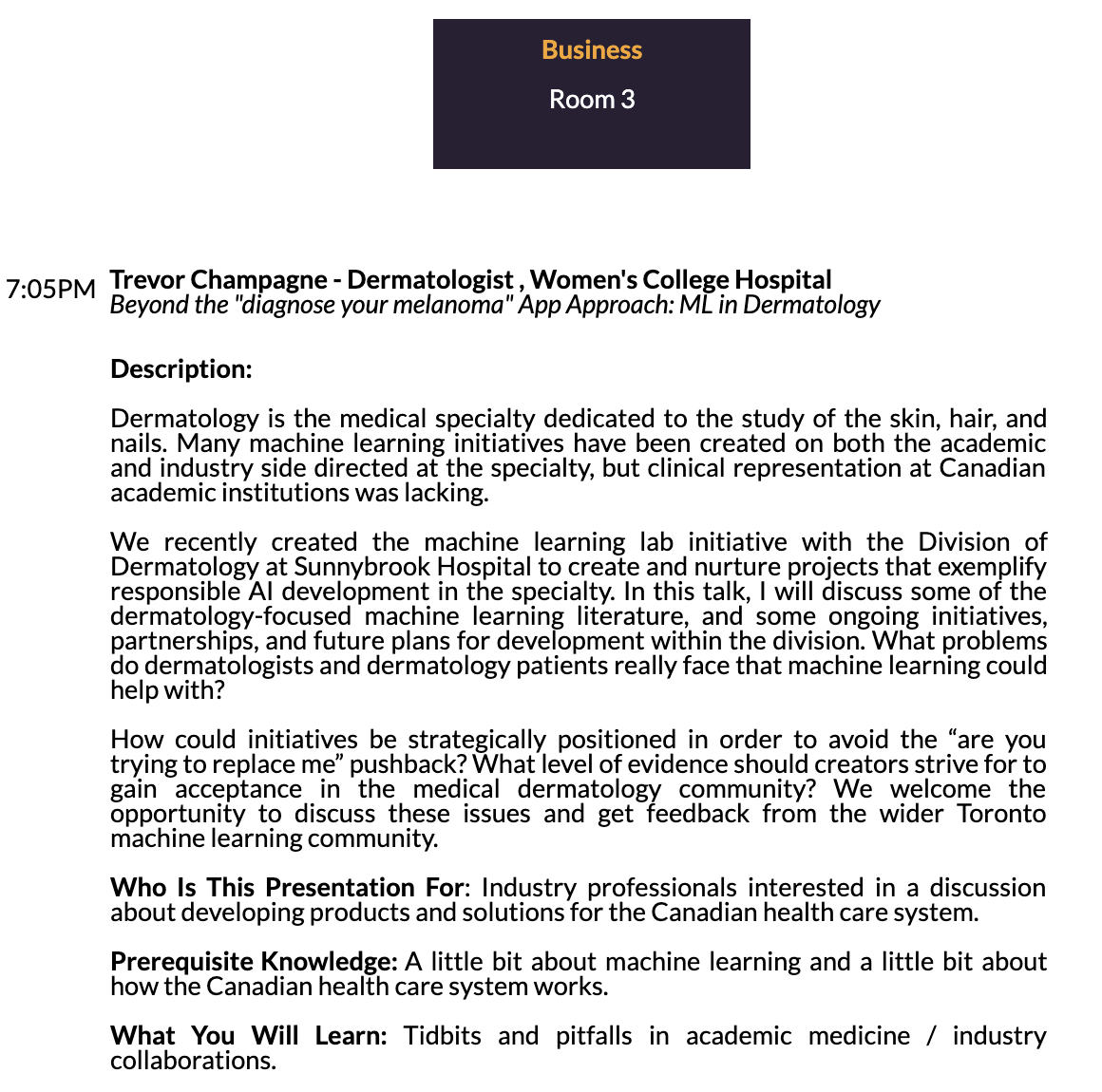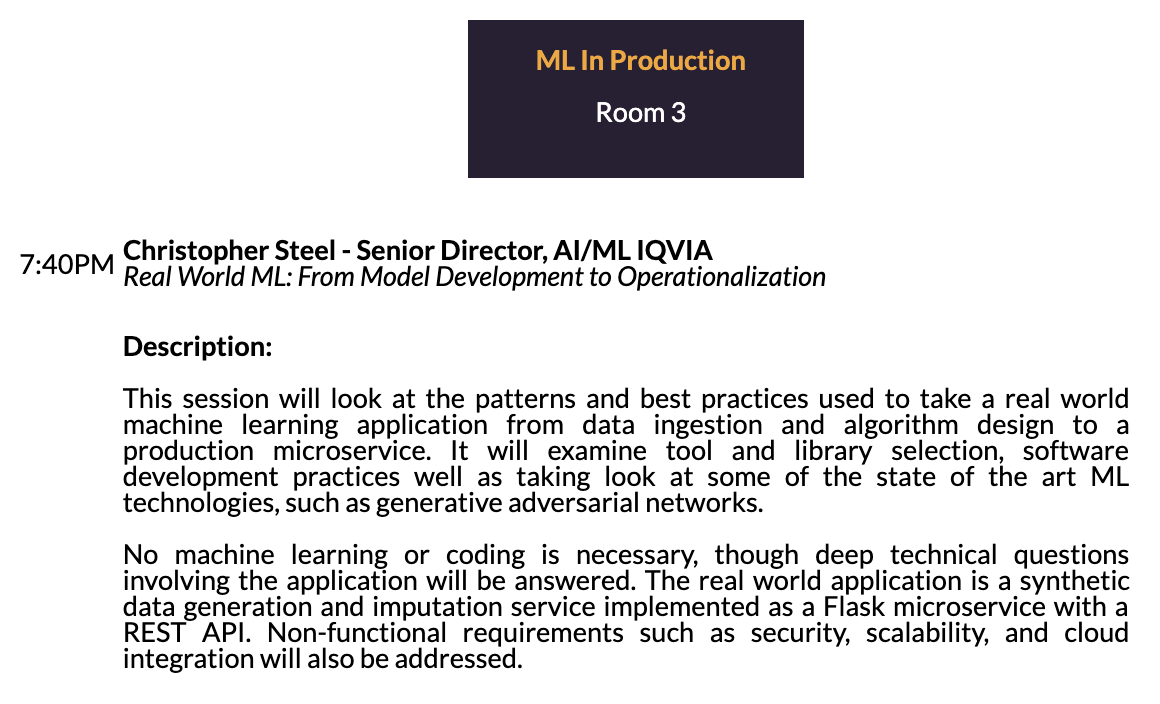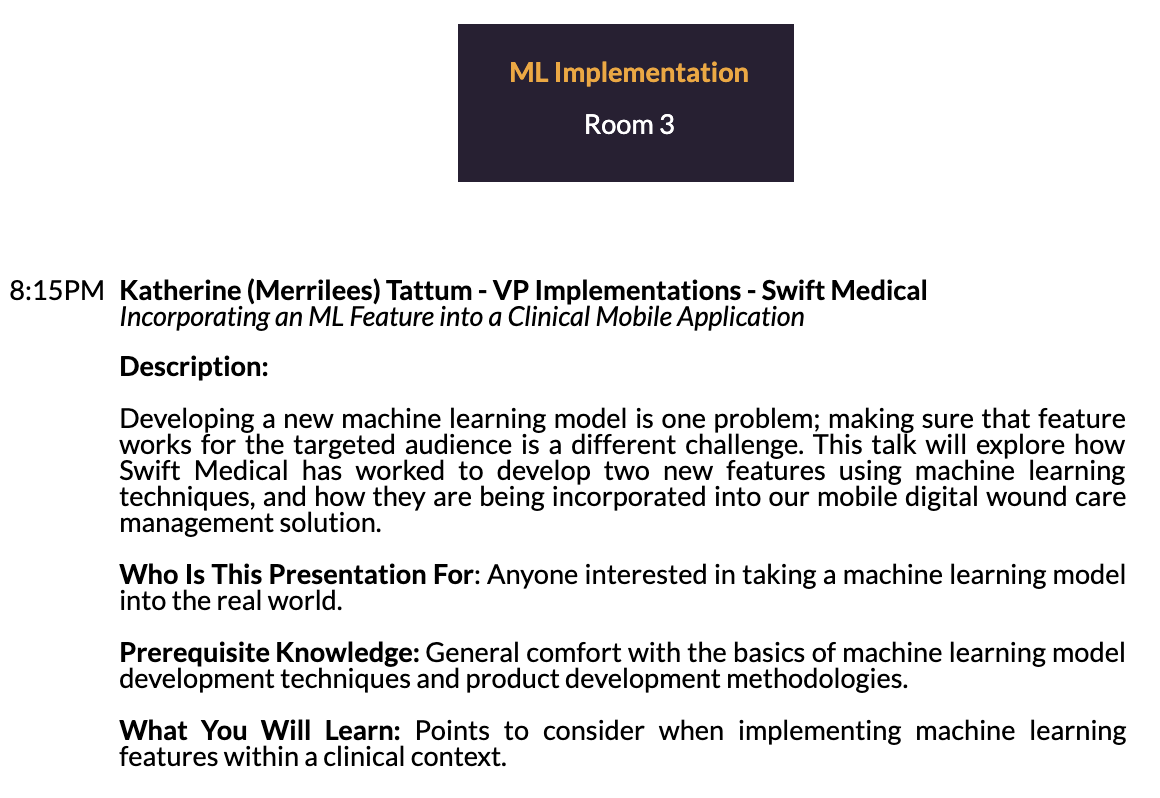 As always, our goal is to reunite our community of Practitioners, Researchers and Business Leaders. Included in the evening will be drinks, food, and networking. Spots are limited, and 32$ for all access.
Tickets will allow for the drop-in across 3 parallel tracks;
1. Case Studies and Applied ML
2. The Business of ML
3. ML Research
Please be aware, tickets will be limited, please reserve today! We will also have a "Community Mic" open session to kick off the event.
TMLS is an initiative to accelerate the growth of ML/AI in Toronto. We have gathered the top insights, expertise from our community of over 6,000 Toronto-based professionals to create a bi-monthly Toronto Machine Learning Series (TMLS).
The goal is to showcase Canada's research accomplishments while offering innovative solutions to real business problems faced by ML and AI practitioners.
What to expect at Toronto Machine Learning 'Micro-Summit' Series (TMLS) - Healthcare 2019;


Business Leaders, including C-level executives and non-tech leaders, will explore immediate opportunities, and define clear next steps for building their business advantage around their data.
Practitioners will dissect technical approaches, case studies, tools, and techniques to explore challenges within Natural Language Processing, Neural Nets, Reinforcement Learning, Generative Adversarial Networks (GANs), Evolution Strategies, AutoML and more.
Researchers will have the opportunity to share with their peer's cutting-edge advancements in the field.
Machine Learning in Canada; Machine learning, deep learning, and AI are some of the fastest growing and most exciting areas for knowledge workers - simultaneously, they are the key to untapped revenue sources and strategic insights for businesses. Firms are using AI to create unprecedented business advantages that are reshaping the global - but more specifically Canadian - economic landscape. Practitioners are leveraging and expanding their expertise to become high-impact global leaders.
Despite the vast opportunities that lie within our data, there are also explicit challenges to revealing their potential. Furthermore, transitioning to a career in practicing AL/ML, or managing ML and AI-driven businesses, are less than straightforward.
Why should I attend the TMLS?
Developments in the field are happening fast - for practitioners, it's important to stay on top of the latest advances. Business leaders know that the implementation of new technology brings specific challenges.
The goal of TMLS is to empower practitioners and business leaders with direct contact to the people that matter most. For data practitioners, you'll hear how to cut through the noise and find innovative solutions to technical challenges. Business leaders will learn from the experience of those who have successfully implemented ML/AI and actively manage data teams.
Seminar series content will be practical, non-sponsored, and tailored to our local ecosystem. TMLS is not a sales pitch - It's a connection to a deep community that is committed to advancing ML/AI and to create and deliver value and exciting careers for Canadian Businesses and Individuals.
We're committed to helping you get the most out of the TMLS.
Joining together under one roof will be:
Machine Learning/deep learning PhDs and researchers

C-level business leaders

Industry experts

Enterprise innovation labs seeking to grow their teams

Community and university machine learning groups


TMLS tickets give access to the entire portfolio of:
Workshops

Real case studies

Keynote addresses

High-level and granular discussions

Ample networking opportunities

Tailored post-event gatherings

Community follow-ups through a social channel.
This event is not a black tie affair and tickets are priced accordingly.
We ask that you direct any questions, requests to speak, requests for a Sponsorship Prospectus, etc. to info@torontomachinelearning.com.
We're very excited to see you there!
-The TMLS Team
www.torontomachinelearning.com
The TMLS community helps promote the development of AI/ML by helping data practitioners fast-track their learning process, and businesses gain direct contact to the people who matter most.

FAQs
Q: Are there ID or minimum age requirements to enter the event?

There is not. Everyone is welcome.


Q: What can I bring into the event?

Just your ticket! You can also bring a CV if you're job seeking.


Q: How can I contact the organizer with any questions?

Please email info@torontomachinelearning.com


Q: Why should I attend the TMLS?

Developments are happening fast - it's important to stay on top.
For businesses leaders, you will have direct contact with the people that matter most; consultants and experts, potential new hires, and potential new clients. For data practitioners, you'll have an opportunity to fast-track your learning process with access to relevant use-cases, and top quality speakers and instructors that you'll make lasting connections with while building your network.
The event is casual and tickets are priced to remove all barriers to entry. Space, however, is limited.


Q: Who will attend?

The event will have three tracks: One for Business, one for Advanced Practitioners/Researchers and one for applied use-cases (Focusing on various Industries). Business Executives, PhD researchers, Engineers and Practitioners ranging from Beginner to Advanced. See Attendee Demographics and a list of the Attendee Titles from our past event here.


Q: I'm not sure artificial intelligence can benefit my business. Is this still relevant?

Yes, a large component of the business track will be dedicated to understanding the potential of machine learning and ensuring ROI.


Q: Can I speak at the event?

Yes, you can submit an abstract here.
*Content is non-commercial and speaking spots cannot be purchased.


Q: Will you give out the attendee list?

No, we do our best to ensure attendees are not inundated with messages, We allow attendees to stay in contact through our slack channel and follow-up monthly socials.


Q: Can my company have a display?

Yes, there will be spaces for company displays. You can inquire at info@torontomachinelearning.com.