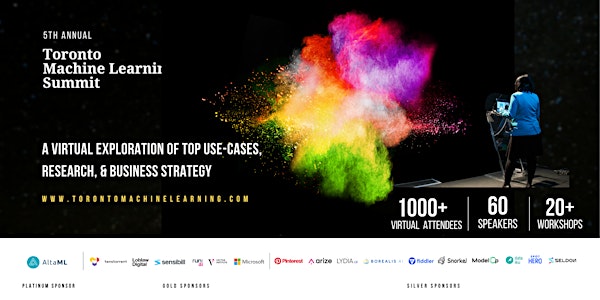 Toronto Machine Learning Society (TMLS) : 2021 Annual Conference
A unique experience to upskill and learn from industry and academics in our community.
Refund Policy
Refunds up to 30 days before event
About this event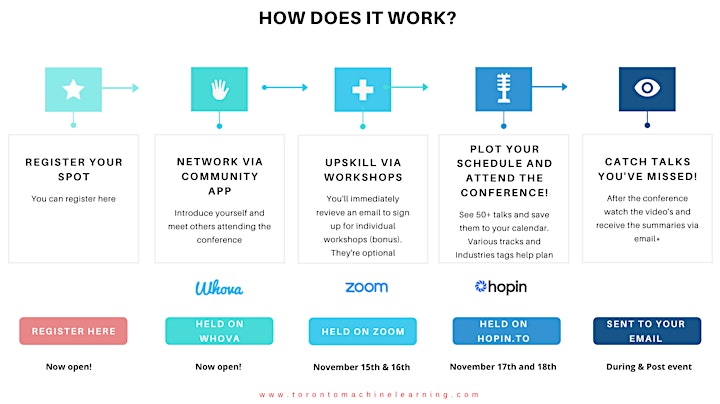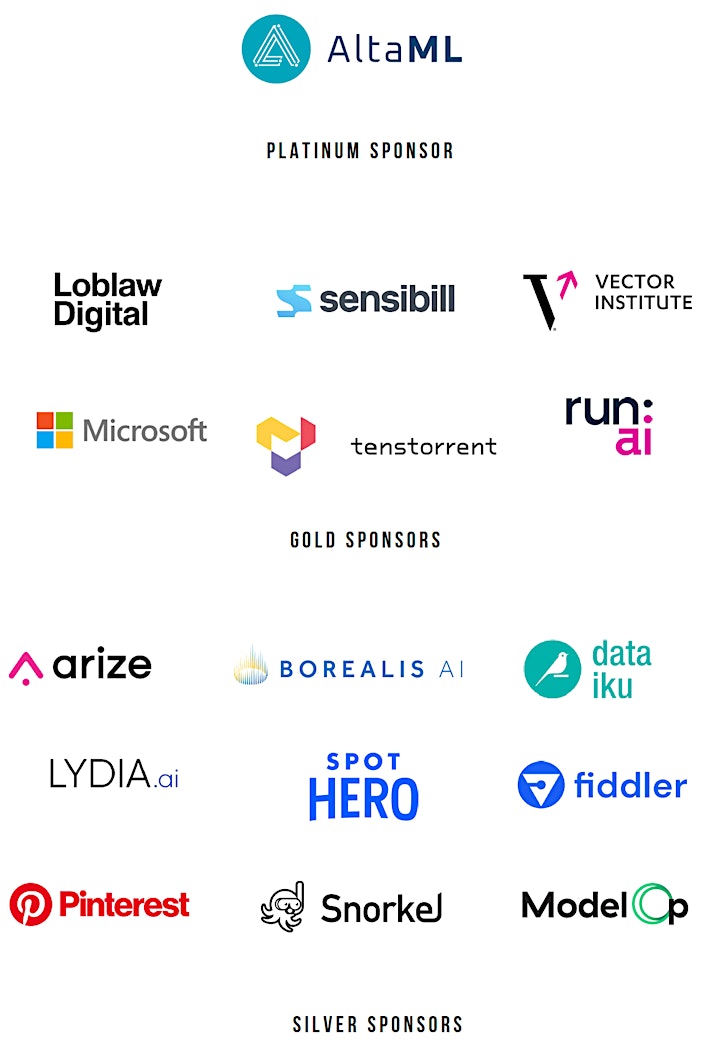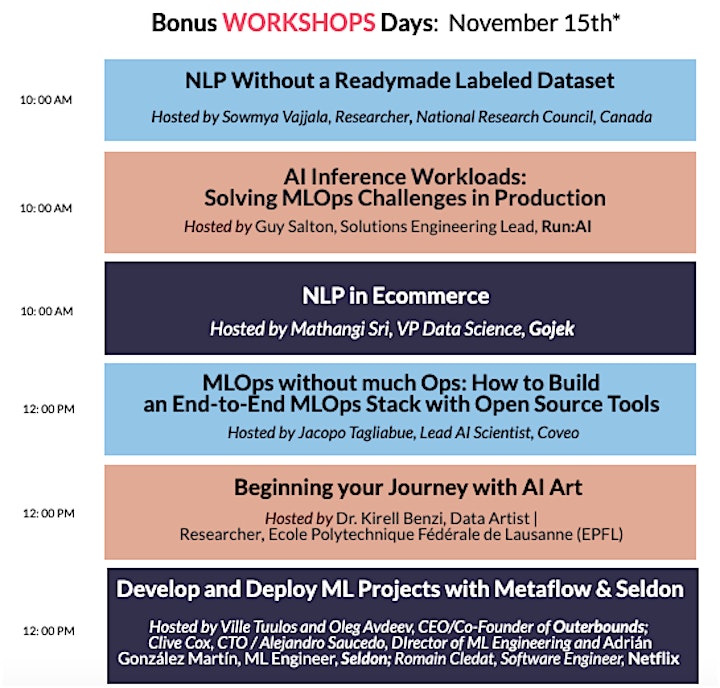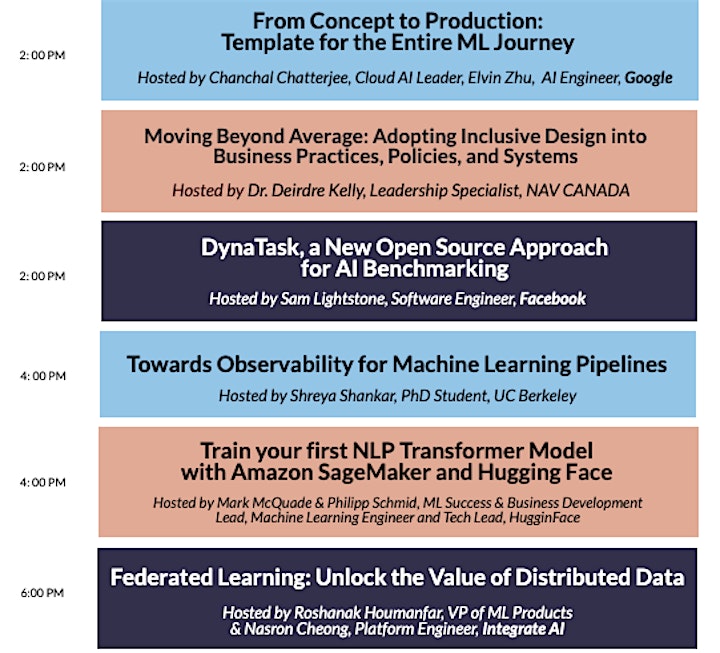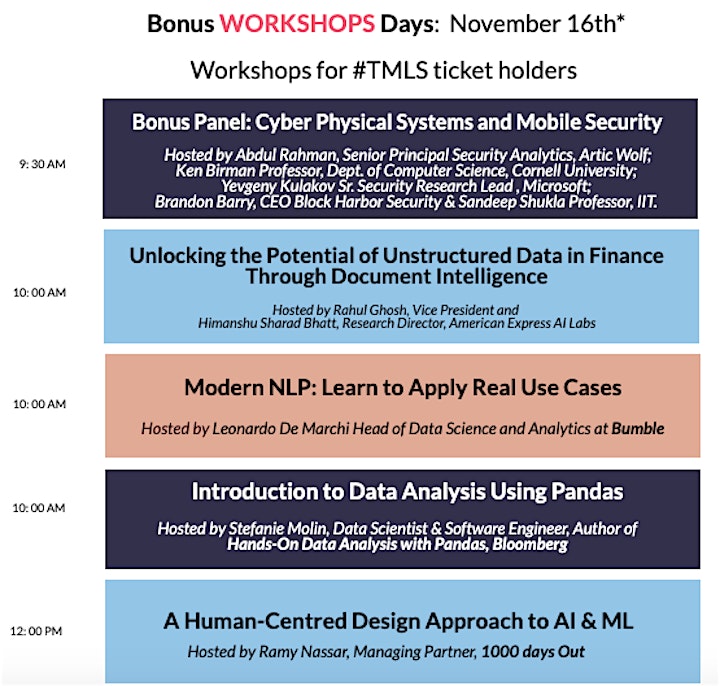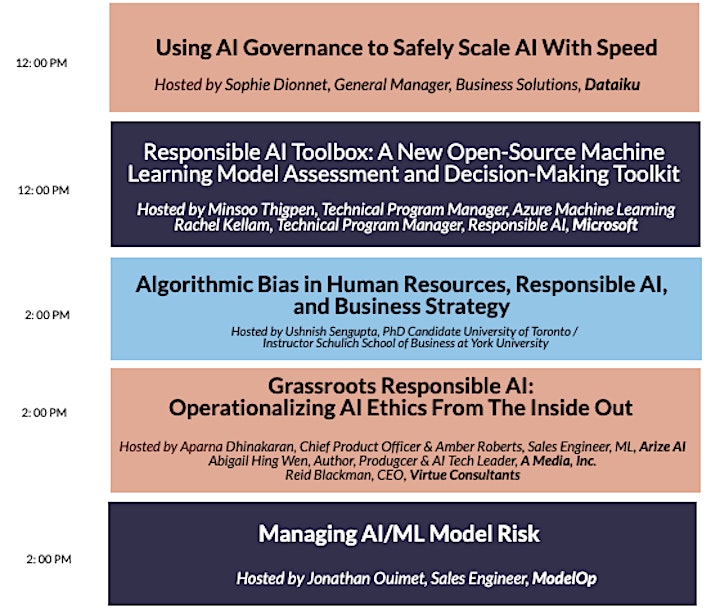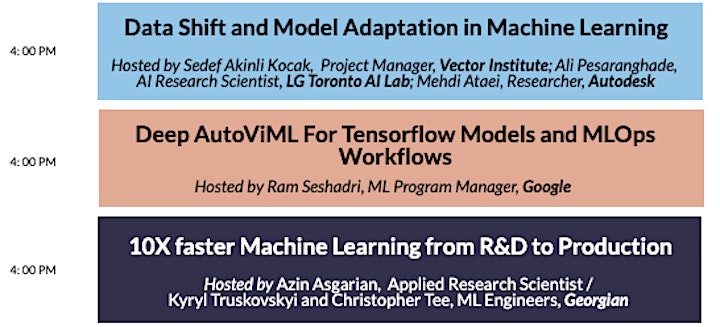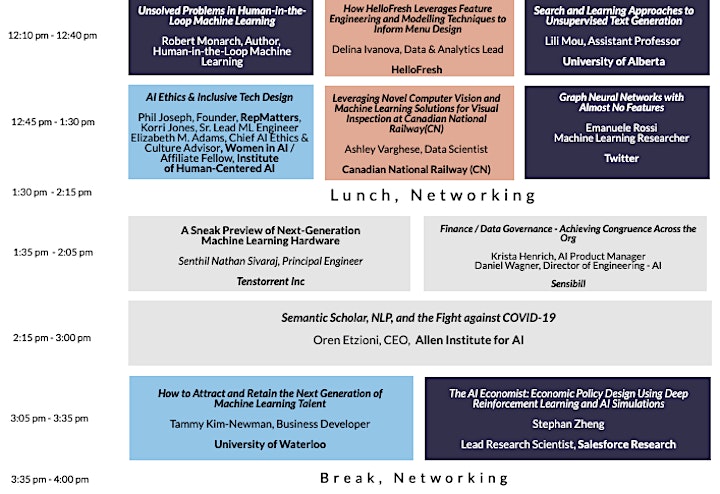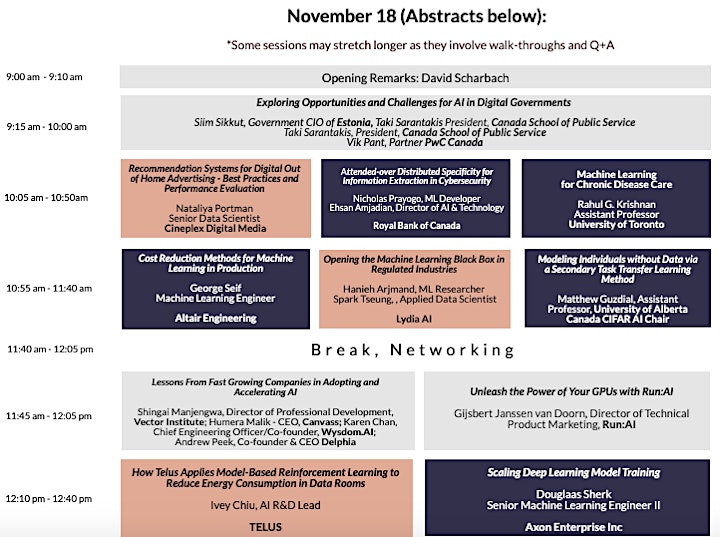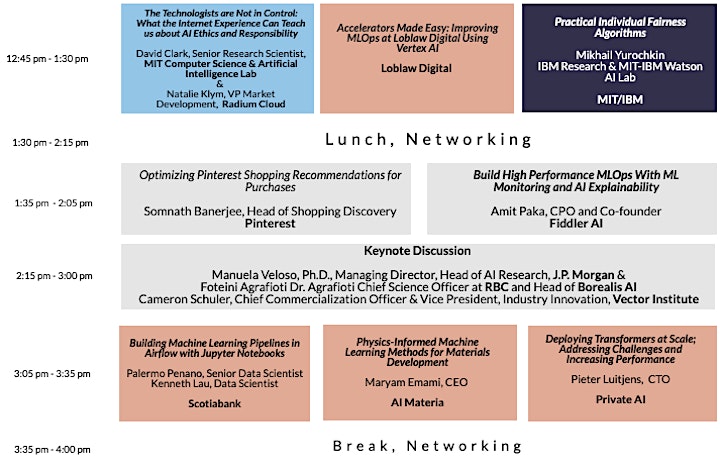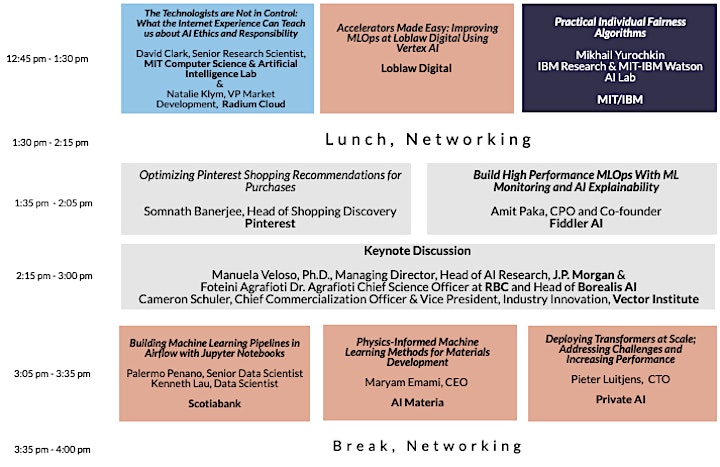 Despite the vast opportunities that lie within our data, there are explicit challenges, both technical & strategic.
Over 4 days speakers will address common hurdles to AI adoption in Canada through workshops and real case studies (behind the curtain). Come learn and celebrate with us!
You're invited to join us at #TMLS2021
Speakers include Senior Leaders, Researchers from Vector, CIFAR, Google, Apple, LinkedIn, HuggingFace, Facebook AI and more
* 2021 Key themes include
Transfer Learning
Feature Engineering
Feature Store Design and Maintenance
Transformers
Explainability
Model Monitoring
MLOps
Real business impact case studies In Finance, Insurance, Security, Retail, Telecomm and much more!
FOR BULK TICKETS EMAIL INFO@TORONTOMACHINELEARNING.COM
Each ticket includes:
Tracks: Business Strategy, Case Studies, Technical, Research, MLOps
Talks for beginners/intermediate & advanced
Network and connect through our event app
Q+A with speakers
Channels to share your work with the community
Hands-on Workshops
PLEASE NOTE THAT BONUS WORKSHOPS ARE ON NOVEMBER 15th AND 16th WHILE THE CONFERENCE BREAKOUTS (ON HOPIN.TO PLATFORM) ARE ON NOVEMBER 17th and 18th
Over 4 days speakers will address common hurdles to AI adoption in Canada through workshops and real case studies (behind the curtain). Come learn and celebrate with us!
The TMLS initiative is dedicated to helping promote the development of AI/ML effectively, and responsibly across all Industries. As well, to help data practitioners, researchers and students fast-track their learning process and develop rewarding careers in the field of ML and AI. 
Why should I attend the Toronto Machine Learning Society (TMLS) 2021 Annual Conference & Expo:
Developments in the field are happening fast: For practitioners, it's important to stay on top of the latest advances; for business leaders, the implementation of new technology brings specific challenges.
The goal of TMLS is to empower data practitioners, academics, engineers, and business leaders with direct contact to the people that matter most, and the practical information to help advance your projects. For data practitioners, you'll hear how to cut through the noise and find innovative solutions to technical challenges, learning from workshops, case studies, and P2P interactions. Business leaders will learn from the experience of those who have successfully implemented ML/AI and actively manage data teams.
Seminar series content will be practical, non-sponsored, and tailored to our ML ecosystem. TMLS is not a sales pitch - it's a connection to a deep community that is committed to advancing ML/AI and to create and deliver value and exciting careers for Businesses and Individuals.
We're committed to helping you get the most out of the TMLS.
Joining together under one roof will be:
Machine Learning/deep learning PhDs and researchers
C-level business leaders
Industry experts
Data Engineers, Machine Learning Engineers
Enterprise innovation labs seeking to grow their teams
Community and university machine learning groups
Site: www.torontomachinelearning.com 
FAQs
Q: What are the technical requirements to be able to participate?
Laptop or personal computer, strong, reliable wifi connection. Google Chrome is recommended to run the Virtual Conference platform.
Q: Can I watch the live stream sessions on my phone?
No, it's recommended to participate on your desktop or laptop.
Q: Which sessions are going to be recorded? When will the recordings be available and do I have access to them?
Most sessions will be recorded so you can catch what you've missed. Some sessions will be completely behind curtain, and not shared afterwards.
Q: Are there ID or minimum age requirements to enter the event? There is not. Everyone is welcome.
Q: Can I get a training certificate?  Yes, we can provide this upon request.
Q: How can I contact the organizer with any questions? Please email info@torontomachinelearning.com
Q: What's the refund policy? Tickets are refundable up to 30 days before the event.
Q: Who will attend? The event will have three tracks: One for Business, one for Advanced Practitioners/Researchers, and one for applied use-cases (Focusing on various Industries). Business Executives, Ph.D. Researchers, Engineers, and Practitioners ranging from Beginner to Advanced. See Attendee Demographics and a list of the Attendee Titles from our past event here. 
Q: Will you focus on any industries in particular? The learning will be applicable to all industirs and we will have case studies from real learnings in Finance, Healthcare, Retail, Insurance and more.
Q: Can I speak at the event? Yes, you can submit an abstract here. Deadline to submit a talk is Oct 15th, however, we will continue to review submissions. 
*Content is non-commercial and speaking spots cannot be purchased. 
Q: Will you give out the attendee list? No, we do our best to ensure attendees are not inundated with messages, We allow attendees to stay in contact through our slack channel and follow-up monthly socials.
Q: Can my company have a display? Yes, there will be spaces for company displays. You can inquire at faraz@torontomachinelearning.com.
November 17th :
Frank Hutter, Professor of Computer Science & Chief Expert AutoML, University of Freiburg & Bosch Center for Artificial Intelligence
Keynote: Advances in AutoML
--
Adam Harvey, Independent Researcher - Exposing.ai
Researchers Gone Wild
This talk will discuss the Exposing.ai research project, a multi-year investigation into the origins and endpoints of biometric image training datasets created from "media in the wild". Over the past years several prominent datasets, including MS-Celeb-1M, DukeMTMC, VGGFace2, and MegaFace have been retracted, heavily criticized, or mysteriously deprecated without explanation.
Driving these takedowns is the research project exposing.ai that has uncovered how and why academic biometric datasets are being exploited by the global biometric surveillance industry. As a recent [Nature article](https://www.nature.com/articles/d41586-020-03187-3) has explained, many researchers are reconsidering their use of these datasets and whether it's appropriate for academia to engage in this research. This talk will discuss several of the most egregious dataset missteps and provide a survey of recent trends and papers about improving dataset authorship.
Speaker's Bio:
Adam Harvey (US/DE) is a researcher and artist based in Berlin focused on computer vision, privacy, and surveillance technologies. He received his masters degree from the Interactive Telecommunications Program at New York University (2010) and a BA in Integrative Arts from Pennsylvania State University (2004). His previous work includes CV Dazzle (camouflage from face recognition), the Anti-Drone Burqa (camouflage from thermal cameras), SkyLift (geolocation spoofing device), and Exposing.ai (interrogating face recognition datasets). His art and research has been featured widely in media publications including the Economist, New York Times, Financial Times, Süddeutsche Zeitung, Der Spiegel, Wall Street Journal, and the Washington Post. Harvey is the founder of VFRAME.io, a software project that innovates computer vision technology for human rights researchers and investigative journalist, which received an award of distinction from Ars Electronica and nomination for the Beazley Design of the Year award in 2019.
--
Siavash Kazemian, Manager of Data Science, Sophi.io, The Globe and Mail
How a Robot Called Sophi is Helping The Globe and Mail and Other Publishers Turbo-charge Their Subscription Revenue
Which pieces of content should only be available with a paid subscription? A lot of Publishers use this business model, putting a "paywall" in front of certain content, and they rely on human judgment to decide what to paywall. If the content would have a lot of readers/viewers, it could generate a lot of advertising revenue for a publisher, but much much less if only subscribers could read it. On the other hand, certain content is very effective at getting people to pay for a subscription, if they have to in order to read/view. Predicting these potential outcomes in repeated and rapid decision making scenarios is challenging for human operators. We show that advanced neural network architectures can be used to make such decisions more rapidly and effectively than human operators. Our studies show that these models are able to tease out content that can generate subscriptions while minimizing costs to advertising revenue.
This Sophi Content Paywall algorithm have greatly accelerated the number of paying subscribers at The Globe, and is now be deployed for Sophi customers on four continents, helping journalism be more sustainable around the world. In addition, we show that it is possible to train models that personalize paywall decisions in real-time. These models are able to further reduce the cost to advertising revenue while outperforming non-personalized models in terms of getting visitors to subscribe or register.
Speaker's Bio:
Siavash Kazemian is a Manager of Data Science at Sophi where he works with a team of talented Data Scientists to solve AI problems in the media industry.
Siavash received a PhD from the Department of Computer Science at the University of Toronto where he studied ways in which NLP technologies, such as Speech Recognition and Sentiment Analysis, can be used to help users perform real-world tasks. His work appears in a number of peer reviewed publications including the ACL. Siavash has also worked in different capacities for startups in various stages of their journey.
--
Mathieu Sylvestre, Data Scientist, Loblaw Digital
Using Constraint Programming to Improve Grocery Picking Efficiency at Loblaws
At Loblaw Digital, we fulfill most of our online grocery orders from stores directly. In the past year alone, our hundreds of stores have combined to sell more than 2B$ worth of groceries online, and many of them serve a considerable number of orders each day. As we see an increasing shift to online grocery sales, there's pressure to reduce the cost-to-serve, in order to bring the profitability of digital in line with traditional retail. To do so, the data science team at Loblaw Digital has been tasked with improving picking efficiency by reducing our average picking time per item. Two main objectives are at the core of our strategy: maximizing the number of items that are picked in each cart; and minimizing the required walking distance to pick all items in a cart. In this presentation, we provide a high-level view to the current state of our solution that relies on a constraint programming formulation.
Speaker's Bio:
Mathieu is a Data Scientist at Loblaw Digital
--
Elizabeth Adams, Chief AI Ethics & Culture Advisor/Affiliate Fellow - Women in AI/Institute of Human-Centered AI
Leadership of Responsible AI - The Case for Inclusive Tech
Artificial Intelligence (AI) is changing how we live and how we work. As we advance into the 4th Industrial Revolution, the digital age, AI enabled technologies have the power to be a force for good.
These technologies can also amplify forms of inequality, discrimination, and bias. This presentation will highlight cases of how algorithmic bias happens which can have significant impacts to society.
--
Nima Safaei, Sr. Data Scientist and Taha Jaffer, Head of Wholesale Banking and Global Treasure AI, Scotiabank
Trade-off between Optimality and Explainability
One of the top challenges in AI/ML is the black box models cannot be trusted in high-risk areas due to lack of explainability. Generally speaking, Explainability in ML is two folded, Casual Explainability (also known as interpretability) and Counterfactual Explainability. While the former addresses 'why', the latter addresses 'how' small and plausible perturbations of the input modify the output? The author's focus is on Counterfactual Explainability from the optimization lens.
In ML, the learning phase is actually a constrained optimization problem where a given objective (a.k.a, loose) function must be optimized in terms of some constraints, e.g., regularization, lasso, dropout, etc. Thus, from the constrained optimization lens, the explainability in fact refers to 'sensitivity analysis' or 'post optimality' practice. Using post optimality, we should focus on those learning coefficients that have a narrow range of optimality and coefficients near the endpoints of the range. However, the key conjecture in post optimality is: the optimization (learning) algorithm guarantees the 'global' or near-global optimum. Indeed, the majority of optimization algorithms in ML cannot guarantee the global optimum due to uneven (non-convex) loos surfaces or stochastic nature of the method. Actually, non-convexity and stochasticity are two sides of the complexity coin.
In this talk, the author argues that there is a trade-off between model explainability and accuracy. The lack of global optimum guarantee is the key reason why high-accurate (and mostly black box) models are not explainable. The above trade-off raises a critical discussion during the mode selection phase: a more explainable but less accurate model is better than a less explainable but more accurate model!?
Speakers' Bio:
Nima has a Ph.D. in system and industrial engineering with a background in Applied Mathematics. He held a postdoctoral position at C-MORE Lab (Center for Maintenance Optimization & Reliability Engineering), University of Toronto, Canada, working on machine learning and Operations Research (ML/OR) projects in collaboration with various industry and service sectors. He was with Department of Maintenance Support and Planning, Bombardier Aerospace with a focus on ML/OR methods for reliability/survival analysis, maintenance, and airline operations optimization. Nima is currently with Data Science & Analytics (DSA) lab, Scotiabank, Toronto, Canada, as senior data scientist. He has more than 40 peer-reviewed articles and book chapters published in top-tier journals as well as one published patent. He also invited to present his findings in some ML top conferences such as GRAPH+AI 2020, NVIDIA GTC 2020/2021, and ICML 2021.
--
Alexander Lavin, Founder & Chief Technologist, Institute for Simulation Intelligence
Towards Machine Intelligence Capable of Nobel-caliber Science
In the past half-century, advances in computation have accelerated scientific progress and innovation in diverse fields at all scales, from particle physics to socioeconomics to cosmology. However, recent works point to stagnating innovation and diminishing returns in science (Cowen & Southwood '19). Can advancements in artificial intelligence (AI) and machine learning (ML) help push science, engineering, and other fields through existing bottlenecks (be they physical, computational, or otherwise)? Is AI-driven science necessary for humankind to decode and solve its greatest challenges, such as nuclear fusion and neurodegenerative disease?
The application of AI in scientific discovery presents very different challenges relative to popular environments such as game-playing and machine translation. In general, scientific discoveries require hypothesis and solution spaces that are orders of magnitude larger than existing AI environments, a far more elaborate verification process, and non-trivial integration with scientific materials and machines.
In this talk, leading AI researcher Alexander Lavin will discuss the challenges and opportunities in AI-driven science, and further propose a "Nobel-Turing Challenge": AI systems capable of making Nobel-caliber discoveries in science. Lavin will present several key areas of AI/ML, simulation, and computing to advance towards this goal, recent progress in areas such as chemistry and climate, and critical operational aspects like human-machine teaming and systems engineering in AI.
Speaker's Bio:
Alexander Lavin is a world-leading AI researcher and software engineer, specializing in probabilistic machine learning, scientific computing, and human-centric AI systems. He is the Founder and Chief Technologist of the Institute for Simulation Intelligence, a public-benefit "focused research organization" aiming to reshape the scientific method for the machine age, building novel technologies to synergise AI and simulation in areas such as climate, synbio, nuclear energy, and more. Lavin has explored AI and probabilistic computation via several perspectives: theoretical neuroscience and online learning with Numenta, general intelligence in robotics and computer vision with Vicarious AI, predictive medicines and causality as the founder of Latent Sciences (acquired), Earth systems and climate with NASA as an AI Advisor, and autonomous systems with Astrobotic. Lavin earned his Masters in Mechanical Engineering at Carnegie Mellon, a Masters in Engineering Management with Duke University, and Bachelors in Mech & Aero Engineering at Cornell University. He has won several awards for work in rocket science and space robotics, published in top journals and conferences across AI/ML and neuroscience, and was an honoree for the Forbes 30 Under 30 List in Science and the Patrick J. McGovern Tech for Humanity Prize. In his free time, Lavin enjoys running, yoga, live music, and reading sci-fi and theoretical physics books.
--
Peter Barr, Chief Strategy Officer and Danielle Gifford, Senior Manager, AltaML
Accelerating Talent
With more and more businesses realizing the importance of adopting AI, and the industry looking at a robust 40% CAGR for the next five years, one challenge that the whole AI ecosystem will face is industry-ready talent. This requires a solution that addresses this challenge and empowers academia, fresh graduates, and businesses to fill these gaps and create opportunities for new experiments. In this talk, we will cover the key obstacles employers and employees/students face and how to overcome them.
Speaker's Bio:
Peter Barr – Chief Strategy Officer
Peter joined AltaML in June 2021 to help develop our national platform of applied Ai. Together with our co-CEOs, he is building out our national and international strategy by industry sector. Through strategic partnerships and alliances and major account management, he is bringing his national and global experience to help us scale our business.
Peter was with Deloitte for 40 years and has held a variety of leadership positions. Prior to leaving the firm, he was the Managing Partner for the Waterloo and Western Ontario Region where he created Deloitte's innovative new office and team that focuses on disruptive technologies and the insurance industry. Prior to that position, Peter served as the National Managing Partner of Industry and Marketplace Services where he was a member of Deloitte's executive, reporting to the CEO, overseeing all industry programs and Deloitte's marketplace strategy. During those years Deloitte became Canada's #1 consulting firm and thought leader and launched its well know Future of Canada thought series. From 2008 to 2012 Peter was a member of the Deloitte Board of Directors and is currently a member of the Board of Governors at the University of Waterloo.
Danielle - Senior Manager, Applied AI Lab
Since the beginning of her career, Danielle has worked in and with start-ups focusing on deep science and technology from Pre-seed to Series A. Having experienced both an acquisition and a failure has taught her how to be gritty, take calculated risks, move fast, and fail forward. Today, she leads the Applied AI Lab, an AI Talent Accelerator developed and operated by AltaML on a collaborative basis with Industry. The lab's mandate is to accelerate artificial intelligence (AI) skill development while driving AI integration in business. Prior to AltaML, Danielle worked at the Creative Destruction Lab (CDL) sourcing and managing a portfolio of companies across energy, agriculture, and health leading to $100M in equity value creation. She has experience building and leading global and technical teams from business problem ideation to leverage AI across digital media, health, energy, operations, and financial services to create value.
Only 28, Gifford has five years of progressive business and leadership experience in the tech and entrepreneurship field and holds a dual degree in Psychology and Business, an MBA, and executive certificates from MIT."
--
Robert Monarch, Author, Human-in-the-Loop Machine Learning
Unsolved Problems in Human-in-the-Loop Machine Learning
This talk will feature excerpts from my recently published book "Human-in-the-Loop Machine Learning: Active learning and annotation for human-centered AI". I'll cover some of the most exciting problems in Human-in-the-Loop Machine Learning and promising recent advances that address some of these problems. The talk will start with one of the most basic and long-standing questions in machine learning: what are the different ways that we can interpret uncertainty in our models? The talk will then discuss recent advances in transfer learning, including active transfer learning for adaptive sampling and the implications of intermediate task transfer learning on the choice of annotation task and annotation workforce(s). Finally, I will talk about advances in annotation quality control and annotation interfaces, including ways to identify annotators with rare but valid subjective interpretations and human-computer interaction strategies for combining machine learning predictions with human annotations.
Speaker's Bio:
Robert Monarch is an expert in combining Human and Machine Intelligence, working with Machine Learning approaches to Text, Speech, Image and Video Processing. Robert has founded several AI companies, building some of the top teams in Artificial Intelligence. He has worked in many diverse environments, from Sierra Leone, Haiti and the Amazon, to London, Sydney and Silicon Valley, in organizations ranging from startups to the United Nations. He has shipped Machine Learning Products at startups and at/with Amazon, Apple, Google, IBM & Microsoft.
Robert has published more than 50 papers on Artificial Intelligence and is a regular speaker about technology in an increasingly connected world. He has a PhD from Stanford University. Robert is the author of Human-in-the-Loop Machine Learning (Manning Publications, 2021)
--
Delina Ivanova, Senior Manager, Data, Analytics & Insights, HelloFresh Canada
How HelloFresh Leverages Feature Engineering and Modelling Techniques to Inform Menu Design
With advancements in technology, specifically around an organization's ability to make sense of data, consumers are growing more accustomed to personalized, on-demand solutions. In business like HelloFresh where the objective is to offer just that - solutions - product design and re-design is a continuous process. The main challenge in a business which designs, produces, and delivers its own product, is continually understanding customer preferences and customer-base composition, and creating product options which satisfy a variety of needs without compromising operational efficiencies or creating in-feasibility in the supply chain. This talk will focus on our approach to understanding customer preferences, specifically related to recipe and menu composition, and how we use various engineering techniques to enhance available features. These features are used in a classification model which predicts individual recipe scores during the recipe design process, and can predict overall menu performance based on recipe combinations. The purpose of this work is to take a data-driven approach to product design, minimize trial and error for our culinary team, and align product design with customer acquisition and growth strategies.
Speaker's Bio:
Delina has over 10 years of experience in data analytics across a variety of domains, including financial services and CPG, and functions, including product management, operations, and marketing. She currently leads a full service data team at HelloFresh Canada, supporting all business functions with engineering, reporting and modelling needs to improve decision making in revenue growth and cost management.
--
Lili Mou, Assistant Professor, University of Alberta
Unsupervised Text Generation: Techniques and Applications
In this talk, I will present a novel search-and-learning framework for unsupervised text generation. We define a heuristic scoring function that (roughly) estimates the quality of a candidate sentence for a task, and then perform stochastic local search (such as simulated annealing) to generate an output sentence. We also learn a sequence-to-sequence model that learns from the search results to improve inference efficiency and to smooth out search noise. Our search-and-learning framework shows high unsupervised performance in various natural language generation applications. Our technique should be useful in various industrial applications, especially for startups and the cold-start of new tasks.
Speaker's Bio:
Dr. Lili Mou is an Assistant Professor at the Department of Computing Science, University of Alberta. He is also an Alberta Machine Intelligence Institute (Amii) Fellow and a Canada CIFAR AI (CCAI) Chair. Lili received his BS and PhD degrees in 2012 and 2017, respectively, from School of EECS, Peking University. After that, he worked as a postdoctoral fellow at the University of Waterloo and a research scientist at Adeptmind (a startup in Toronto, Canada). His research interests include deep learning applied to natural language processing as well as programming language processing. He has publications at top conferences and journals, including AAAI, ACL, CIKM, COLING, EMNLP, ICASSP, ICLR, ICML, IJCAI, INTERSPEECH, NAACL-HLT, NeruIPS, and TACL (in alphabetic order). He also has tutorials presented at EMNLP-IJCNLP'19 and ACL'20.
--
Emanuele Rossi, Machine Learning Researcher, Twitter
Graph Neural Networks with Almost No Features
We propose a simple method to handle missing features in a graph which is based on feature propagation and is compatible with any GNN model. Our methods outperforms previously proposed approaches in both node-classification and link-prediction tasks, and is able to perform well even when 99% of the features are missing. Moreover, our approach is extremely scalable, running on a dataset with two million nodes in 10 seconds. We theoretically analyze our approach using tools from compressed sensing, showing that it acts as a low pass filter and finding guarantees on how well we can reconstruct the features.
Speaker's Bio:
Emanuele is a Machine Learning Researcher at Twitter, as well as PhD student working on Graph Neural Networks at Imperial College London and supervised by Prof. Michael Bronstein. Before joining Twitter, he was working at Fabula AI, which was then acquired by Twitter in June 2019. Previously, Emanuele completed an MPhil at the University of Cambridge and a BEng at Imperial College London, both in Computer Science.
--
Ashley Varghese, Data Scientist, Canadian National Railway (CN)
Leveraging Novel Computer Vision and Machine Learning Solutions for Visual Inspection at Canadian National Railway (CN)
Through this talk, the audience will be introduced to some of the complex problems that impedes the operational efficiency of railway systems. Canadian National Railway(CN) extends from coast to coast across North America. It is important to ensure that the rail cars and railroads are efficiently used with minimal maintenance time. With a network as wide as CN, carrying manual inspections is prohibitively expensive and time consuming. Leveraging computer vision and machine learning to build a novel solution for automated visual inspection would result in higher operational efficiency of the CN.
Speaker's Bio:
Ashley Varghese is a Data Scientist at Canadian National Railway. She works in the Automated Inspection Program overseeing the development and retraining aspects for the inspection of rail cars. She has over 10 years' of research experience in computer vision and deep learning. Her research papers are published in multiple international conferences and journals. She has previously worked as an AI scientist at Industrial Skyworks and as a Researcher at the TCS Innovation Lab. She holds an MTech in Computer Science from the International Institution of Information Technology Bangalore(IIITB)
--
Phil Gagnon-Joseph, Associate, Real Ventures; Korri Antonio Jones, Sr. Lead Machine Learning Engineer; Elizabeth Adams, Chief AI Ethics, Women in AI & Culture Advisor/Affiliate Fellow, Institute of Human-Centered AI
AI Ethics & Inclusive Tech Design
We explore topics related to tech and AI from a Black perspective.
Speaker's Bio:
After spending years intrigued by the technology he was using to train and rehabilitate athletes, Phil decided to transition from keeping athletes on the field, to keeping tech entrepreneurs in the game. In 2020, he partnered with Real Ventures to create Rep Matters, an interview series that highlights Black entrepreneurs and investors, and joined Real Ventures as an associate in 2021. In this role, he supports all of the firm's investment activities, and is always looking to connect with amazing founders. Outside of work, Phil spends his time coaching and mentoring youth, playing basketball, or finding his next outdoor adventure.
Korri Jones is a Sr Lead Machine Learning Engineer and Innovation Coach at Chick-fil-A, Inc. in Atlanta, Georgia where he is focused on how to operationalize advanced statistical and machine learning models at scale (MLOps). Prior to his work at Chick-fil-A, he worked as a Business Analyst and product trainer for NavMD, Inc., was an adjunct professor at Roane State Community College, and instructor for the Project GRAD summer program at Pellissippi State Community College and the University of Tennessee, Knoxville. His accolades are just as diverse, and he was in the inaugural 40 under 40 for the University of Tennessee in 2021, Volunteer of the year with the Urban League of Greater Atlanta with over 700 hours in a single calendar year and has received the "Looking to the Future" award within his department at Chick-fil-A among many others, including best speaker awards in business case competitions. However, the best award he has received so far, is being a loving husband to his wife Lydia.
Korri is an alumnus of UT's Haslam College of Business' full-time MBA program where he concentrated in Business Analytics. While at UT, he was chosen two years in a row to compete in the National Black MBA Marketing case competition sponsored by Fiat Chrysler. As a part of the competition, he won the best presenter award. During his time at UT, Korri also served as an MBA coach for the Tennessee Organization of MBA's Ernst & Young Case Competition. Before earning his MBA from UT, Korri earned a bachelor's degree in Mathematics from Alcorn State University, where he served in leadership roles for several organizations and was recognized for outstanding scholarship and community service.
Korri has a passion for giving back and sharing his love of learning with others. He has dedicated himself to making a difference in his community through service. He has been a member of the National Urban League for nearly 10 years and served as the inaugural chairman of the Urban League of Greater Atlanta Young Professionals' Innovation and Technology Committee for two years.
During his free time, Korri and his wife enjoy traveling, eating exotic foods, and occasionally playing monopoly. Community-wise, Korri teaches coding classes, serves on the board of the UT Haslam College of Business MBA Advisory Council, and is the President of the Board of Directors for Out of Hand Theater. Korri also finds time to continue his love of teaching by visiting and speaking with students in classrooms across Atlanta.
--
Senthil Nathan Sivaraj, Principal Engineer, Tenstorrent Inc
A Sneak Preview of Next-Generation Machine Learning Hardware
GPUs have been the mainstay for AI processing thanks to their ability to do high degrees of parallel processing. GPUs, however, are expensive devices that were designed for placing pixels on screens; the future of Machine Learning processing is processors designed specifically for Machine Learning applications. Tenstorrent is a company producing hardware for the processing of Deep Learning graphs, and in this presentation, Senthil will provide an overview of what differentiates dedicated Machine Learning processors, like Tenstorrent's Grayskull chip, from GPUs.
Speaker's Bio:
Senthil Nathan Sivaraj is a Principal Physical Design Engineer at Tenstorrent. Prior to Tenstorrent he has worked on the physical design of High-Performance CPU(X86 and ARM) cores and interconnect fabrics at Marvell Semiconductor, Flex-Logix Inc, and AMD.
--
Krista Henrich, AI Product Manager &  Daniel Wagner, Director of Engineering - AI, Sensibill
Finance / Data Governance - Achieving Congruence Across the Org
Sensibill is a Fintech that builds intuitive digital tools that empower users to manage their financial records. We serve some of the largest financial institutions in the world, allowing them to harness the power of SKU level data and go beyond transaction visibility. In this talk we will be covering Sensibill's journey of building a data governance framework that allows our team to work at blazing fast speed while keeping our client's data safe and respecting all our contractual engagements.
Speaker's Bio:
Krista Henrich. Krista has worked in Data, Research, Localization and as a Product Owner for Mobile SDK's and API's for a collective 7 years. Krista is excited to now be championing Artificial Intelligence Product Management at Sensibill, and on the Toronto Tech scene.
An IT veteran, Daniel started his career on mobile development 3 years before iPhones were a thing, built countless large scale e-commerce and CMS projects before diving into the world of Fintech for the last 5 years. Daniel currently leads the Data & AI team at Sensibill.
--
Oren Etzioni, CEO, Allen Institute for AI
Semantic Scholar, NLP, and the Fight against COVID-19
This talk will discuss projects focused on advancing AI for the common good, including the dramatic creation of the COVID-19 Open Research Dataset (CORD-19) and the broad range of efforts, both inside and outside of the Semantic Scholar project, to garner insights into COVID-19 and its treatment based on this data. It will also highlight key advances in NLP that have enabled this work.
Speaker's Bio:
Dr. Oren Etzioni is Chief Executive Officer at AI2. He is Professor Emeritus, University of Washington as of October 2020 and a Venture Partner at the Madrona Venture Group since 2000. His awards include Seattle's Geek of the Year (2013), and he has founded or co-founded several companies, including Farecast (acquired by Microsoft). He has written over 100 technical papers, as well as commentary on AI for The New York Times, Wired, and Nature. He helped to pioneer meta-search, online comparison shopping, machine reading, and Open Information Extraction.
--
Tammy Kim-Newman, Business Developer, Co-operative and Experiential Education, University of Waterloo
How to Attract and Retain the Next Generation of Machine Learning Talent
Are you struggling to find or retain the best talent? As the world's largest co-op program, we've analyzed over 37,000 postings and want to share our tips and insights with you. You'll walk away knowing more about the next generation of workforce talent, what skills they have, the checklist you need to make sure you're attracting top candidates and how to retain them in your organization.
Speaker's Bio:
Tammy Kim-Newman is Business Developer and Tech Talent Specialist at the University of Waterloo, Canada's #1 university for computer science, engineering and mathematics (Macleans 2021 University Rankings). She has 10+ years supporting industry partners with their early talent strategies, is an advocate for work-integrated learning, and is currently working towards a diploma in gender and social justice.
--
Stephen Zheng, Lead Research Scientist, Salesforce
The AI Economist x WarpDrive: Designing Economic Policy using High-Throughput Multi-Agent Reinforcement Learning
How you can do economic analysis and design economic policy using multi-agent reinforcement learning in hardware-accelerated economic simulations.
Speaker's Bio:
Stephan Zheng (www.stephanzheng.com) is a Lead Research Scientist and heads the AI Economist team at Salesforce Research. He currently works on using deep reinforcement learning and economic simulations to design economic policy. His work has been widely covered in the media, including the Financial Times, Axios, Forbes, Zeit, Volkskrant, MIT Tech Review, and others. He holds a Ph.D. in Physics from Caltech (2018), where he worked on imitation learning of NBA basketball players and neural network robustness, amongst others. He was twice a research intern with Google Research and Google Brain. Before machine learning, he studied mathematics and theoretical physics at the University of Cambridge, Harvard University, and Utrecht University. He received the Lorenz graduation prize from the Royal Netherlands Academy of Arts and Sciences for his master's thesis on exotic dualities in topological string theory and was twice awarded the Dutch national Huygens scholarship.
--
Alik Sokolov, Co-Founder and CEO, SR.Ai; Deval Pandya, Director of AI Engineering, Vector Institute; Archy de Berker, Head of Data & ML, CarbonChain;  Samira Ebrahimi Kahou, Associate Professor, École de technologie supérieure/Mila  
Exploring the Role of ML in Solving the Climate Crisis: Opportunities, Challenges and Successes
Climate change is the biggest challenge we are facing as a society. Artificial Intelligence and Machine learning have the potential to decouple the economic growth from rising carbon emissions and environmental degradation. In this panel, we will discuss various aspects and arenas where AI can be applied for climate action, mitigation and adaptation. From the latest state of the art research in predicting wildefire and hurricanes, applying latest NLP techniques for making impactful financial decisions that accelerate climate mitigation and using machine learning to track supply chain greenhouse gas emissions to manage their transition to the low-carbon economy.
Speaker's Bio:
Alik's professional background is in consulting, as a machine learning technical lead with Deloitte's Omnia AI group, and venture capital as a research associate in one of Peter Thiel's funds. Alik is also a seasoned AI project leader and educator in the machine learning field, having taught and developed the machine learning course at the University of Toronto Master's of Mathematical Finance program, as well as many workshops and classes around the world. Alik is also working on a Ph.D. at the University of Toronto, studying applications of machine learning in quantitative finance, including for ESG research, and he has several publications backing the technology of SR.ai.
Dr. Deval Pandya is Director of AI Engineering at Vector Institute and one of the 100 Global Future Energy Leaders with the World Energy Council. He is passionate about building Responsible Artificial Intelligence and Machine learning systems for expediting energy transition and combating Climate Change. Deval also serves as a Director on the technical steering committee of Moja Global, A not for profit, collaborative project that brings together a community of experts to develop open-source software under Linux Foundation used for country-level greenhouse gas accounting from the AFOLU sector. Prior to joining Vector, Deval was leading the Data Science team at Shell focusing on applications in New Energies and Asset management. During his career, he has led the development of scalable machine learning applications in the domains of nature-based solutions, predictive maintenance, e-mobility, microgrid optimizations, and hydrogen value chain.
Deval is on the task force for Digitalization in Energy at the United Nations Economic Commission of Europe (UNECE) and mentors at Creative Destruction Labs. He enjoys traveling and cooking in his free time.""
Archy completed a PhD in neuroscience before moving into commercial data science. He has held a variety of ML and product roles, leaving Element AI in June 2020 to focus on climate change work. He currently leads data science at CarbonChain, building automated carbon footprinting tools.
Samira is an Associate Professor at ÉTS and an adjunct Professor at McGill. Before joining ÉTS, she was a postdoctoral fellow working with Professor Doina Precup at McGill/Mila. Before her postdoc, she was a researcher at Microsoft Research Montréal.
She received her Ph.D. from Polytechnique Montréal/Mila in 2016 under the supervision of Professor Chris Pal. During her Ph.D. studies, she worked on computer vision and deep learning applied to emotion recognition, object tracking and knowledge distillation.
Her current research interests are:
Reinforcement Learning
Multi-modal Learning
Medical Imaging
Climate Modelling and Disaster Response
--
Michael Yan, Staff Data Scientist and Greg Svitak, Director of Labs, Facebook AI, SpotHero
Changing the Face of Parking: Lesson's Learned from SpotHero's Intelligent, Dynamic Rate Board
Parking is a $30B industry in North America, yet the industry has changed very little in over 70 years. For example, operators typically set prices by simply surveying the price of parking in their local neighbourhood. In this talk, we will show how an interdisciplinary team at SpotHero created the industry's first real-time rate board using information from digital sensors and parking Point of Sale (PARCS) systems. Our machine learning models optimize the price by minutes and the appropriate time bands for individual parking facilities.We will give an overview of the system, highlight some of our key learnings while collaborating with facility operators, and discuss some of the unique technical IoT and Machine Learning challenges we overcame.
Speaker's Bio:
Michael is an accomplished data scientist and thought leader with 10+ years of experience of research and has bring to market advance analytics and machine learning solutions. As a person with insatiable intellectual curiosity, he is passionate about finding actionable insights hidden in vast amounts of raw data. Michael likes data. Manipulating it, making it (simulation), modeling it, visualizing it and yes, even cleaning it. He has been extremely lucky to work in many different realms — have built gambling market trading algorithms and live spots models for online sportsbook. He had built DSaaS tools housing customer analytics and recommendation engine for enterprise customers and built quantitative portfolio construction algorithms for PE firm. Now he's working with a team of excellent engineers to help people park their cars using cellphone app.
--
Alon Halevy, Director, Facebook AI, Facebook
Obtaining Answers from Social Media Data
The key technical problems that online social networks focus on today are detecting policy violating content (e.g., hate speech, misinformation) and ranking content to satisfy their users' needs. By nature, these problems are somewhat vague and need to handle multi-modal content in many languages, and therefore do not naturally lend themselves to AI techniques based on declarative representations and reasoning. However, the machine learning techniques that are employed also have some drawbacks, such as the fact that it is hard to update their knowledge efficiently or to explain their results. In this talk I will outline a few opportunities where methods from symbolic AI, combined appropriately into the machine learning paradigm, can ultimately have an impact on our goals. In particular, I will describe Neural Databases, a new kind of database system that leverages the strength of NLP transformers to answer database queries over text, thereby freeing us from designing and relying on a database schema.
Speaker's Bio:
Alon Halevy has been a director at Facebook AI since 2019, where he works on Human Value Alignment and on the combination of neural and symbolic techniques for data management. Prior to Facebook, Alon was the CEO of Megagon Labs (2015-2018) and led the Structured Data Research Group at Google Research (2005-2015), where the team developed WebTables and Google Fusion Tables. From 1998 to 2005 he was a professor at the University of Washington, where he founded the database group. Alon is a founder of two startups, Nimble Technology and Transformic Inc. (acquired by Google in 2005). He received his Ph.D in Computer Science from Stanford in 1993. Alon co-authored two books: The Infinite Emotions of Coffee and Principles of Data Integration. He is a Fellow of the ACM and a recipient of the PECASE award and Sloan Fellowship. Together with his co-authors, he received VLDB 10-year best paper awards for the 2008 paper on WebTables and for the 1996 paper on the Information Manifold data integration system. In 2021, he received the Edgar F. Codd SIGMOD Innovations Award.
--
Bernease Herman, Data Scientist / Researcher, WhyLabs
Logging Machine Learning Data: Why Statistical Profiling is the Key to Data Observability at Scale
The day the ML application is deployed to production and begins facing the real world is the best and the worst day in the life of the model builder. Debugging, troubleshooting & monitoring takes over the majority of their day, leaving little time for model building. In DevOps, software operations are taken to a level of an art. Sophisticated tools enable engineers to quickly identify and resolve issues, continuously improving software robustness.
In the data science and machine learning worlds, operations are still largely a manual process that involves Jupyter notebooks and shell scripts. One of the cornerstones of the DevOps toolchain is logging, it's the foundation of testing and monitoring tools. What does logging look like in an ML system?
In this talk, we will show you how to enable data logging for a machine learning application using an open source library, whylogs. We will discuss how something so simple enables testing, monitoring and debugging of the entire data pipeline. We will dive deeper into key properties of a logging library we've built that can handle TBs of data, run with a constraint memory footprint and produce statistically accurate log profiles of structured and unstructured data. Attendees will leave the talk equipped with best practices to log and understand their data and supercharge their MLOps.
Speaker's Bio:
Bernease Herman is a data scientist at WhyLabs, the AI Observability company, and a research scientist at the University of Washington eScience Institute. At WhyLabs, she is building model and data monitoring solutions using approximate statistics techniques. Earlier in her career, Bernease built ML-driven solutions for inventory planning at Amazon and conducted quantitative research at Morgan Stanley. Her academic research focuses on evaluation metrics and interpretable ML with specialty on synthetic data and societal implications. Bernease serves as faculty for the University of Washington Master's Program in Data Science program and as chair of the Rigorous Evaluation for AI Systems (REAIS) workshop series. She has published work in top machine learning conferences and workshops such as NeurIPS, ICLR, and FAccT. She is a PhD student at the University of Washington and holds a Bachelor's degree in mathematics and statistics from the University of Michigan.
--
Carlos Guestrin, Professor, Stanford University
How Can You Trust Machine Learning?
Machine learning (ML) and AI systems are becoming integral parts of every aspect of our lives. The definition, development and deployment of these systems are driven by (complex) human choices. And, as these AIs are making more and more decisions for us, and the underlying ML systems are becoming more and more complex, it is natural to ask the question: "How can we trust machine learning?"
In this talk, I'll present a framework, anchored on three pillars: Clarity, Competence and Alignment. For each, I'll describe algorithmic and human processes that can help drive towards more effective, impactful and trustworthy AIs. For Clarity, I'll cover methods for making the predictions of machine learning more explainable. For Competence, I will focus on methods to evaluating and testing ML models with the rigor that we apply to complex software products. Finally, for Alignment, I'll describe the complexities of aligning the behaviors of an AI with the values we want to reflect in the world, along with methods that can yield more aligned outcomes.
Through this discussion, we will cover both fundamental concepts and actionable algorithms and tools that can lead to increased trust in ML.
Speaker's Bio:
Carlos Guestrin is a Professor in the Computer Science Department at Stanford University. His previous positions include the Amazon Professor of Machine Learning at the Computer Science & Engineering Department of the University of Washington, the Finmeccanica Associate Professor at Carnegie Mellon University, and the Senior Director of Machine Learning and AI at Apple, after the acquisition of Turi, Inc. (formerly GraphLab and Dato) — Carlos co-founded Turi, which developed a platform for developers and data scientist to build and deploy intelligent applications. He is a technical advisor for OctoML.ai. His team also released a number of popular open-source projects, including XGBoost, LIME, Apache TVM, MXNet, Turi Create, GraphLab/PowerGraph, SFrame, and GraphChi.
Carlos received the IJCAI Computers and Thought Award and the Presidential Early Career Award for Scientists and Engineers (PECASE). He is also a recipient of the ONR Young Investigator Award, NSF Career Award, Alfred P. Sloan Fellowship, and IBM Faculty Fellowship, and was named one of the 2008 'Brilliant 10' by Popular Science Magazine. Carlos' work received awards at a number of conferences and journals, including ACL, AISTATS, ICML, IPSN, JAIR, JWRPM, KDD, NeurIPS, UAI, and VLDB. He is a former member of the Information Sciences and Technology (ISAT) advisory group for DARPA.
--
November 18th:
Siim Sikkut, Government CIO of Estonia, Taki Sarantakis, President, Canada School of Public Service, and Vik Pant, Partner, PwC Canada
Exploring Opportunities and Challenges for AI in Digital Governments 
--
Nataliya Portman, Senior Data Scientist, Cineplex Digital Media
Recommendation Systems for Digital Out of Home Advertising
As a financial institution, how do you reach out to the right audiences about your products and services in Digital Out of Home (DOOH) world? What is the best content strategy to follow when distributing ads through the network of thousands of digital screens across Canada? In this talk, I will demonstrate a probabilistic modeling approach developed at the CDM and how insights derived from this recommendation model drive decision-making on content selection and content placement.
Speaker's Bio:
Nataliya received her Doctoral Degree in Applied Mathematics from the University of Waterloo in 2010, followed by postdoctoral training at the Neurological Institute in Montreal. Following her postdoctoral assignment, she developed a novel approach to brain tissue classification in early childhood brain MRIs using modern Computer Vision pattern recognition and perceptual image quality models. Nataliya has worked in many industries including biotech, materials science and automotive, and various start-up software companies. Throughout her career, she has applied her expertise in Mathematics to develop numerous models including but not limited to machine learning algorithms and computationally efficient algorithms for model validation. She is the co-inventor of "Bid-Assist", a strategy for setting up an initial bidding amount to discourage low bidding behaviour, and "AutoVision", a mobile app that allows automatic taking of pictures of vehicle views and damages recognized by an image classifier. Nataliya paved a new way for Data Science in incentives/rewards industry. She developed predictive analytics tools that help channel leaders maximize the return on investment of their channel incentive programs. In January 2021, Nataliya joined the Cineplex Digital Media as a Senior Data Scientist committed to the development of media content recommendation systems.
--
Rahul Krishnan, Assistant Professor, University of Toronto
Machine Learning for Chronic Disease Management
This talk will cover some of the recent advances in the use of tools in machine learning to tackle challenges that arise in the management and care of chronic diseases (with a focus on precision oncology). It will highlight recent advances in developing statistical models of clinical biomarkers for patients suffering from multiple myeloma as well as showcase how deep learning can find use in the development and design of risk-stratification tools from histopathological data.
Speaker's Bio:
Rahul G. Krishnan is an Assistant Professor of Computer Science and Medicine (Laboratory Medicine and Pathobiology). He is a member of the Vector Institute where he holds a CIFAR AI Chair. His research has developed new algorithms for probabilistic inference and applied machine learning to problems in healthcare such as modeling disease progression and risk stratification. He received his MS from New York University and his Ph.D. in computer science from MIT in 2020.
--
George Seif, Machine Learning Engineer, Altair Engineering
Cost Reduction Methods for Machine Learning in Production
MLOps has emerged as a powerful set of tools and strategies for effectively deploying Machine Learning models into production. As an ever-growing number of organizations look to deploy ML models they face an expensive question: how much is this all going to cost? While the research community is chasing the latest and greatest, both data and models are getting bigger and more compute intensive. This trend has led to a ballooning of costs, especially as more models are being deployed into the cloud. In this talk, I will share several effective methods to reduce costs when deploying Machine Learning models. Namely, we will zoom-in on two key areas for cost reduction: models and infrastructure.
Speaker's Bio:
George is a Machine Learning Engineer with expertise in bringing Machine Learning technologies to production at scale. In the past, he worked at Indus.ai (acquired by Procore Technologies) designing and building a Machine Learning System for applying Computer Vision to construction analytics. He currently works at Altair Engineering where he's working on building an open, extensible, scalable, cloud-agnostic MLOps platform to make taking ML to production faster and easier.
--
Matthew Guzdial, Assistant Professor and CIFAR AI Chair, University of Alberta
Modeling Individuals without Data via a Secondary Task Transfer Learning Method
In most cases, deep neural networks (DNNs) require a great deal of data. There are approaches, such as zero-shot and few-shot learning, that can produce high quality DNNs with less or no data. However, these approaches still assume a large source dataset or a large secondary dataset to guide the transfer of knowledge. These are not assumptions that hold true when our goal is to model individual humans, who tend to produce much less data. In this talk we present a novel transfer learning method for producing a DNN for modeling the behaviour of a specific individual on an unseen target task, by leveraging a small dataset produced by that same individual on a secondary task. We make use of a specialized transfer learning representation and Monte Carlo Tree Search (MCTS). We demonstrate that our approach outperforms standard transfer learning approaches and other optimization methods on two human modeling domains: financial health and video game design.
Speaker's Bio:
Matthew Guzdial is an Assistant Professor in the Computing Science department of the University of Alberta and a Canada CIFAR AI Chair at the Alberta Machine Intelligence Institute (Amii). He is a recipient of an Early Career Researcher Award from NSERC, a Unity Graduate Fellowship, and two best conference paper awards. His work has been featured in the BBC, WIRED, Popular Science, and Time.
--
Hanieh Arjmand, Machine Learning Researcher and Spark Tseung, Applied Data Scientist, Knowtions Research
Modeling Individuals without Data via a Secondary Task Transfer Learning Method
Fairness and accountability are cornerstones in regulated industries such as finance and insurance. Explainability is expected of all machine learning models in order to comply with strict audit trails and regulatory oversight. It is often challenging to bridge the gap between the realm of machine learning and regulatory needs. This session is for machine learning scientists working in regulated industries to learn how to structure and present their work in a way that meets the needs of regulated industries. The session will describe a case study of how a machine learning team worked with an actuarial team to test models for health and life insurance underwriting and ensure sufficient explainability was achieved. The case study will offer a framework to help machine learning teams bridge the gap and get their models into production.
Speaker's Bio:
Spark Tseung is an Applied Data Scientist at Knowtions Research where he focuses on building frameworks for actuarial and underwriting validation to help insurers use machine learning to protect more people. Spark is working towards his Ph.D. in Statistics and specializes in the application of machine learning methods in Property & Casualty loss modelling and risk selection.
Hanieh Arjmand is a Machine Learning Researcher at Knowtions Research where she focuses on discovering and applying the best machine learning techniques to healthcare and insurance problems to help insurers use machine learning to protect more people. Hanieh completed her MSc (PhD candidate) in Biomedical Engineering and specializes in Machine Learning, Deep Learning, Image Analysis and Computer Vision.
--
Gijsbert Janssen van Doorn, Director of Technical Product Marketing, Run:AI
Unleash the Power of Your GPUs with Run:AI
Did you know that less than half of all AI models make it to production? Making full use of your existing AI infrastructure is even harder. In this session accessible for all levels of AI practitioners, their executive leaders and IT, learn how Run:AI's compute orchestration platform puts your GPU horsepower to work to make the most of your AI investment. We'll show real-life examples of GPU utilization at several organizations running AI workloads. Come see for yourself how Run:AI helps you complete more experiments, train models faster and run inference workloads with ease!
Speaker's Bio:
Gijsbert Janssen van Doorn is the Director Technical Product Marketing at Run:AI. In this role, he's responsible for exciting audiences about the potential of Run:AI, acting as an advocate for the technology that will shape the future of how organisations run AI. Gijsbert comes from a technical engineering background. Prior to Run:AI, he worked 6 years at Zerto, a Cloud Data Management and Protection vendor, where he held multiple roles, from Systems Engineer to Director Technical Marketing. Gijsbert describes himself as a passionate technologist, whose professional motto is: "Never stop learning and never stop having fun."
--
Ivey Chiu, AI R&D Lead & Jonah Braverman, Energy Management Engineer, Mission Critical Environments, Telus
How Telus Applies Model-Based Reinforcement Learning to Reduce Energy Consumption in Data Rooms
In this talk, we discuss the TELUS/Vector Institute AI-for-Good collaboration to apply model-based reinforcement learning (MBRL) to the reduction of energy consumption in TELUS data rooms. We will discuss the development of a model-based reinforcement learning algorithm we call the Energy Optimization System, (EOS) including the algorithmic innovation we term Hyperspace Neighbour Penetration (HNP) to deal with slowly changing variables, as well as the processes involved with on-site testing and the results of our recently completed pilot test. In this pilot, we found that our algorithm reduced the energy consumption of a small data room by 8.9%, including IT load, or 18.6% excluding IT load. Energy savings were calculated using industry standard International performance measurement and verification protocol (IPMVP), Option (B) Retrofit Isolation: All Parameter Measurement. Finally, we will also discuss the next steps in the EOS initiative.
Speaker's Bio:
Dr. Chiu is a Data Scientist with a wide domain of expertise in wireless networks, ecommerce and Artificial Intelligence. She has a B.A.Sc. in Manufacturing Systems Engineering from the Department of Engineering Science, and a M.A.Sc. and Ph.D. from the Department of Mechanical and Industrial Engineering, all from the University of Toronto. She held an NSERC Canada Graduate Fellowship during her Ph.D. studies and an NSERC Post-Doctoral Fellowship at Ryerson University. Her graduate and post-doctoral work focused on understanding and modeling creativity and designer behaviour in engineering design using cognitive psychology and natural language processing. Her research resulted in over 20 AI-related conference and journal papers.
Currently, she is the Applied AI R&D Lead in the TELUS Data Strategy & Enablement Team. She leads a diverse portfolio of internal and external data and AI R&D projects with partners such as the Vector Institute, the Alan Turing Institute in the UK, the GSMA and various start-ups. She is a sought-after speaker and panelist in Analytics & AI and career development, where she often speaks about how career plans need to be fluid and where she shares her perspective as a woman in STEM.
Jonah is a mechanical engineer in the Mission Critical Environments team with expertise in energy efficiency, cooling systems, and automation. He has a wide range of experience evaluating and implementing various new energy-efficient technologies in TELUS facilities to reduce our carbon footprint related to power and cooling.
--
Doug Sherk, Senior Machine Learning Engineer II,  Axon Enterprise Inc
Scaling Deep Learning Model Training
As datasets and model sizes grow, training takes longer and longer, but scaling such systems doesn't need to be scary. Imagine if training jobs that previously took days instead took hours—and for roughly the same cost! Distributed training enables you to do this by splitting your model training across many instances in a cluster. Off-the-shelf tooling has improved over the last 1-2 years such that this process has become easy, and most of the challenges are in simply making the right design decisions up-front. It's important to also understand how research problems change when scaling up, e.g., the need to tune hyperparameters such as learning rate and batch size.
Speaker's Bio:
Doug is currently building an end-to-end ML platform currently for computer vision edge devices at Axon, maker of the Taser stun gun. Doug was formerly the CTO at Passenger AI (YC S18), which was acquired by Zippin Inc. There, he led a team of engineers developing self-driving car interior monitoring solutions that were sold to Fortune 20 companies. Doug lived in the San Francisco Bay Area for several years where he worked as a software engineer at companies like Mozilla and Zynga. MSc in Computer Science with a Machine Learning Specialization at Georgia Tech, BASc in Mechatronics Engineering at the University of Waterloo.
--
Natalie Klym, VP Market Development, Radium Cloud and David Clark, Senior Research Scientist, MIT Computer Science & Artificial Intelligence Lab
The Technologists are Not in Control: What the Internet Experience Can Teach us about AI Ethics and Responsibility
Fireside chat with David Clark, Senior Research Scientist, MIT Computer Science & Artificial Intelligence Lab
As AI evolves, many researchers face a moral dilemma as they watch their work make its way out of the lab and into society in ways they had not imagined or, more importantly, in ways they find objectionable. As a foundational technology that has reached maturity and is fully embedded in society, the Internet offers powerful lessons about unintended consequences. In this discussion, Dr. David Clark, Senior Research Scientist at MIT's Computer Science and Artificial Intelligence Lab (CSAIL) shares his experiences with the Internet's transition from lab to market and explains why "the technologists are not in control of the future of technology." Clark has been involved with the development of the Internet since the 1970s. He served as Chief Protocol Architect and chaired the Internet Activities Board throughout most of the 80s, and more recently worked on several NSF-sponsored projects on next generation Internet architecture. In his 2019 book, Designing an Internet, Clark looks at how multiple technical, economic, and social requirements shaped and continue to shape the character of the Internet.
Speakers' Bio:
Natalie Klym is VP Market Development at Radium Cloud as well as an independent researcher and consultant. She has been leading digital technology innovation programs in academic and private institutions for 25 years including at MIT, the Vector Institute, and University of Toronto. She strives for innovation that is open, creative, and responsible.
David Clark is a Senior Research Scientist at the MIT Computer Science and Artificial Intelligence Laboratory. He is technical director of the MIT Internet Policy Research Initiative. Since the mid-70s, Clark has been leading the development of the Internet; from 1981-1989 he acted as Chief Protocol Architect in this development, and chaired the Internet Activities Board. His current research looks at re-definition of the architectural underpinnings of the Internet, and the relation of technology and architecture to economic, societal and policy considerations. He is helping the U.S. National Science foundation organize their Future Internet Architecture program. He is past chairman of the Computer Science and Telecommunications Board of the National Academies, and has contributed to a number of studies on the societal and policy impact of computer communications. He was elected to the American Academy of Arts and Sciences in 2002 and serves as a member of its Council. He is the author of Designing an Internet, MIT Press, 2018.
--
Mikhail Yurochkin, Research Staff Member, IBM Research, MIT-IBM Watson AI Lab
Practical Individual Fairness Algorithms
Individual Fairness (IF) is a very intuitive and desirable notion of fairness: we want ML models to treat similar individuals similarly, that is, to be fair for every person. For example, two resumes of individuals that only differ in their name and gender pronouns should be treated similarly by the model. Despite the intuition, training ML/AI models that abide by this rule in theory and in practice poses several challenges.
In this talk, I will introduce a notion of Distributional Individual Fairness (DIF) highlighting similarities and differences with the original notion of IF introduced by Dwork et al. in 2011. DIF suggests a transport-based regularizer that is easy to incorporate into modern training algorithms while controlling the fairness-accuracy tradeoff by varying the regularization strength. Corresponding algorithm guarantees to train certifiably fair ML models theoretically and achieves individual fairness in practice on a variety of tasks. DIF can also be readily extended to other ML problems, such as Learning to Rank.
Speaker's Bio:
Mikhail is a Research Staff Member at IBM Research and MIT-IBM Watson AI Lab in Cambridge, Massachusetts. His research interests are Model fusion and federated learning; Algorithmic fairness; Applications of optimal transport in machine learning; Bayesian (nonparametric) modeling and inference. Before joining IBM, he completed Ph.D. in Statistics at the University of Michigan, where he worked with Long Nguyen. He received his bachelor's degree in applied mathematics and physics from the Moscow Institute of Physics and Technology.
--
Joseph Grosso, Machine Learning Engineer, Loblaw Digital
Accelerators Made Easy: Improving MLOps at Loblaw Digital Using Vertex AI
Matrix multiplication is a common operation throughout feature-engineering and model-training pipelines, and one that benefits significantly from specialized hardware (GPUs/TPUs). Provisioning this hardware scalably and efficiently can be a tricky operational problem. We'll demonstrate how Loblaw Digital has leveraged the new Vertex AI suite of MLOps tools from Google Cloud Platform to build an efficient general purpose matrix multiplication service to support a spectrum of recommendation engines that deliver the most relevant products and content to our users at scale.
Speaker's Bio:
Joseph is a Machine Learning Engineer at Loblaw Digital
--
Amit Paka, CPO and Co-founder, Fiddler AI
Build High Performance MLOps With ML Monitoring and AI Explainability
In this session, we will talk about why monitoring is critical to ML success. ML models can fail silently and lose their predictive power. This talk will discuss the key reasons models fail and hurt business performance: model drift, data integrity, outliers and bias. Once identified, operational issues are time consuming to fix. This talk will focus on how cutting-edge Explainable AI and model analytics can help find the root cause of an operational issue quickly. MLOps is iterative. This talk will also outline how model and cohort comparisons can help reduce time to market for new models.
Speaker's Bio:
Amit is the co-founder and CPO of Fiddler, a Machine Learning Monitoring company that empowers companies to efficiently monitor and troubleshoot ML models with Explainable AI. Prior to founding Fiddler, Amit led the shopping apps product team at Samsung and founded Parable, the Creative Photo Network, now part of the Samsung family. He also led PayPal's consumer in-store mobile payments launching innovations like hardware beacon payments and has developed successful startup products, particularly in online advertising - paid search, contextual, ad exchange, and display advertising. Amit has passions for actualizing new concepts, building great teams, and pushing the envelope. He aims to leverage these skills to help define how AI can be fair, ethical, and responsible.
--
Somnath Banerjee, Head of Shopping Discovery, Pinterest
Optimizing Pinterest Shopping Recommendations for Purchases
Social platforms like Pinterest are becoming major discovery engines for online shopping. Everyday Pinterest recommends products and other shoppable content to millions of users on various surfaces e.g. Home Feed, Product Detail Page, etc. Different surfaces have different recommendation stacks optimized for different engagement objectives like "save", "click", "10sec video play" etc. Those objectives do not capture the primary goal of shopping to drive purchases.
In this talk, I'll share how we include purchase optimization across different recommendation stacks of Pinterest. We optimize the item embeddings, generated using a transformer model, to create shopping candidates that are likely to drive purchases. We also develop a conversion model to predict the probability of checkout and use the predicted score for candidate ranking on different surfaces. Through this work, we are able to make changes in a few central places but able to increase purchases significantly from many different surfaces of Pinterest.
Speaker's Bio:
Somnath Banerjee is the head of shopping discovery at Pinterest. He and the team are responsible for distributing personalized and inspiring shopping content across different surfaces of Pinterest. The team is spread across SF Bay Area and Toronto and is an expert in applying cutting-edge AI/ML techniques in content recommendation. Previously, Somnath was a director of machine learning and the head of search quality for Walmart.com. Somnath has decades of experience in working on machine learning and leading machine learning teams at various organizations. He holds a Ph.D. in Information Retrieval and has published a number of papers in prestigious conferences like SIGIR, WWW, etc. Somnath has been an invited speaker on E-commerce and machine learning at conferences worldwide; IDG at Seoul and AI Summit, Nvidia GTC, MLConf, etc.
--
Manuela Veloso, Head of AI Research, J.P. Morgan and Foteini Agrafioti, Head/Co-Founder Borealis AI and Chief Science Officer, RBC and Cameron Schuler, Chief Commercialization Officer & Vice President, Industry Innovation, Vector Institute
Keynote: Finance Fireside Chat
Speaker's Bio:
Dr. Agrafioti is the Chief Science Officer at RBC and Head of Borealis AI. She is responsible for RBC's intellectual property portfolio in the fields of artificial intelligence and machine learning. She serves as co-chair of the Advisory Council on Artificial Intelligence, advising the federal government on how to build on Canada's strengths and global leadership in AI.
Prior to joining Borealis AI, Foteini founded and served as Chief Technology Officer at Nymi, a biometrics security company and maker of the Nymi wristband. Foteini is the inventor of HeartID, the first biometric technology to authenticate users based on their unique cardiac rhythms. She is a TED speaker and serves on the editorial review boards of several scientific journals. Foteini was named "Inventor of the Year" in 2012 at the University of Toronto where she received a Doctorate in Electrical and Computer Engineering and was named one of Canada's "Top 40 Under 40" for 2017."
Cameron Schuler is the Chief Commercialization Officer & Vice President, Industry Innovation at the Vector Institute. He is the former Executive Director of Amii (amii.ca), where, for 8 years, he led one of the top-ranked Machine Learning and AI groups in the world. Cameron's multifaceted career has covered finance, business & product development, consumer products, IT and general management from start-ups to mature companies. His industry experience includes Alternative Energy, Banking, Consumer Products, Information Technology (Consumer and Enterprise), Investment Sales and Trading, Life Sciences, Manufacturing, Medical Devices, Oil & Gas, and Oil & Gas Services. Roles have included COO, CFO, President and CEO and he was COO & CFO of a food manufacturer whose products lead to sales of over 250 million units.
He has founded numerous start-up companies (including medical devices as well as computer software & hardware). Cameron is Chair & Co-founder of PFM Scheduling Services, was Managing Director & Co-Founder of Schuler Law Group, a boutique tax planning law firm and spent 8 years in investment sales & trading. He attained an MBA from Queen's University and completed numerous investment management programs.
--
Maryam Emami, CEO- AI Materia, AI Materia
Physics-Informed Machine Learning Methods for Materials Development
Materials development revolutionizes all aspects of our lives. However, the traditional approaches for the design and manufacturing of materials are often unsustainable and resource-intensive. Limited by sparse, decentralized data, and the performance frontier of existing product lines, new materials can take decades to develop. Applications of machine learning and artificial intelligence have been a transformative paradigm for materials science. As materials informatics has matured from a niche area of research into an established discipline, distinct frontiers of this discipline have come into focus, and best practices for applying machine learning to materials are emerging. This talk will discuss case studies of how machine learning accelerates the development of higher-performing products.
Speaker's Bio:
Dr. Maryam Emami is the Chief Executive Officer at AI Materia, a materials informatics platform company. AI Materia technology helps materials companies to discover, manufacture, and design advanced materials in 80% less time compared to traditional approaches.
In addition to her role at AI Materia, Maryam works with materials and manufacturing companies as an advisor around digital transformation and innovation.
She earned her Ph.D. and M.Sc. in Chemical Engineering from McMaster University and holds a B.Sc. in Petroleum Engineering. Her primary interest is the development and validation of physics-informed machine learning methods specific to applications in advanced manufacturing. She is a designated professional engineer, P.Eng.
--
Palermo Penano, Senior Data Scientist and Kenneth Lau, Data Scientist, Scotiabank
Building Machine Learning Pipelines in Airflow with Jupyter Notebooks
Jupyter Notebooks are an integral tool for interactive machine learning model development and experimentation. However, despite their many advantages, machine learning pipelines in notebooks are difficult to maintain. In this talk, we provide an overview of a pattern for developing an end-to-end machine learning use case where each piece of the pipeline is implemented in a notebook and parameterized using Papermill. We then show how the pipeline can be implemented in Airflow to allow it to scale and run on a schedule.
Speaker's Bio:
Palermo Penano is a Sr. Data Scientist at Scotiabank's International Banking Analytics team. He is experienced in building end-to-end machine learning solutions for financial services with use cases ranging from customer attrition, campaign optimization and lead allocation, and loan and deposit pricing. He has a master's degree in economics from the University of Toronto.
Kenneth Lau received his Master's Degree in Data Science at Simon Fraser University. In the past, he worked with Vancity Credit Union to build machine learning models and visualizations to support banking operations. Currently, Kenneth works as a Data Scientist at Scotiabank where he builds and develops end-to-end machine learning products for retail and commercial banking.
--
Pieter Luitjens, CTO, Private AI
Deploying Transformers at Scale; Addressing Challenges and Increasing Performance
Transformer networks have taken the NLP world by storm, powering everything from sentiment analysis to chatbots. However, the sheer size of these networks presents new challenges for deployment, such as how to provide acceptable latency and unit economics. The de-identification tasks Private AI services rely heavily on Transformer networks and involve processing large amounts of data. In this talk, I will go over the challenges we faced and how we managed to improve the latency and throughput of our Transformer networks, allowing our system to process Terabytes of data easily and cost-effectively.
Speaker's Bio:
Co-founder & CTO of Private AI. He worked on software for Mercedes-Benz and developed the first deep learning algorithms for traffic sign recognition deployed in cars made by one of the most prestigious car manufacturers in the world. He has over 10 years of engineering experience, with code deployed in multi-billion dollar industrial projects. Pieter specializes in ML edge deployment & model optimization for resource-constrained environments.
--
Qi He, Senior Director of Engineering at LinkedIn, ACM Distinguished Member, LinkedIn
Constructing a Knowledge Graph for the World's Largest Professional Network
Online social networks such as Facebook and LinkedIn have been an integrated part of people's everyday life. To improve the user experience and power the products around the social network, Knowledge Graphs (KG) are used as a standard way to extract and organize the knowledge in the social network.
This talk focuses on how to build Knowledge Graphs for social networks by developing deep NLP and GNN models, and holistic optimization of Knowledge Graphs and the social network. Building KG for social networks poses two challenges: 1) input data for each member in the social network is noisy, implicit and in multilingual, so a deep understanding of the input data is needed; 2) KG and the social network influence each other via multiple organic feedback loops, so a holistic view on both networks is needed. In this talk, I will share the lessons we learned from tackling the above challenges in the past 9 years on building the Knowledge Graph for the LinkedIn social network. I will present how we use our KG to empower more than 20+ products at LinkedIn with high business impacts.
Speaker's Bio:
Qi He is the Sr. Director of Engineering at LinkedIn, leading a team of 150+ machine learning scientists, software engineers and linguistic specialists to standardize LinkedIn data and build the LinkedIn Knowledge Graph by creating standard entity vocabulary, recognizing entities, building entity relationships, and use this data to serve the entire LinkedIn ecosystem including member engagement and monetization products. His strengths include 1) 15+ years of experience managing and executing large complex AI projects in Knowledge Mining and Management, Recommender Systems, Information Retrieval, Language Processing with big business impact, 2) inventing and driving adoption of the state-of-the-art Deep Learning and Natural Language Processing approaches in industry, 3) building a strong organization and scaling it across geographies.
He is a Member Board of Directors for ACM CIKM and served as General Chair of CIKM 2013 and PC Chair of CIKM 2019. He serves as Associate Editor of IEEE Transactions on Knowledge and Data Engineering (TKDE) and Neurocomputing Journal. He has regularly served on the (senior) program committee of SIGKDD, SIGIR, WWW, CIKM and WSDM for 10+ years. He received the 2008 SIGKDD Best Application Paper Award and the 2020 WSDM 10-year Test of Time Award. He has ~70 publications with 6000+ citations to date. He is an ACM Distinguished Member. He is People of ACM in February, 2021 (https://www.acm.org/articles/people-of-acm/2021/qi-he).
--
Olga Tsubiks, Sr. Manager, Advanced Analytics,  RBC
AI Augmentation in Finance: Interplay Between Human and Machine
Finance leaders often have to go through dozens of reports, dashboards and data visualizations to gather insights needed for decision making. These reports are frequently very complex, comprehensive, and detailed. This session shows how to effectively enable AI augmentation to equip decision-makers with the most important information at their fingertips.
Speaker's Bio:
Olga currently is a Sr. Manager Advanced Analytics at RBC, where she applies machine learning and automation for capacity planning and optimization. She has been working in the field of data science for over 10 years. Olga brings data to life through machine learning, analytics, and visualization. Outside of her work at RBC she has worked directly with global organizations such as the UN Environment World Conservation Monitoring Centre, World Resources Institute, as well as prominent Canadian non-profits such as War Child Canada and Rainbow Railroad on various data science and analytics challenges.
--
Ludovic Bégué, CRM & Data Science Director, L'Oreal Canada and Mohamed Sabri, Consultant in MLOps, Rocket Science
Sharing L'Oréal Canada's Bespoke Data Science Strategy Framework
Why is it so important to have a strong AI strategy? Most AI initiatives fail, mainly because there is no strategy, no vision and no framework to support the projects. L'Oréal Canada has faced several challenges while implementing Data Science and AI practice. The goal of this session is to share L'Oréal Canada experience in the field and how as an organization we think any company should implement data science and AI.
Some of the aspects covered during the session:
* Assessing level of maturity in data valuation and understanding the weaknesses of the organization
* Identify projects with high value, done at L'Oréal Canada
* How to effectively scope a project and avoid POCs?
* How to build a ML team with the shortage of resources in the market?
* In our opinion what are the key points in implementing a data science practice?
This session will be co-presented with the director Data & CRM at L'Oréal Canada and the Partner of Rocket Science Development. Takeaways for the audience: A reusable framework in pdf format Use cases idea to drive your AI practice Real examples of projects in Retail and E-commerce Tips and advice based on field experience
Speakers' Bio:
Senior Global CRM and Customer Experience Strategist with 20 years of success in deploying Data Science, Consumer Centricity and Omni Channel marketing within various local and international organizations.
As CRM & Data Science Director at L'Oréal Canada since 2020, Ludovic leads a team that is solely focused on building better and profitable consumer experiences by bridging data capacities with digital and marketing platforms.
Mohamed Sabri is a results-driven data science and MLOps specialist with 8 years of experience in Machine learning and deep learning, systems design concepts, understanding data architecture concepts, data modeling, project design and project implementation. This Trilingual consultant has a very wide range of project experience for various industries. Mohamed Sabri has been as well a director of data science and AI in a startup in Montréal, with his experience on the field and as a manager Mohamed is capable of supporting all organizations in their AI project implementation. Mohamed is also the author of the book "Data Scientist Pocket Guide" available on Amazon.
--
Janahan Skandaraniyam, Senior Director, Security Intelligence and Analytics , Arctic Wolf Networks; Monzy Merza, VP Security GTM, Databricks, Inc.; Patricia Thaine, Co-Founder & CEO , Private AI; Hassan Khan, Assistant Professor, University of Guelph
Big Data and Analytics Strategy at the Heart of Cybersecurity and Privacy
This panel will focus on big data and advanced analytics strategy for security and privacy in modern enterprises. This will include threat hunting, threat detection, security intelligence acquisition and analysis, streamlining of the SOC, and data redaction. With exponentially increasing data volumes, threat actors and attacks becoming more and more sophisticated, and zero-day attacks on the rise, it is critical that we leverage advances in big data, edge computing, machine learning, and behavioural analytics on massive data streams to ensure proactive security and privacy for businesses and their customers. The panel will also discuss cybersecurity and privacy in the light of the regulatory landscape and various cybersecurity frameworks, and what that translates to in terms of technology and stakeholder requirements.
Speaker's Bio:
As Senior Director of research and development, Janahan is currently responsible for the security intelligence and security analytics mandates at Arctic Wolf Networks.
Prior to Arctic Wolf, Janahan has held senior roles in both start-ups and enterprise organizations including Motorola, GE, and Telus, and has led global engineering teams with a career track record of designing and developing innovative systems and products for a number of industry firsts. Janahan also works with partners in government, academia and industry to lead and advise programs in security to meet national and industry security requirements. His areas of interest and focus include advanced analytics (machine learning, deep learning, AI), software engineering, Big Data, Data Lakes, cloud computing/infrastructure, network infrastructure, mobility, IoT, telecommunications, IT, SCADA, SmartGrid, automation, and cybersecurity applicability across those areas for diverse industries and sectors.
Monzy Merza serves as the Vice President of Cybersecurity Go-to-market at Databricks, Inc. He is responsible for driving Databricks' cybersecurity business strategy. Along with his 20+ years of experience, he has held technical and business leadership roles. A former researcher and security practitioner, Merza has advised and contributed to strategic security programs in Fortune 500 and in government organizations.
Patricia Thaine is the Co-Founder and CEO of Private AI, a Computer Science Ph.D. Candidate at the University of Toronto, and a Postgraduate Affiliate at the Vector Institute doing research on privacy-preserving natural language processing, with a focus on applied cryptography. She also does research on computational methods for lost language decipherment. Patricia is a recipient of the NSERC Postgraduate Scholarship, the RBC Graduate Fellowship, the Beatrice "Trixie" Worsley Graduate Scholarship in Computer Science, and the Ontario Graduate Scholarship. She has eight years of research and software development experience, including at the McGill Language Development Lab, the University of Toronto's Computational Linguistics Lab, the University of Toronto's Department of Linguistics, and the Public Health Agency of Canada.
Hassan Khan is an Assistant Professor at the University of Guelph. He conducts research in Computer Security and Computer Systems domains, and he has published at prestigious venues including ACM MobiCom, ACM MobiSys, ACM CCS, and USENIX Security. Some of his research work has been featured by MSNBC, Bruce Schneier's blog, Time Magazine's Techland, The Globe and Mail, CBC, and the New Scientist magazine. His non-academic ventures include his industrial work as the Co-founder and Technical Lead at xFlow Research, where he led the development of software defined networking solutions for Marvell Technology, Netgear, Dell, and Cavium Networks. He is also a Co-founder of Penfield.AI, which is the first human-machine intelligence platform for security operations.
--