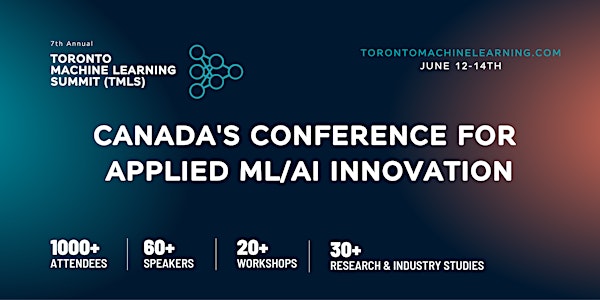 Toronto Machine Learning Society (TMLS) 7th Annual Conference & Expo 2023
A unique experience to upskill and learn from industry and academics in our community.
By Toronto Machine Learning Society (TMLS)
Date and time
Mon, Jun 12, 2023 9:00 AM - Wed, Jun 14, 2023 8:00 PM EDT
Location
The Carlu 444 Yonge St Toronto, ON M5B 2H4 Canada
Refund Policy
Refunds up to 30 days before event
About this event
2 days 11 hours

Mobile eTicket
Join us for an unforgettable experience that happens once annually.
For those looking to seriously upskill, grow their teams, explore new career opportunities, and learn from a series of leaders in our community - this is a unique opportunity !
*** All tickets include food, drinks, after-parties, and socials, but also;
Over 20 hands-on workshops, exclusive case studies that give you a peek into our local industry, cutting-edge research and technical sessions, and open curative discussion groups so you can expand your network.
Also- join the app to meet, arrange brain dates, & tell your story! We want to hear from you !
OUR WHY: TMLS is a community response addressing the need to unite academic research, industry opportunities & business strategy in an environment that is safe, welcoming and constructive for those working in the fields of ML/AI.
With talks curative by the committee, specifically designed for the growth & development of data practitioners, academics, and ML/AI enthusiasts.
LEARNINGS:
✅ Clear methods to overcome AI's current computational "Barrier-To-Entry"
✅ How you can build a generative AI product
✅ A technical deep dive into Integrating Large Language Models into your product
✅ Prompt engineering for text-to-image
✅ Using generative AI open-source models within an enterprise-compliant environment
✅ Graph ML
✅ Explainability & transparency in 2023
PAST TOPICS:
✅ How to Represent Financial Securities in Form of Embeddings Using Graph Machine Learning with Bhaskarjit Sarmah, Senior Data Scientist, BlackRock
✅ Graph Neural Network Modeling in Drug Discovery using PyTorch with Dr. Nasim Abdollahi, Postdoctoral Fellow, ML Researcher, University of Toronto, & Dr. Farnoosh Khodakarami, Computer Scientist and ML Researcher, Cyclica
✅ Graph ML – The Next Level of Machine Learning with Jörg Schad , CTO, ArangoDB
✅ Beyond the Basics: Data Visualization in Python with Stefanie Molin, Software Engineer / Data Scientist/ Author, Bloomberg LP
✅ Distributed Training with PyTorch with Shagun Sodhani, Research Engineer, Meta AI
✅ NLP for Healthcare: Challenges with Processing and De-identifying Clinical Notes with Chloé Pou-Prom, Data Scientist, Vaakesan Sundrelingam, Data Scientist, Unity Health Toronto
Key Dates:
June 12th - Virtual workshops (bonus)
June 13th - In-person talks, networking and parties
June 14th- In-person talks & Career / Demo Fair
Each ticket includes:
Lunch and continental breakfast are included
Tracks: Business Strategy, Case Studies, Technical, Research, MLOps
Talks for beginners/intermediate & advanced
Network and connect through our event app
Q+A with speakers
Channels to share your work with the community
Hands-on Workshops
Top Industries Served:
Technology & Service
Computer Software
Banking & Financial Services
Insurance
Hospital & Health Care
Automotive
Telecommunications
Environmental Services
Food & Beverages
Marketing & Advertising
The TMLS initiative is dedicated to helping promote the development of AI/ML effectively, and responsibly across all Industries. As well, to help data practitioners, researchers and students fast-track their learning process and develop rewarding careers in the field of ML and AI.
Why should I attend the Toronto Machine Learning Society (TMLS) 2023 Annual Conference & Expo:
Developments in the field are happening fast: For practitioners, it's important to stay on top of the latest advances; for business leaders, the implementation of new technology brings specific challenges.
The goal of TMLS is to empower data practitioners, academics, engineers, and business leaders with direct contact to the people that matter most, and the practical information to help advance your projects. For data practitioners, you'll hear how to cut through the noise and find innovative solutions to technical challenges, learning from workshops, case studies, and P2P interactions. Business leaders will learn from the experience of those who have successfully implemented ML/AI and actively manage data teams.
Seminar series content will be practical, non-sponsored, and tailored to our ML ecosystem. TMLS is not a sales pitch - it's a connection to a deep community that is committed to advancing ML/AI and to create and deliver value and exciting careers for Businesses and Individuals.
We're committed to helping you get the most out of the TMLS.
Joining together under one roof will be:
Machine Learning/deep learning PhDs and researchers
C-level business leaders
Industry experts
Data Engineers, Machine Learning Engineers
Enterprise innovation labs seeking to grow their teams
Community and university machine learning groups
Visit: www.torontomachinelearning.com
FAQs
Q: Is this a virtual or an in-person conference
A portion is virtual and a portion in person (The full conference will not be completely hybrid)
June 12th - Virtual workshops (bonus)
June 13th - In-person talks, networking and parties
June 14th- In-person talks & Career / Demo Fair
Q: What is your in-person conference policy:
We're aware that everyone's comfort levels, and risk tolerance can vary. We are working to support every attendee's level of comfort with regard to interactions/socializing. That will be indicated through Green/Yellow/Red badge indicators.
We also take very seriously all Safety precautions and follow local health and safety guidelines in accordance with City of Toronto, and The Carlu.
If you're unsure or have personal requirements- message us! We're happy to work with you to provide a safe and enjoyable experience!
Q: Which sessions are going to be recorded? When will the recordings be available and do I have access to them?
Most sessions will be recorded during the event (provided speaker permissions) and will be made available to attendees approximately 2-4 weeks after the event and be available for 12 months after release.
Q: Are there ID or minimum age requirements to enter the event? There is not. Everyone is welcome.
Q: How can I contact the organizer with any questions? Please email info@torontomachinelearning.com
Q: What's the refund policy? Tickets are refundable up to 30 days before the event.
Q: Who will attend? The event will have three tracks: One for Business, one for Advanced Practitioners/Researchers, and one for applied use-cases (Focusing on various Industries). Business Executives, Ph.D. Researchers, Engineers, and Practitioners ranging from Beginner to Advanced. See Attendee Demographics and a list of the Attendee Titles from our past event here.
Q: Can I speak at the event? Yes, you can submit an abstract here. The deadline to submit a talk is March 30th, however, we will continue to review submissions.
*Content is non-commercial and speaking spots cannot be purchased.
Q: Will you give out the attendee list? No, we do our best to ensure attendees are not inundated with messages, We allow attendees to stay in contact through our slack channel and follow-up monthly socials.
Q: Can my company have a display? Yes, there will be spaces for company displays. You can inquire at faraz@torontomachinelearning.com.
If you're unemployed, or in a difficult financial situation, but would stand to benefit from this event, please email info@torontomachinelearning.com and we can help you out !
About the organizer
TMLS events bring together business leaders, researchers and applied ML practitioners.
TMLS is a community of over 5,000 practitioners, researchers, entrepreneurs and executives. We work to highlight global opportunities and foster growth in local ecosystems.