Event Information
Refund policy
Refunds up to 7 days before event
A limited number of tickets are available: https://bit.ly/TMLS_NLP Join us for the Toronto Machine Learning Summit on NLP
About this event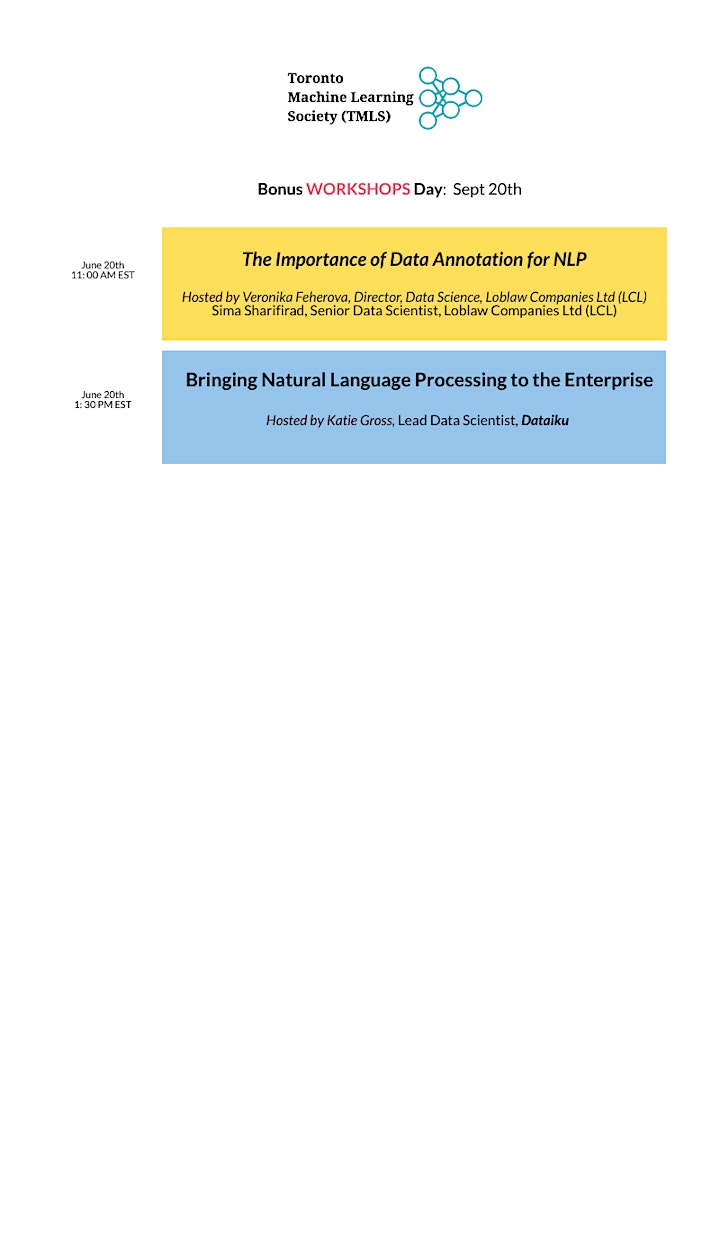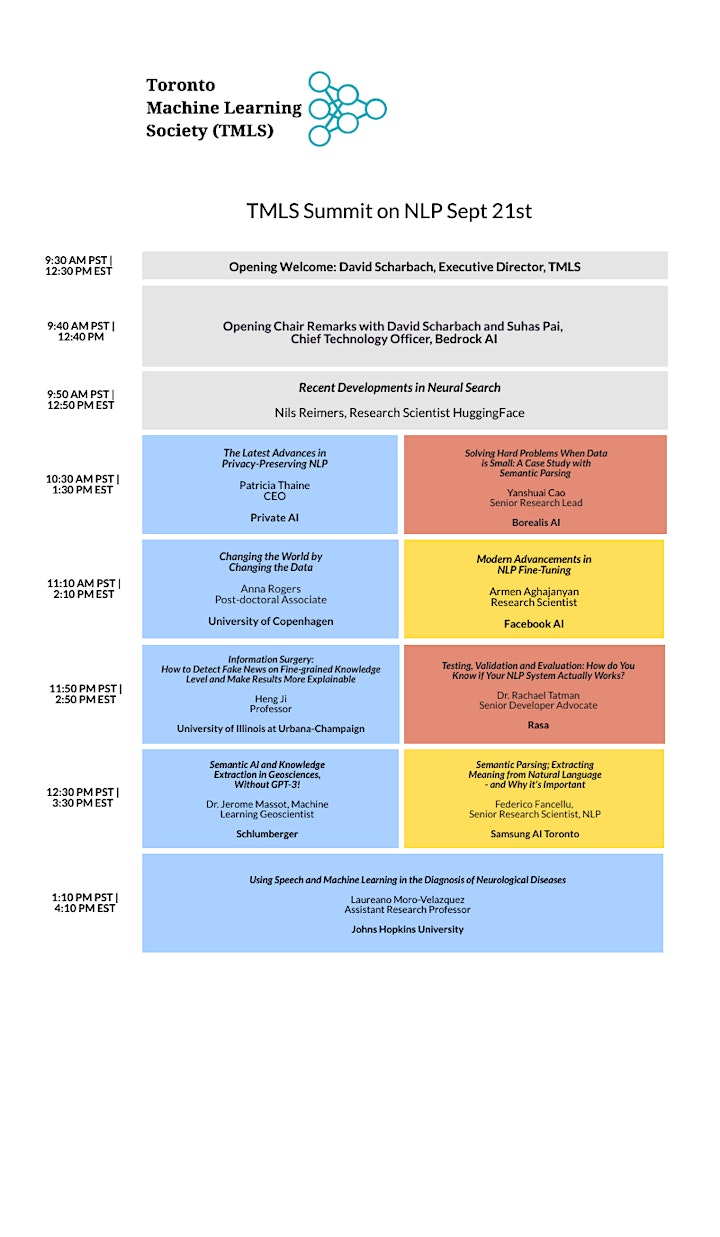 NOTE: This is an online event. Once you purchase a ticket, the link to the summit will be shared 2 days prior.
* Presentations will be streamed live, with audience Q&A. All attendees will access video recordings, post-event.
18 speakers will explore applications of NLP from both the business and technical areas of expertise plus 3 bonus hands-on workshops.
Workshops Sept. 20th and talks on Sept. 21th.
Attendees will have opportunities to meet with both academic researchers and industrial parties working with NLP in order to gain new perspectives from each other's scope of work.
As always, our goal is to reunite our community of Practitioners, Researchers and Business Leaders.
Please be aware, tickets will be limited so reserve a seat immediately. We will also have a "Community Mic" open session to kick off the event. 
TMLS is an initiative to accelerate the growth of ML/AI. We have gathered the top insights, expertise from our community of over 9,500 professionals.
The goal is to showcase research accomplishments while offering innovative solutions to real business problems faced by ML and AI practitioners.
What to expect:
Business Leaders, including C-level executives and non-tech leaders, will explore immediate opportunities, and define clear next steps for building their business advantage around their data.
Practitioners will dissect technical approaches, case studies, tools, and techniques to explore challenges within Natural Language Processing, Neural Nets, Reinforcement Learning, Generative Adversarial Networks (GANs), Evolution Strategies, AutoML and more.
Researchers will have the opportunity to share with their peer's cutting-edge advancements in the field.
Machine Learning in Canada; Machine learning, deep learning, and AI are some of the fastest growing and most exciting areas for knowledge workers - simultaneously, they are the key to untapped revenue sources and strategic insights for businesses. Firms are using AI to create unprecedented business advantages that are reshaping the global - but more specifically Canadian - economic landscape. Practitioners are leveraging and expanding their expertise to become high-impact global leaders.
Despite the vast opportunities that lie within our data, there are also explicit challenges to revealing their potential. Furthermore, transitioning to a career in practicing AL/ML, or managing ML and AI-driven businesses, are less than straightforward.
Why should I attend the TMLS?
Developments in the field are happening fast - for practitioners, it's important to stay on top of the latest advances. Business leaders know that the implementation of new technology brings specific challenges.
The goal of TMLS is to empower practitioners and business leaders with direct contact to the people that matter most. For data practitioners, you'll hear how to cut through the noise and find innovative solutions to technical challenges. Business leaders will learn from the experience of those who have successfully implemented ML/AI and actively manage data teams.
Seminar series content will be practical, non-sponsored, and tailored to our local ecosystem. TMLS is not a sales pitch - It's a connection to a deep community that is committed to advancing ML/AI and to create and deliver value and exciting careers for Canadian Businesses and Individuals.
We're committed to helping you get the most out of the TMLS.
Joining together under one roof will be:
Machine Learning/deep learning PhDs and researchers
C-level business leaders
Industry experts
Enterprise innovation labs seeking to grow their teams
Community and university machine learning groups
.
We ask that you direct any questions, requests to speak, requests for a Sponsorship Prospectus, etc. to faraz@torontomachinelearning.com.
We're very excited to see you there!
-The TMLS Team
www.torontomachinelearning.com
FAQs
Q: Are there ID or minimum age requirements to enter the event?
There is not. Everyone is welcome.
Q: What can I bring into the event?
Just your ticket! You can also bring a CV if you're job seeking. 
Q: How can I contact the organizer with any questions?
Please email info@torontomachinelearning.com
Q: Why should I attend the TMLS?
Developments are happening fast - it's important to stay on top.
For businesses leaders, you will have direct contact with the people that matter most; consultants and experts, potential new hires, and potential new clients. For data practitioners, you'll have an opportunity to fast-track your learning process with access to relevant use-cases, and top quality speakers and instructors that you'll make lasting connections with while building your network. 
The event is casual and tickets are priced to remove all barriers to entry. Space, however, is limited. 
Q: Who will attend?
The event will have three tracks: One for Business, one for Advanced Practitioners/Researchers and one for applied use-cases (Focusing on various Industries). Business Executives, PhD researchers, Engineers and Practitioners ranging from Beginner to Advanced. See Attendee Demographics and a list of the Attendee Titles from our past event here. 
Q: I'm not sure artificial intelligence can benefit my business. Is this still relevant?
Yes, a large component of the business track will be dedicated to understanding the potential of machine learning and ensuring ROI. 
Q: Can I speak at the event?
Yes, you can submit an abstract here. 
*Content is non-commercial and speaking spots cannot be purchased.
 Q: Will you give out the attendee list? No, we do our best to ensure attendees are not inundated with messages, We allow attendees to stay in contact through our slack channel and follow-up monthly socials.
Q: Can my company have a display?
Yes, there will be spaces for company displays. You can inquire at faraz@torontomachinelearning.com.
The Importance of Data Annotation for NLP - Veronika Feherova, Director, Data Science, and Sima Sharifirad, Senior Data Scientist, Loblaw Companies Ltd (LCL)
Abstract: 
Selecting a model architecture for a specific NLP problem is becoming less and less challenging considering the fact that a lot of advanced NLP models and code are now publicly available. Creating a good quality dataset to train the model to identify patterns in text is many times the bottleneck in the process of achieving high performance. Our advanced analytics team in Loblaw, the corporate owner of the two largest grocery and pharmacy networks in Canada, is focusing on streamlining the process of data annotation in order to deliver the best quality training datasets for solving business problems across retail, health and wellness. The talk will be focused on providing an overview of how we approach data annotation for various NLP tasks to ensure consistency and efficiency including tools to accelerate the process.
What you will learn: 
You will learn about various techniques to accelerate the process of good quality training set creation for NLP tasks.
The Importance of Data Annotation for NLP - Katie Gross, Lead Data Scientist, Dataiku
Abstract: 
Natural Language Processing (NLP), the branch of AI which involves bridging the gap between human language and computer understanding, is all the rage right now. In the last few years, landmark new models and applications have brought NLP to the center-stage of real-world enterprise data science and AI. In this session, Katie Gross, Lead Data Scientist at Dataiku will show you a framework for getting started with NLP projects.
What you will learn: 
Some topics covered during the session include:
What exactly is NLP and how is it used
How to clean and pre-process text for machine learning projects
An overview of some of the main NLP algorithms and how they work
The Latest Advances in Privacy-Preserving NLP - Patricia Thaine, Co-Founder & CEO, Private AI
Abstract: 
We'll go over what's new in privacy-preserving natural language processing, from advances using differential privacy and pseudonymization to homomorphic encryption.
What you will learn: 
You will learn about some of the best ways to preserve personal data privacy with your text datasets.
Solving Hard Problems When Data is Small: A Case Study with Semantic Parsing - Yanshuai Cao, Sr Research Lead,  Borealis AI
Abstract: 
Large-scale pre-training has enabled many NLP applications via transfer learning. However, there may not be sufficient labelled data in many challenging problems, especially at the initial stage of bootstrapping a new system. Beyond fine-tuning pre-trained models, what other techniques can help in hard problems with scarce labels? In this talk, I will use cross-domain text-to-SQL semantic parsing for natural language database interfaces as a case study. I will cover several topics: how to encode prior knowledge in model architecture; how to train deep transformers on small datasets; how to (and not to) perform data augmentation for NLP and leverage task-specific unlabelled data, etc.
What you will learn: 
Techniques for tackling hard NLP problems with small labelled datasets; why is reasoning important and how to enable it in model architecture; how to train deep transformers on small datasets; how to (and not to) perform data augmentation for NLP; when does semi-supervised learning help (and when it does not).
Recent Developments in Neural Search - Nils Reimers, NLP Researcher, HuggingFace
Abstract: 
Neural methods based on pre-trained transformer networks led to large improvements in text search. In this talk, I will provide an overview on the most promising approaches in the field of semantic search, how they can vastly improve search quality, and on their requirements for training and deployment.
What you will learn: 
Different ways pre-trained transformer networks can boost search quality.
Changing the World by Changing the Data - Anna Rogers, Post-Doctoral Associate, University of Copenhagen
Abstract: 
NLP community is currently investing a lot more research and resources into development of deep learning models than training data. While we have made a lot of progress, it is now clear that our models learn all kinds of spurious patterns, social biases, and annotation artifacts. Algorithmic solutions have so far had limited success. An alternative that is being actively discussed is more careful design of datasets so as to deliver specific signals. This position paper maps out the arguments for and against data curation, and argues that fundamentally the point is moot: curation already is and will be happening, and it is changing the world. The question is only how much thought we want to invest into that process.
What you will learn: 
Data curation and its implications is a core ethical issue for AI-based tech, and its role will only increase as more regulation is introduced. Still, a considerable part of the AI community raises both practical and conceptual objections to more careful control of the training data. You will learn about the key arguments and counter-arguments in this debate, and why data curation is more widespread and less innocuous than commonly assumed.
Modern Advancements in NLP Fine-Tuning - Armen Aghajanyan, Research Scientist, Facebook AI
What you will learn: 
You'll learn about the modern advancements that have occurred in fine-tuning research and how to extract out the best performance for your task if you're using pre-trained models. We'll also cover some recent developments into why fine-tuning works so well, given that we are training billion-parameter models on a couple of hundred data-points.
Information Surgery, - Heng Ji, Professor, University of Illinois at Urbana-Champaign
Abstract: 
In recent years, generative neural network models in natural language processing and computer vision have become the frontier for malicious actors to controllably generate misinformation at scale. These realistic-looking AI-generated "fake news" have been shown to easily deceive humans, and it is, thus, critical for us to develop robust verification techniques against machine-generated fake news.
Current misinformation detection approaches mainly focus on document-level fake news detection using lexical features and semantic embedding representations. However, fake news is often generated based on manipulating (misusing, exaggerating, or falsifying) only a small part of the true information, namely the knowledge elements (KEs, including entities, relations and events). Moreover, recent news oftentimes makes claims that do not have verified evidence yet, and evaluating the truthfulness of these real-time claims depends more on their consistency with other information conveyed in other data modalities.
In this talk I propose to extend research on Information Extraction to evaluate the veracity of news stories and change the consumption of news media around the world. Such a system would extend traditional event extraction to future event prediction, use cross-lingual cross-media information extraction as a basis to analyze media reports from across the world, identify fine-grained falsified information, fix them and prioritize information for analyst review.
I will present a new "Information Surgeon" model, which takes full advantage of state-of-the-art multimedia joint knowledge extraction techniques to analyze fine-grained event, entity, and relation elements, as well as whether these extracted knowledge elements align consistently across modalities and background knowledge. We propose a novel probabilistic graphical neural network model to fuse the outputs from these indicators to detect misinformation and make the results highly explainable. A major challenge to performing knowledge element level misinformation detection is the lack of training data. Hence, we additionally propose a novel graph-to-text generation approach to generate noisy training data automatically by knowledge element manipulation. Experiment results show that our approach achieves 92%-95% detection accuracy, 16.8% absolute higher than the state-of-the-art approach.
What you will learn: 
How to detect fake news on fine-grained knowledge level and make results more explainable.
Testing, Validation and Evaluation: How do you know if your NLP system actually works? - Dr. Rachael Tatman, Senior Developer Advocate, Rasa
Abstract: 
If you've ever built--or thought about building--an NLP system, you've probably run into a few questions: How can you tell if it's working? How will you know if it continues to work in the future? How do you know when you should you update your models, if ever? Luckily, there are tools to help you! This talk will cover the differences between testing, validation and evaluation, explain why you need all three, and walk through an example with a chatbot system.
What you will learn: 
the differences between testing, validation and evaluation and when it's appropriate to use each
concrete strategies for evaluating your NLP project in production, with a focus on chatbots
Semantic AI and Knowledge Extraction in Geosciences, without GPT-3 - Dr. Jérôme Massot, Machine Learning Geoscientist, Schlumberger
Abstract: 
Today massive Language Models (GPT-3, T5, ...) are sometimes presented as the Holy Grail for language generation and knowledge extraction directly out-of-the-box (zero-shot learning). However, in many industrial domains, where technical corpora overlap poorly with the training corpus, such LMs perform poorly. Once again, NLP applied to industrial applications needs to come back to a data-centric approach rather than a model-centric one. But...how to generate enough industrial specific data for LMs fine-tuning? This talk shares several options explored in the Geosciences perimeter.
What you will learn: 
Why generic language models cannot do a good job in specific industrial domains without humans in the loop, dedicated to the constitution of labelled specific datasets.
The Messy Yet Exciting World of Semantic Parsing - Federico Fancellu, Senior Research Scientist, NLP, Samsung AI Toronto
Abstract: 
Semantic parsing -- i.e., the task of automatically extracting meaning from natural language input, is one of the most prolific areas of research in NLP. However, it is also one of the most confusing as it is hard to agree on what meaning is and how to represent it. In this talk I will give an overview on the current state of semantic parsing and the challenges and opportunities that lie ahead. My hope is to show you that semantic parsing can be messy, but also fascinating and exciting at the same time.
What you will learn: 
I am going to present an introduction on semantic parsing and what it means to automatically extract complex aspects of meaning from natural language -- and why this is important. Mostly I am going to be focussing on the research progress in the area in the hope to make people excited about the topic
Using Speech and Machine Learning in the Diagnosis of Neurological Diseases - Laureano Moro-Velazquez, Assistant Research Professor, Johns Hopkins University
Abstract: 
According to the US National Institute on Aging, there are more Americans aged 65 and older than at any other time in history. The expected increase in the number of older adults with chronic conditions will have profound social and economic effects on society. In our work, we envision new diagnostic and prognostic tools to provide an early diagnosis of some of the most prevalent age-related conditions, such as Alzheimer's disease and related dementias, and Parkinson's disease. These precision medicine tools will provide an earlier and more accurate diagnosis than current methods based on long-term observational protocols. At the same time, the new tools will be used to assess and predict the onset of clinical states such as postoperative delirium and frailty. In this manner, the patients will receive earlier and more personalized treatment, leading to a better prognosis. Our methods combine natural language processing, speech processing and machine learning to characterize autonomic regulation, emotion, executive control, language use, or memory, crucial to evaluating the patients' physiological and cognitive state.
What you will learn: 
The relationship between certain neurodegenerative diseases, and speech and language. Trends on speech processing techniques to detect articulatory and phonatory problems. Trends on natural language processing to evaluate the language of patients with neurodegenerative diseases.
Date and time
Location
Refund policy
Refunds up to 7 days before event
Organizer of Toronto Machine Learning Summit on NLP