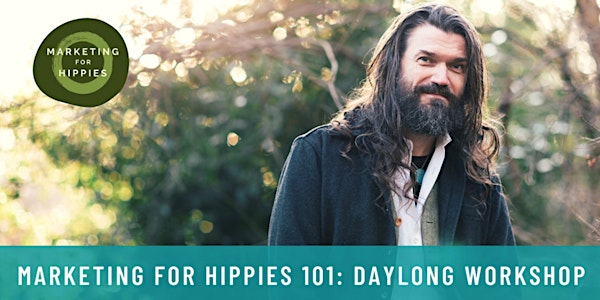 TORONTO: Marketing for Hippies 101
How to Grow Your Green, Local and Holistic Business
When and where
Location
Society Club House 967 College Street Toronto, ON M6H 1A6 Canada
Refund Policy
Refunds up to 7 days before event
About this event
Can't make it? Check out:
Marketing for Hippies Starter Kit
This is a pay-what-you-can, day-long workshop where you can learn the marketing secrets of North America's most successful green, holistic, community-minded entrepreneurs to attract more of the clients you want (without ever sacrificing your integrity or spending a fortune). 
Marketing can feel good.
That's the premise of this workshop.
Since 2001, I have traveled around North America working with conscious entrepreneurs just like you. Some successful, others struggling. And I've gathered quite the assortment of success stories and strategies right from the horses' mouths.
This workshop is my best distillation and collection of those practices and stories.
My name is Tad Hargrave and I want to invite you to come and join us for this day-long workshop.
PRICE: $25 deposit + Pay What You Want at the End. 
What does this mean? You pay $25 to secure your spot. And then you get to enjoy the workshop and, at the very end, you can pay me whatever you'd like to pay. Were I to charge full price you'd pay $200 for this workshop but I also want to keep it accessible to those who can't afford that amount. Plus, the workshop might be more valuable to some than others and why should you both pay the same amount? It's an honest-to-goodness, decide-at-the-end, no funny business, pay-what-you-can/want deal.
OR: I've made an option for you to pay 3 installments of $67. If you'd like to pay the full market value of this workshop but want to spread those payments out, choose the 3-pay option! You'll be charged $67 now, and then you'll receive an invoice from my PayPal account for 2 more payments of $67 in each of the following two months.
OR: I've also added the option to simply pay a flat $200 market value fee for the workshop upfront. If that feels good and convenient for you, please choose this option. It's something that's been requested a number of times so I'm trying it out, but either way is fine by me.
---
This is a day-long, content-rich, roll-up your sleeves, nuts and bolts workshop. It's all about how you can grow your business and attract all of the right kinds of clients.
In general, here's who this workshop is for:
Perhaps you are selling a natural, eco-friendly, cruelty-free or otherwise healthy product.
Or maybe you're in the Healing Arts or a Holistic Practitioner? Perhaps you're a Therapist, Massage Therapist or Body-worker, Yoga Instructor, Herbalist, Shamanic Practitioner, Life-Coach, Meditation Teacher etc.
Are you a local business owner who just plain cares deeply about your community, nature and social justice? Maybe you run a Yoga Studio, Eco-Friendly House Cleaning company, an Organic Farm, a local Theatre Company, a Fitness Studio, a comfy, little locally owned Bookstore, a groovy local Restaurant, an Eco-Store, a Pottery shop or a Natural Health-Food Stores etc.
Or you might be running some sort of permaculture-based business.
 At its heart, this workshop is all about exploring the question:"How can you sell your products and services without selling your soul?" 
Too much marketing (even by savvy, conscious entrepreneurs) creates either no response or seems "over-hyped" and triggers a "used car salesman" reaction.
So . . .
How do you market your products without compromising your principles? How can you make sure your marketing gets a positive response and creates warm feelings of trust? Better yet - how do you have your ideal client approaching you, instead of you chasing them? 
While mingling with like-minded peers, you'll learn: 
The Three Core Foundations and Seven Elements of Your Platform that you need to attract more - and better - clients, with absolutely zero budget.
The core reason why most marketing feels bad (and exactly how to make sure that your marketing avoids it).
The only three kinds of potential clients you will ever meet, and the exact approach you need to take with each of them.
What to Bring: 
Pen and paper.
Money: your cheque book, cash or credit card (I am also happy to accept a promissory note from you so you can pay me via PayPal or etransfer when you get home).
A reminder about cell phones:
Please remember to put your phone on silent or even turn it right off. I encourage you to make the effort to really be present in the room and at the workshop. There will be a nice long lunch break and a couple of stretch breaks to check for updates if you need to! 
Schedule Of The Day:
 DAY ONE:
10:00am-1:00pm - workshop
1:00-2:30pm - lunch
2:30-6:00pm - workshop
So, that's it. If you have any questions, feel free to email me at admin@marketingforhippies.com otherwise I hope to see you there.
Warmest,
Tad Hargrave
founder, marketingforhippies.com
PS: BONUS! When you register for one of these workshops you'll get a copy of my new book How to Start, which sells for $20 in my online shop. This book is a practical and refreshing, seven-step workbook to use when marketing feels gross and awkward (you can do it all in one lazy, rainy afternoon and you'll use it for the rest of the life of your business).
How to Start is a tiny workbook about a little idea that could make a big difference in every piece of marketing you ever do from here on. Here's the little idea: what if you made the heart of your marketing strategy about how your marketing feels to you and others?
About Tad Hargrave
Tad is a hippy who developed a knack for marketing (and then learned how to be a hippy again.) For almost a decade, he has been touring his marketing workshops around Canada, bringing refreshing and unorthodox ideas to conscious entrepreneurs and green businesses that help them grow their organizations and businesses (without selling their souls). 
He does improv comedy semi-professionally, co-runs Edmonton's progressive community building network TheLocalGood.ca, founded streetcarshows.com, indigodrinks.ca, socialyogiyeg.com, and the Jams program of yesworld.org. He speaks Scottish Gaelic and helps to run novascotiagaelsjam.com and is also a huge Doctor Who nerd. 
Tad currently lives in Edmonton, Alberta (traditionally known, in the local indigenous language of the Cree, as Amiskwaciy (Beaver Hill) and later Amiskwaciwaskihegan (Beaver Hill House) and his ancestors come primarily from Scotland with some from the Ukraine as well. He is drawn to conversations around politics, history, ancestry, healing and how those all intersect.
You can learn more about Tad and his work at marketingforhippies.com and nichingspiral.com