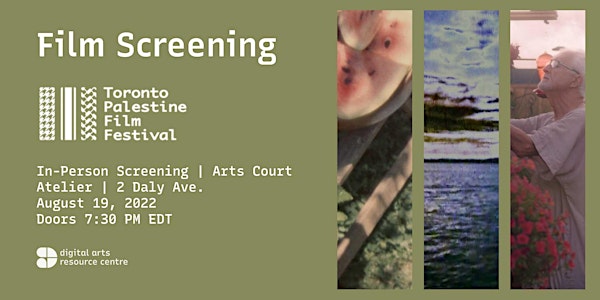 Toronto Palestine Film Festival Screening
Join us in the Arts Court Atelier on Friday, August 19th for a film screening of three Toronto Palestine Film Festival works.
When and where
Location
Arts Court 2 Daly Avenue Ottawa, ON K1N 6E2 Canada
About this event
Join us in the Arts Court Atelier on Friday, August 19th at 7:30pm EDT for a film screening of Toronto Palestine Film Festival works.
Digital Arts Resource Centre is excited to co-host an in-person screening and artist Q&A with the Toronto Palestine Film Festival (TPFF). We will be screening three original works by filmmakers Leila Almawy, Kalil Haddad, and Nada El-Omari. These films were developed, workshopped, filmed, and produced through the TPFF Local Pals Residency in 2020 and 2021.
Program Schedule
Doors: 7:30pm
Screening: 8:00pm
Q&A: 9:00pm
Location
Arts Court Atelier, 2 Daly Ave, Ottawa, ON K1N 6E2
Atelier is a black box studio located on floor 3 of Arts Court.
Registration for this event is not required but is encouraged to guarantee your seat and for contact tracing.
Content Warning: This event is intended for mature audiences. Films screened reference physical, mental, and sexual abuse.
About the Films:
Rumaan by Leila Almawy
Rumaan follows the story of a pomegranate tree that was planted in Canada, grown from seeds that were transported from Haifa, Palestine by Mamdouh El-Kassem when he and his young family were forced to flee the Nakba in 1948. Mamdouh's son Zaki El-Kassem speaks about his decades-long attempts to preserve the tree and its seeds.
Leila Almawy is an Arab-Canadian filmmaker and activist whose work centers marginalized voices and underrepresented communities. Identity, im/mobility, and displacement are themes that she explores in several of her works. The Constant Refugee, for which she was awarded Achievement in Documentary at the enRoute Air Canada Film Festival, explores the persecution and displacement of an Armenian-Iraqi refugee in Canada. Salma follows the true story of a Hijabi Muslim Canadian as she explores different facets of her identity as a stand-up comic and a biomedical engineer, challenging the stereotypes that portray her as oppressed and uneducated. Rumaan follows the story of a pomegranate tree that was grown in Canada from seeds transported from Haifa, Palestine by her late grandfather after he fled the Nakba in 1948, continuing the Palestinian legacy of resistance and resilience. Her forthcoming feature, No Fly List Kids, puts these themes in conversation with the politics of mistaken identity and national security, ultimately challenging the broader notion of a homogenous Canadian identity.
The Beautiful Room is Empty by Kalil Haddad
As her childhood home is emptied for sale, Marie wanders through spaces both concrete and virtual as she attempts to navigate the ghosts of her past.
Kalil Haddad is an experimental filmmaker based in Toronto, Ontario. Often working in hybrid forms, he has written and directed several short works including As I Sat in His Car... (2018), Farm Boy (2019), Tiger Eats a Baby (2020), and The Taking of Jordan (2022). As an editor, he has collaborated with acclaimed filmmakers Kazik Radwanski (Anne at 13,000 Ft., TIFF '19), Sophy Romvari (Still Processing, TIFF '20), and John Greyson (International Dawn Chorus Day, Berlinale '21 — TEDDY Award, Best Short Film). He holds a Bachelor of Fine Arts in Film Production from York University.
from where to where by Nada El-Omari
In the pieces I store and carry along my many different roads, my dialects may be signs of bruises but reclaimed they form the skin and voice I live in. Experiences of the where, from where, to where; a narrative amongst others. And as the words finally trickle through the needles, fingers seeping with tints trace the outline of whirling fields where I hang a jasmine branch on suspended necks and in the in-betweens, language soothes, swans mend, and the daily brings calm. We are the comfort of our multiples.
Nada El-Omari is a filmmaker and writer of Palestinian and Egyptian origin based in Montréal, Québec. She has centered her practice and research interests on the intergenerational transmissions of memories, displacement and the stories of belonging and identity through a poetic, hybrid lens. Focusing on process and fragments in text, sound and image, Nada explores different ways to self-narrate new ways to speak hybridity and self. Her films have recently been shown at the NYU's Orphan Films Symposium, Belfast Film Festival, Palestine Cinema Days, Visions Cairo, Toronto Palestine Film Festival and on Shasha. Her work has also been published in Montréal Sérai and qumra journal. She is currently displaying a digital project commissioned by the Art Gallery of Ontario (on view at: 1-home.net) in collaboration with Sonya Mwambu. El-Omari holds a BFA in Film Production and MFA in Film from York University.
COVID Protocol
We are asking all attendees to please wear a mask while in the Atelier studio space.
The province of Ontario has recently entered its 7th COVID-19 wave and ensuring the safety of all attendees and the DARC community is our priority. We strongly encourage everyone attending the screening to be up to date with their COVID-19 vaccine and boosters.
Accessibility
All doors at DARC have accessibility buttons to press for automatic entry. DARC is located on the main floor (one story above ground) of the Arts Court building. DARC's main entrance is located at 67 Nicholas Street which is fully wheelchair accessible. Alternate wheelchair-accessible entry is available through 2 Daly Ave at the Arts Court main entrance or the Ottawa Art Gallery. Elevator access is available from 9AM – 11PM. DARC staff are available and happy to assist with all inquiries and requests regarding physical access. We also welcome inquiry, feedback, and resources regarding accessibility and accessibility improvement by phone (613.238.7648 x. 4) or by email at access@digitalartsresourcecentre.ca.
Visit https://digitalartsresourcecentre.ca/access/ for information on how to get to DARC, language barriers, fragrance policy, and access to programming.