About this Event
Toronto Pflag Ally Awards is a fundraising and awareness building event for Toronto Pflag, a registered charity serving LGBTQ2S+ families and their allies in the Greater Toronto Area.
Hosted by comedic powerhouses: Colin Mochrie & Debra McGrath
On October 17th 2019, Toronto Pflag invites Toronto Pflag families, their allies & supporters to help celebrate and honour the incredible work of three tremendous allies to our LGBTQ2S+ community, see below. This is an after-work cocktail reception at The 519, 6:00pm-8:30pm, with live entertainment, an Ally Awards ceremony hosted by comedic power duo Colin Mochrie & Debra McGrath, with hors d'oeuvres & drinks (alcoholic and non-alcoholic, included in the ticket price) as well as raffle prizes and more! Tickets are $60 in advance ($70, at the door.) | All funds raised support Toronto Pflag. | Learn more about Toronto Pflag here!
All Toronto Pflag Ally Award recipients exemplify our organization's mission by meeting the following criteria:
An individual or group who has made a significant contribution toward promoting the health and well-being of gender and sexual minorities and their families and friends in Toronto, through support and/or education.
This year our winners also embody our 2019 theme: Champions for LGBTQ2S+ Students and Youth.
Additional questions? Contact events@torontopflag.org
CONGRATULATIONS TO OUR 2019 WINNERS!
1) Marla Green, a Proud Pflag Parent, is a titan of support for LGBTQ2S+ youth. For over a decade, Marla has volunteered her time and love, facilitating Toronto Pflag's monthly East End Support Meeting, and helping our newest members and families by taking calls on our telephone peer-support line each week. Through classroom presentations and speaking engagements, from boardrooms to City Hall, Marla continues to be a champion for the health and well-being of Toronto's next LGBTQ2S+ generation.
2) Sam Hammond, as President of the Elementary Teachers Federation of Ontario (ETFO), has been a vocal champion and tremendous ally to all LGBTQ2S+ students during the Health & Physical Education curriculum rollback. Sam has been a consistent and active advocate for the health and well-being of LGBTQ2S+ children and their families across Ontario, adding his voice and allyship speaking out for students and youth at a critical time.
3) Terrence Rodriguez, is a mentor and fearless ally. He is the founder of REX Pride serving LGBTQ2S+ youth from within the Rexdale area of Toronto. Terrence is a champion to these youth, many of whom face rejection from their peers and families, forcing them to navigate homelessness and isolation. He is a leader, a pillar of support and a true ally when allies are few and far between.
Follow our Facebook event page for talent announcements and latest news!
Venue is wheelchair-accessible.
All-gender washrooms available on-site.
A special thank you to all our supporters including: The 519 Community Centre, Fabarnak Catering, Barefoot Wines and Bubbly, Steam Whistle Brewing, Beattie's Vodka, and PepsiCo.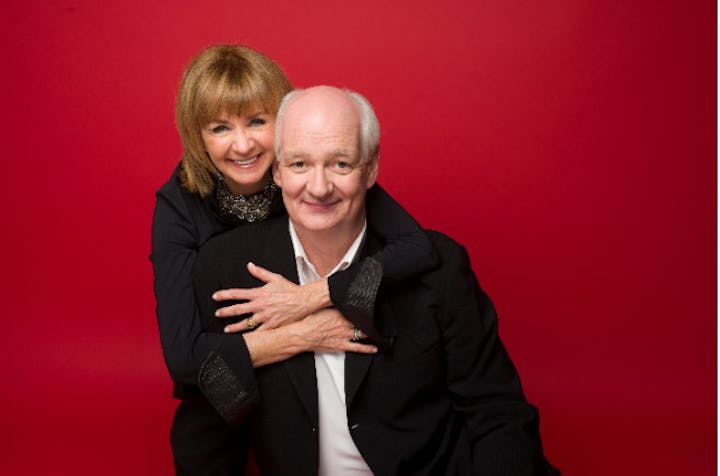 Toronto Pflag is thrilled to announce our emcees, Colin Mochrie and Debra McGrath, comedic powerhouse duo who are perfect hosts for our event, sharing with the Pflag experience as proud parents of their trans daughter, Kinley.
Colin Mochrie is an alumnus of Toronto's famous Second City comedy troupe, a cast member of ''This Hour Has 22 Minutes'' and legendary regular on ''Whose Line Is It Anyway?'', British and American versions. Currently he is part of an awesome tour of "Whose Line" with cast-mate Brad Sherwood, ive improv shows across North America.
Debra McGrath is Second City veteran, whose been seen on "Private Eyes", "Little Mosque on the Prairie", "Degrassi" and "Getting Along Famously" a series she created with her husband Colin Mochrie. Also known to our big and small youth alike as a regular voice in animated series like Beetlejuice and Sailor Moon. Deb has a star on the Scarborough Walk of Fame and recently won best actress at Canada's short film Festival.
We hope you will join Colin & Debra, Toronto Pflag families and our supporters for a celebration of local Champions for LGBTQ2S+ Students and Youth, a fundraiser, and special cocktail reception @ The 519 on Church Street, 6pm-830pm, October 17th, 2019