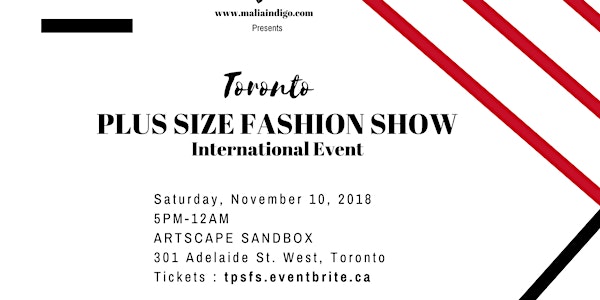 TORONTO PLUS SIZE FASHION SHOW
When and where
Location
Artscape Sandbox 301 Adelaide St. West Toronto, ON M5V 2E8 Canada
Description
After successful ss17 shows that took place in Toronto, Canada and Paris, France we were overwhelmed with positive response in the media and impressed by sincere support from our fans. We can really say that the show has become a true gamechanger not only here in Toronto, but internationally.
Our goal this year is to continue the dialogue about the reality of body positive fashion. We are welcoming this year as Guest Star Gwen Devoe, the founder and producer of Full Figure Fashion Week (FFFweek) in New York.
The panel discussion with industry experts and Meghan Bradley as Panel host will expand on the issues that the industry is facing daily.
The show designed by Ophilia Alleyne, the artistic director and Malia Indigo, the producer will include runway presentation of the lines by internationally recognized designers such as Lesley Hampton, Anelehs Atelier and Dassah Couture.
We believe in mentality shift towards body positive, all inclusive fashion. We are bringing together the leading industry players - designers, retailers, models and media to inspire constructive shift in body perception and building sustainable market that caters to all clients without discrimination.
So far there has been no open and easily accessible platform for the key industry professionals to express their vision and share the inspiration and learn from each other. Toronto Plus Size Show has been designed to extend its reach beyond the runway presentation to multimedia platforms, press and TV and generate interactive communication where everyone involved can hear each other and have a way to express their point of view.
Malia Indigo is pleased to announce that its Runway presentation of Season 2018 will take place on November 10th at 5 p.m at Artscape Sandbox, 301 Adelaide St. West, Toronto, ON M5V 2E8.
Each ticket includes:
- Red Carpet
- Attendance to the discussion panel
- Runway
- Sip & mingle
- After party
Email reach@maliaindigo.com for inquiries.