2 round slam feat. 2020 PEN Canada New Voices Award winner Em Dial!
About this event
This Saturday we celebrate the 16th anniversary of the Toronto Poetry Slam! (Thanks Big Deal!) That's right, it's our Sweet 16! As always, we have you covered for your spoken word and poetry slam needs! We appreciate you wonderful poets and audience members who have been coming out all these years, we couldn't be where we are without you.
ACCESSIBLE VIA ZOOM ONLINE. Get your tickets in advance.
Details:
Doors at 7:50 / Show at 8pm
12 Slam Slots! 2 rounds (3 minute poems) - more details below
60% of TPS slam spots are reserved for Black and Indigenous poets.
$80 CND to the WINNER!
No open mic
Tickets:
$7 (No one is turned away for lack of funds. Be in touch if you need.)
$14 - Redistribution/Reparations tickets for white/non-Black and Indigenous folks
FREE for Black and Indigenous Folks. If you haven't emailed info@torontopoetryslam.com for previous free links, email us by 2pm ET on Nov 21 with the subject: TPS B+I TICKET. A link will be sent to you on Nov 21 before the slam.
Feature bio:
Em Dial is a queer, triracial, chronically ill poet, grower, and educator born and raised on Ohlone lands in California, or what is currently known as the San Francisco Bay Area. A 2021 Kundiman Fellow and recipient of the 2019 Mary C. Mohr Poetry Award and 2020 PEN Canada New Voices Award, her work also appears in or is forthcoming from Tinderbox Poetry Journal, Crab Fat Magazine, and Sonora Review.
Instagram: @em_dial / Twitter: @em__dial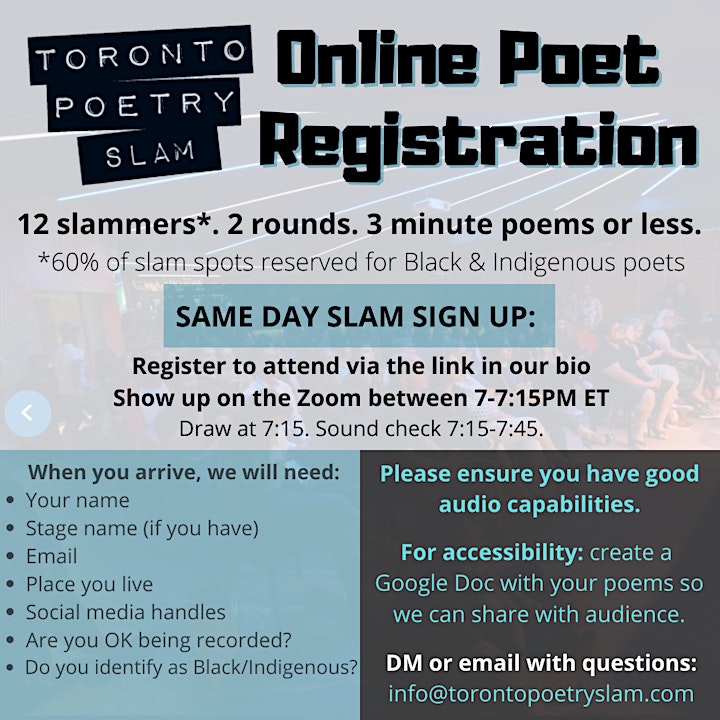 If you plan on hitting our stage, please read this first (mostly borrowed from Loser Slam NJ with permission)
For online slams:
Get your ticket for the show. Black and Indigenous poets can get a free ticket, so email us for the link in advance. Show up on the Zoom call between 7-7:15PM ET on the night of the show. There are 12 spots for competing poets. We reserve 60% of the slam spots for Black and/or Indigenous poets. The draw for competing poets will happen at 7:15 and sound/tech check is from 7:15-7:45. Late comers are not guaranteed a spot. Please ensure you have good audio capabilities. For accessibility, create a google doc to share with your poem in it (also incase you have a glitch during your performance).
When poets arrive, we will ask for: Your name, stage name (if you have one), if you identify as Black and/or Indigenous, your pronouns, the place you live, your email (for follow up if you are the winner, to add you to our email list and to follow up with you for future qualifying slams), let us know if you are OK being recorded, and share your social media handles (if you are ok with us posting a photo or quick video of you performing).
Top 3 poets will have one of their poems posted online (with their consent).
Round 1 is in random order.
Round 2 takes the top 6 poets from round 1 and has them go in reverse order.
Scores from each round are added together. The poet with the highest score is the winner.
Your overall scores for the season go towards rankings for the year. At the end of the season if you have slammed at least three times and ranked (or won) you will be contacted to be in the semi finals to compete to be on the Toronto Poetry Slam Team. The top 16 poets of the season are eligible to go on to semi finals. The top 4 from each semi finals will go on to compete in the finals showcase and the top 5 form the team.
The Nuts and Bolts of Open Slams. The time limit for poems in the slam is 3:00. There is a 10 second grace period. So poems under 3:10 will not be penalized. Poems will be penalized (.5) half point at 3:10:01, (1) one point at 3:20:01, (1.5) One and one half points at 3:30:01 and so on. The time starts at the first contact with audience; this can be a word or action. The maximum time allowable on the open mic is (4) four minutes or 1 (one) poem, whichever comes first. Please be respectful and aware that your fellow poets want to share their poems with an alert, awake and engaged audience, too. (See Poetry Etiquette below for more on this subject.)
Content Warning. Consider yourself warned. This is an open mic and slam. We invite features from around the country and globe to read their work. People often write from a place of raw emotion, brutal honesty, and vulnerability. They are feeling things and sharing those things with us. Their feelings might make you feel some feelings. Be aware of what your personal boundaries and limits are and act accordingly. If you need to step outside, do so. No one will fault you for taking care of yourself.
Don't be an Asshole Warning. Don't be sexist, racist, homophobic, transphobic, or any other kind of jerk. We have pretty good senses of humor here. We also have very little patience for –ists and –isms parading as edgy humor. Which leads us to…
Respect. While we are an open mic, we do not tolerate hate speech or intimidation on or off stage. Please act respectfully. It's a small room so if you're talking while someone is performing, we can all hear you.
Online safety/courtesy. In the online format, unless you are the poet "on stage" at the moment, ensure your mic is off. If you are up for it, keep your camera on to make it feel like the audience is engaged, but don't do tons of distracting stuff or your camera will be shut off by our volunteers.
FAQs
How can I contact the organizer with any questions?
Email us at info@torontopoetryslam.com.