Event Information
Refund policy
Contact the organizer to request a refund.
Eventbrite's fee is nonrefundable.
A night of immersive local storytelling. Explore our virtual Toronto space, meet people, and experience journalism like never before.
About this event
*For orders of 4 or more, email us directly at TorontoRewind@talkmedia.ca for custom group pricing and special benefits!*
The number of storytelling package tickets for this event are limited, and must be purchased before December 6, 2021. Storytelling package tickets are only available to those residing in Canada.
"It made me think the internet doesn't have to be a dumpster fire all the time."
"It was really fun and social like Nuit Blanche, minus all the walking."
Ditch the drone of daily zoom meetings for an experience you won't forget.
This November 10 and 12, join us for Toronto Rewind, an interactive festival that will bring you into the heart of local stories told by local journalists and storytellers.
Grab your ticket and invite a friend (or several) to explore our customized event grounds on the app Gather, where you'll experience stories that offer new perspectives on people, places and events from Toronto's past.
*For this event, we recommend an internet speed of:
10mbps download speed
3mbps upload speed
(You can test your internet speed here)
Watch the video below to see how it works: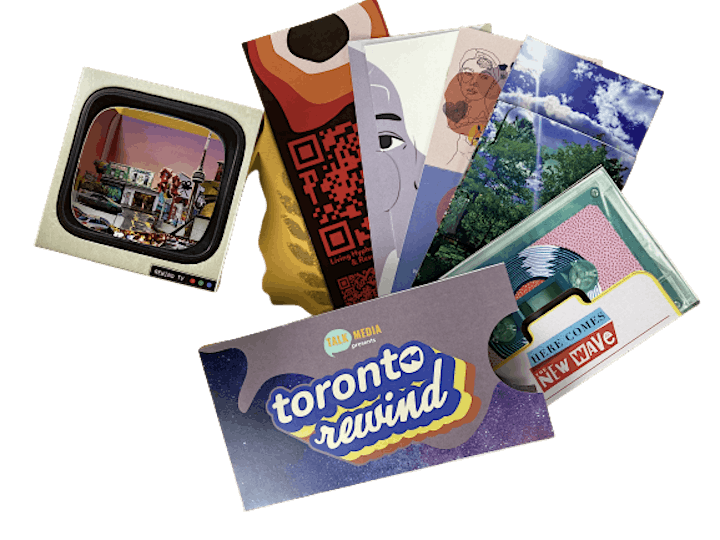 (OPTIONAL) Experience our home-delivered custom storytelling box
Each of our six storytellers have infused a piece of their story into a series of objects you can keep for yourself. If you get a special storytelling package, you will be instructed to interact with different components throughout the event.​
Explore the space
Through the app Gather, we've created a digital versionnof different Toronto neighbourhoods for you to explore.
​Meet new people
Make use of the video features to chat with journalists, storytellers, and other attendees as you wander the space.
Learn about Toronto
Each space you enter will feature unique video and audio performances and activities that discuss the history of people, places, and events throughout Toronto. ​
Featured editorial partners
West End Phoenix is a community newspaper devoted to reporting the many neighbourhood stories in Toronto's West End through Canadian writers and photographers.
The Local is a Toronto-based independent digital magazine dedicated to sharing stories related to urban health and social issues in the city from diverse perspectives.
Living Hyphen is a magazine that aims to highlight various Canadian communities and experiences through short stories, poetry, illustrations poetry, and other forms of storytelling.
The Town is a comprehensive guide to film in Toronto. We do original reporting on Toronto's film community and industry, with a deep interest in all aspects film in one of the greatest cinema cities on earth.
Do I have to live in the GTA to attend?
This event is meant to bring the a community together around local storytelling and shared experiences. We highly recommend this event for those living in the GTA, or within Ontario. But we can ship across Canada.
What if I want to come with a group?
This event is even MORE fun when you come with a group of familiar faces! However, each person will have to use their own computer and purchase their own ticket.
Can my computer handle this?
Gather is fully compatible on all operating systems. We highly suggest using Chrome.
Gather recommends the following system specifications:
2.4 ghz dual core
8 gb RAM
For internet speed, they recommend:
10 mbps download speed
3 mbps upload speed
So... what's in the box? ​
Our package designer has worked closely with our storytellers to create a package of goodies that will enhance the Toronto Rewind experience, allowing you to engage with the event with multiple senses.
Do I have to turn my camera on during the event?
Gather will request to use your microphone and camera when logging onto the platform but you will be able to toggle them on or off. We very highly suggest keeping them both on to optimize your experience and to emulate the real world "festival" environment, however it is not obligatory.
Can I share a ticket with my friend?
Given the choose-your-own-adventure and overall social nature of the event, we suggest purchasing tickets separately so you are able to have a complete experience. Also, each ticket will only come with one special edition storytelling box.
Is this journalism?
Yes! We are highlighting stories told by local professional Toronto journalists and storytellers, so information will be verified and fact-checked.
Why do I have to give you my phone number?
We use an app called Subtext, which uses texts to send you information and requests about the event directly. We promise to only send you relevant information leading up to and during the actual event (no spam).
Date and time
Location
Refund policy
Contact the organizer to request a refund.
Eventbrite's fee is nonrefundable.