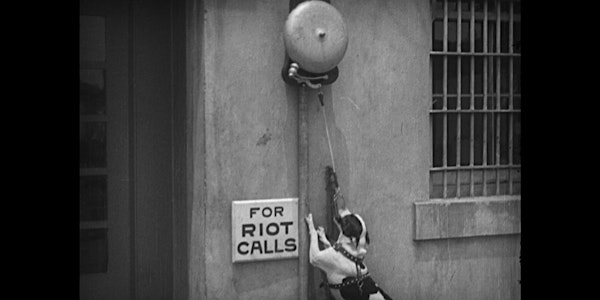 Toronto Silent Film Festival: 1000 Laffs-Mack and Mayhem
Mack Sennett was more than just the Keystone Kops!
When and where
Location
Revue Cinema 400 Roncesvalles Avenue Toronto, ON M6R 2M9 Canada
Refund Policy
Refunds up to 1 day before event
Eventbrite's fee is nonrefundable.
About this event
Another mayhem filled programme focusing on the King of Comedy himself-Montreal native Mack Sennett. He was a lot more than just the Keystone Kops.
He's the Canadian who created American film comedy: the mastermind behind custard pies, Keystone Cops, slapstick chicanery and Model T-mangling chases. And up until now, they were mostly seen in splicey, scratchy, jittery, jumpy prints.
You might *think* you've seen the work of Mack Sennett, but you haven't until you've experienced it on the big screen in gorgeous new restorations, including several courtesy of Paul E. Gierucki and Cinemuseum.
Subversive, surreal, cynical, surprisingly subtle at times and at all times funny, it's time for a reappreciation of Mack Sennett and the Keystone Studio. And this is the perfect start."- programmer Chris Seguin
Wait, Sennett also discovered Charlie Chaplin. In fact, practically every major comedian of the silent era passed through the Sennett studio gates: Roscoe "Fatty" Arbuckle, Mabel Normand, Harry Langdon, Harold Lloyd, Chester Conklin, Ford Sterling, Charley Chase, Ben Turpin… you name them, Mack hired them! You'll see a cross section of those stars here. So, spend the afternoon enjoying the cream of the Keystone custard with 5 fast and furious maelstroms of Sennett mayhem!
Accompanied live by Jordan Klapman
His Trysting Places 1914 Charlie Chaplin, Mabel Normand, Mack Swain Two couples, two husbands on missions—Charlie is tasked by Mabel to go get a new baby's bottle at the store. Meanwhile Mack is given a love letter to mail from a lady who is not his wife! Husbands meet in the restaurant, "issues" develop, and coats are switched. Wives wind up finding things in the coats pockets that cause them to come to the "wrong conclusions". You see where this is going. Lots of funny gags and sequences.
Ambrose's First Falsehood 1914 Mack Swain, Minta Durfee, Edgar Kennedy, Charley ChaseA husband should know better than to try to fool his wife by saying he's going to one place but ends up in another.
Do-Re-Mi-Boom 1915 Chester Conklin, Charles Arling A guy thinks he's found the gal of his dreams when he hears her play the piano and sets out to woo her. How? Why, with a stolen organ and a monkey from a grinder. That doesn't sit well with the lady's beau or the irate organ grinder. Bombs are planted, the organ grinder is out to teach the thief a lesson, the monkey escapes and soon everyone is on the move. Will it end in a kiss or a ka-boom?!
Nip and Tuck 1923 Harry Gribbons, Billy Bevan, Cameo the Dog It's time to re-discover the genius of Billy Bevan. Not as well-known as other 1920s comedians, the Australian born was in 191 films. He's one which you've probably seen clips of but rarely ever say the complete film. We're out to rectify that him in two of Keystone's best 1920s films. Plus, the card game scene is a classic. Oh, you will love the Cameo the Dog.
Galloping Bungalows 1924 Billy Bevan, Natalie Kingston, Sidney Smith "Rich Widow seeks husband with the best moustache." Well, what man could resist THAT! Hold onto your hat, that's just the start of what will devolve into a chaotic, wild long chase with portable houses, fire engines, cars galore and, of course, trains.
Programme will be introduced by Chris Seguin
Contest: Win a hard cover copy of KEYSTONE The Life and Clowns of Mack Sennett by Simon LouvishAll advance single ticket buyers of 1000 Laffs, Festival Passes or Saturday Passes are automatically entered. Draw Thursday November 10th at 7pm. Winner will be notified by email. Pick up your book at the fest!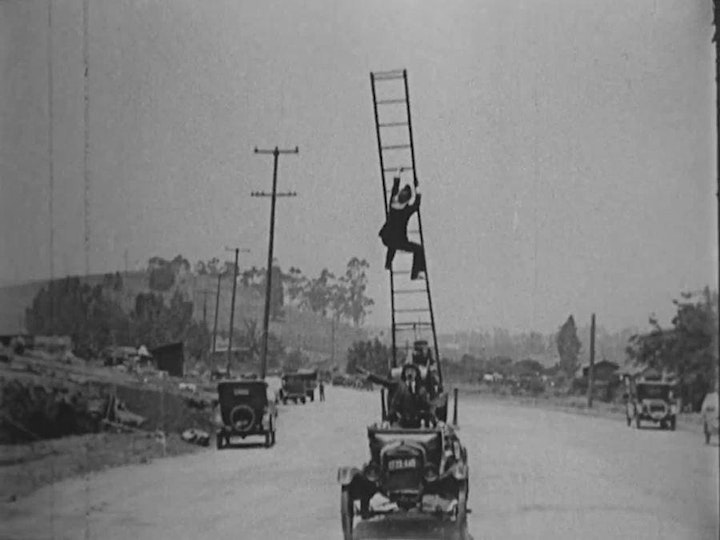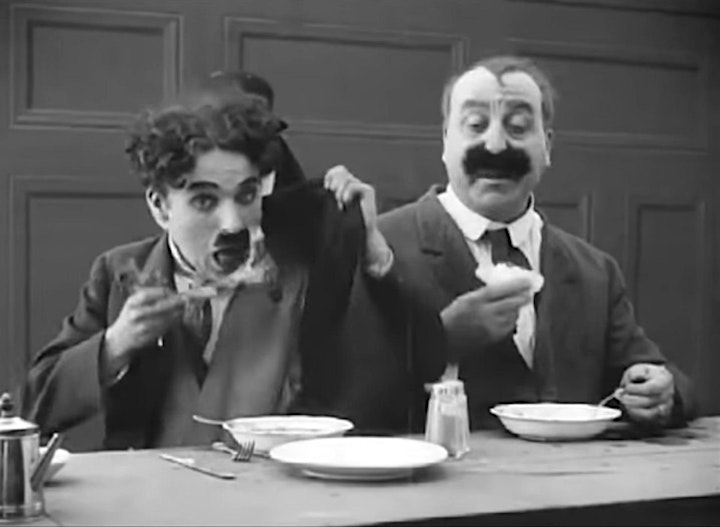 Charlie is just trying to have a quiet lunch. Mack Swain has other ideas. His Trysting Place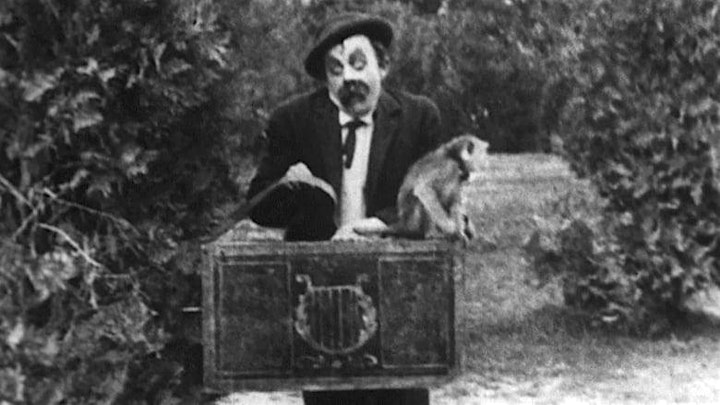 Chester Conklin is about to have girl trouble, boyfriend trouble, organ grinder trouble and monkey trouble