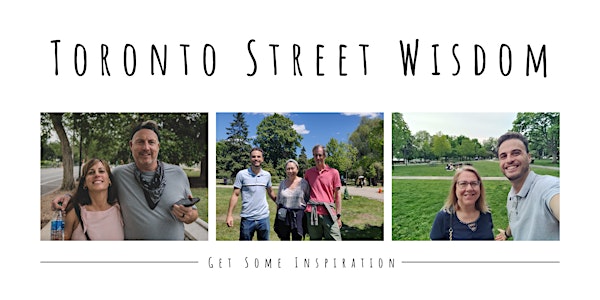 Toronto Street Wisdom Walkshop - Inspiration to Go
In this Walkshop, you'll experience the fusion of mindfulness, neuroscience and wellness that will unlock your mind and your creativity.
When and where
Location
King Edward VII Equestrian Statue Queen's Park 110 Wellesley Toronto, ON M7A1A2 Canada
About this event
Looking to break away from your routine, and reconnect with yourself and the world around you? Get more present and enjoy the moment? Or maybe find some inspiration and creativity around a challenge you're facing?
Then join us in this Walkshop and experience the fusion of mindfulness, neuroscience and wellness that will unlock your mind and unblock your creativity with every step. Whether you come alone or with others, each of you will leave with a unique experience and new perspectives, and a tool that you can use anytime and anywhere.
About this Event
This is a fun social event that will teach you a practice that is simple to learn and hard to forget. During the event, we will guide you through a series of exercises that are designed to have you slow down, increase your awareness and connection with the world around you, and then get inspired by its lightness, its darkness, and everything in between.
You will look at the world around you in a way that you've never experienced before, or may have long forgotten. Even if you're repeating the exercises, new insights will light up.
In terms of structure, once we meet up, this Walkshop will have three parts:
1- TUNE-UP. You will be guided through a series of short exercises that are designed to have you wander around and "tune-up" your senses so you can tune in to the world around you.
2- QUEST. You will choose and frame a question you would like some fresh thinking on and/or new answers to and then wander off in search of insights, ideas and answers, looking for signs and signals from the streets or space you explore.
3- SHARE. In the end, everyone will gather together again and we will ask a few people to share their experience, what they learned and discuss how to apply the insights back to the question they brought to the Walkshop.
WHAT TO BRING: Come with an open mind, good walking shoes and clothes for all weather. A question you'd like answered: not too big ('What is the meaning of life?'), not too small ('What shall I have for lunch?') but somewhere in the middle – a burning issue to which you'd like fresh answers.
This event is facilitated by Amr Hijazi and is inspired by Street Wisdom, a creation of David Pearl that you can find more information on over here: https://www.streetwisdom.org/
Want some inspiration? Let's get wandering.