Description
Last Year's Toronto Stride Walk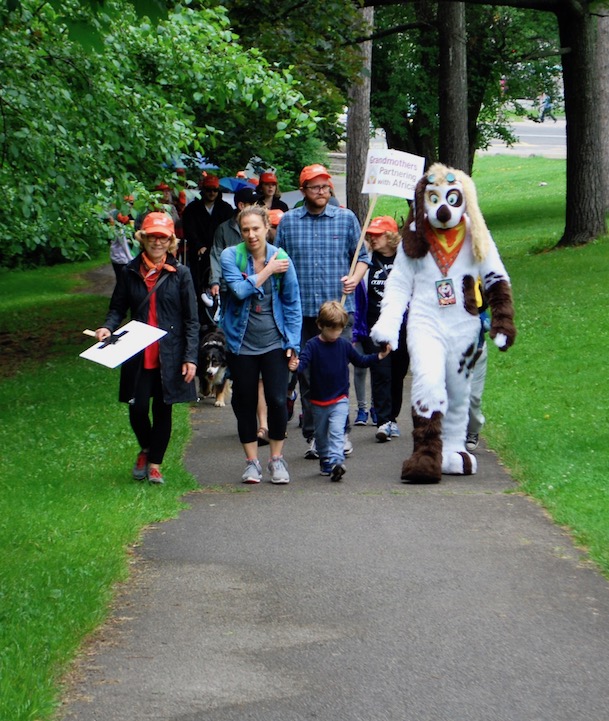 Join Us

On Sunday, June 11th, enjoy a delightful summer day at Earl Bales Park in support of the Stephen Lewis Foundation. Several area groups from the Grandmothers to Grandmothers Campaign are joining together once again to host a large walk as part of the 8th annual nation-wide Stride to Turn the Tide Walk.
We will have activities for you, your children, and your grandchildren to enjoy. The Walk itself will begin on the sidewalk along Bathurst St and then continue through the lovely wooded area overlooking the city.
Those who are unable to join in the Walk will have time to chat and cheer on the walkers.. Back from the Walk you'll enjoy the picnic lunch that you've brought. The official Toronto Stride program will finish at about 1pm, at which point you may want to take advantage of our prime location in a beautiful park with wooded walking trails, two playgrounds, and an off leash dog area.
Stride to Turn the Tide Walk is designed to foster awareness of the fact that HIV/AIDS in sub-Saharan Africa remains a pandemic, and that there is much we can do to turn the tide of this problem.
This is the eighth year that Toronto is participating in the National Stride to Turn the Tide Walk. In the first seven years Stride raised $1,900,000 nationally for grassroots organizations in sub-Saharan Africa that are working on the front lines helping their members to raise their own and other orphaned grandchildren. Often both they and their grandchildren are HIV positive.
If you can't join the walk but would like to sponsor someone, please go to www.stridetoturnthetide.ca. You can sponsor our Toronto Stride Team or anyone you know who is participating and has set up a Fundraising Page. Sponsorships of $20 or more are tax deductible.
If you have any questions about the Toronto Stride Walk, email us at stridetoronto@gmail.com.
Want to stride with us? We'd love to have you join us.
Note: To print the event details on this page, go to the File menu of your browser and click print.
When and Where the Walk will take place
Whe
n:
Sunday, June 11th from 10:am to 1:00pm
Where: Earl Bales Park, 4169 Bathurst St. Toronto, Ontario, M3H 3P7
Picnic site #1. When you get to Earl Bales look for lots of picnic tables with orange & yellow flags.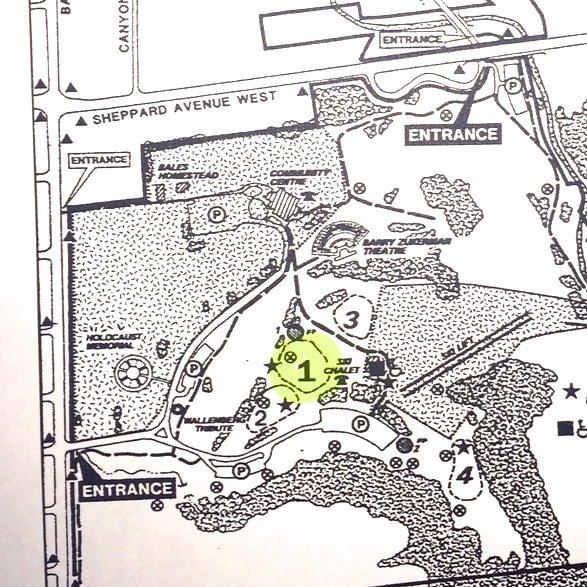 How to Register
For insurance purposes, everyone participating in the event, whether adult or child, must be registered one of three ways.
There are three ways to register
Online using a credit card (VISA or Mastercard). Print your tickets and bring them with you to the walk or

By mail with a paper form. To receive a paper form, request one from a member of a Grandmothers group, or contact the Toronto Stride Committee at

stridetoronto@gmail.com

and request registration forms by mail.

The address to mail your registration to is on the form. Tickets will be held at the check-in desk

or

At

Toronto Stride

on the day of the walk, at the check-in desk,

but please note that adult tickets will be $10 on the day of the event.
Registration Fee
The registration fee is used to offset the cost of running the 2017 Toronto Stride Walk. If there are excess funds, they will be used to run next year's walk or directed to the SLF.
Adult (18 and older) $5.00 BEFORE JUNE 11TH, $10 ON THE DAY OF THE WALK
Children under 18 Free
Note: The registration fee is not considered a donation and is therefore not tax deductible. Donations to the Stephen Lewis Foundation of $20 or more are tax deductible.
Frequently Asked Questions about Registration
Can I get a refund of my registration fee? Sorry, we cannot provide a refund.
Is my registration transferable? Yes. If you need to transfer your registration to another person, please have the person to whom you are transferring the ticket bring it to the check-in desk. We will ask the new person to fill out a new form with their own information.
Can I update my registration information?

Yes. Please contact

stridetoronto@gmail.com

Do I have to bring my printed ticket to the Walk? Yes.
How to set up your personal Fundraising Page and collect pledges
We strongly encourage participants to collect sponsors/pledges.
To set up your Fundraising Page, go to www.stridetoturnthetide.ca. Click on "Set Up a Fundraising Page", follow the instructions, and join the Toronto Stride Team. For help, go to www.grandmotherscampaign.org/stride, scroll to Fundraising and Walk Documents, click on "Online Fundraising Guide". Or call SLF's Stride Coordinator, Asmita Persaud 1-888-203-9990 ext 302.
What's Happening on the day of the walk
On the day of the walk, Sunday, June 11, 2017, check in at our tables at picnic site #1, that will be on the way to the ski chalet, Look for signage and our volunteers pointing the way.
If you've already registered, just check-in at the check-in table. If not, you can register at the check-in table, but remember that the price to register on the day of the Walk is $10, not $5 as with pre-registration.
Schedule
Check-in table will open at 10:00am. The Walk will start once everyone has gathered at about 11am. From 10am - 11am you will have time to join in activities, and it's the perfect time to get to know members of the Grandmothers to Grandmothers Campaign groups. After the Walk we'll be having a BYO picnic.
The event will wrap up at about 1:00pm
What else is there to do in the park?
There are lovely wooded trails for walking, two playgrounds, and an off leash area for dogs.
What to bring to the Walk
It's BYOP (bring your own picnic). Be sure to pack drinks to keep hydrated. Earl Bales Park does not have concessions for purchasing food and drink. There are water fountains. We will have coffee and tea.

Suntan lotion

Hat -You will need one for sun protection. If you have our orange baseball cap from past years please re-use it. There are a few remaining that we will give out on a first come first serve basis.

Outer layer of clothing in case it's windy or damp and an umbrella if rain is in the forecast.

If you are driving, you might want to bring a lawn chair.

No need to bring tickets if you've registered. We'll have you on our list.

Money from your pledges/sponsors if you collected any offline
How to get to the Walk Site
The Toronto Stride Walk will take place in Earl Bales Park, Bathurst St & Sheppard Ave.
Directions to Earl Bales Park by TTC: From the Wilson subway station take the #160 Bathurst North bus. From Bathurst Station take the #7 Bathurst bus. The bus will let you off at Raoul Wallenberg Road, which is the entrance to the park. Please refer to the map.From Sheppard subway station take the 196B York University Rocket to Bathurst St and walk south to the park entrance. There is a small entrance just south of Sheppard Ave. You can enter here and either follow the road or walk across the grass. Please refer to the map above.
Directions to Earl Bales by car: Earl Bales Park is at Bathurst St & Sheppard Ave on the southeast corner. The main entrance is south of Sheppard Ave at Raoul Wallenberg Road.There is a large sign saying Earl Bales Park. Inside the park, where the road divides, turn left, and then either park in the first lot on your left, or in the lot at the end of the road. Please refer to the map above.

For more information about the Toronto Stride Walk:
Email – stridetoronto@gmail.com