Toronto Strong Neighbourhoods Strategy 2020 Neighbourhood Summit
About this Event
Please SAVE THE DATE: Saturday, November 9 from 11 a.m. - 3 p.m. at the Metro Hall Rotunda for the Toronto Strong Neighbourhood Strategy 2020 Neighbourhood Summit #TSNS2020 #TSNSNeighbourhoodSummit
____________________________________________________________________________________________
Join us for a celebration of resident leaders and other community partners from across the City's Neighbourhood Improvement Areas and Emerging Neighbourhoods. An agenda and further details about the summit will be available closer to the day, but for now please save November 9th in your calendars. The purpose of the Neighbourhood Summit will be to:
Celebrate resident leaders and neighbourhood investments supported through the Toronto Strong Neighbourhoods Strategy 2020
Launch of neighbourhood information platforms and other unique initiatives
Provide recommendations for the evaluation of the Toronto Strong Neighbourhood Strategy 2020
Fun, music, food, and activities for all ages
Have your say on the future of the Strong Neighbourhoods Strategy 2020 and celebrate the accomplishments of resident leaders and community partners who are making "local impact for City-wide change".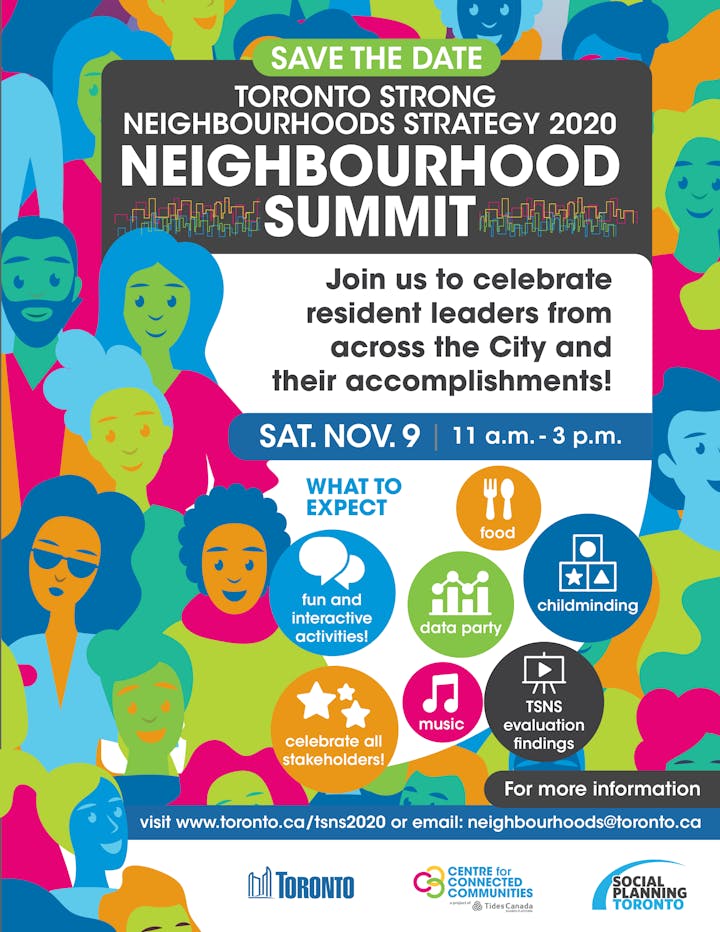 ____________________________________________________________________________________________
Childcare will be provided by Baby Steps (http://www.babystepsparenting.org), on a first come first serve basis. Please note if you require childcare when you register.