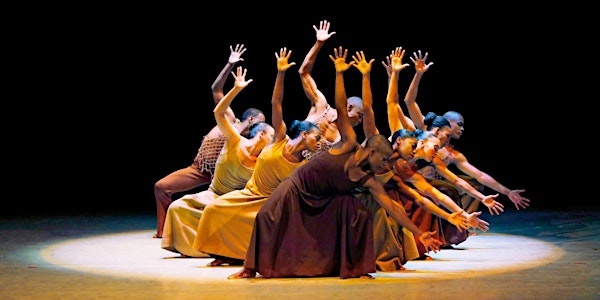 Toronto Tourist: Dinner and Dance Theatre in St. Lawrence District
It's an evening of tradition and cultural celebration! Join us for dinner and dance theatre during Black History month on February 3, 2023
By Events, Celebrations, Socials & Tours TO
When and where
Date and time
Friday, February 3 · 6 - 11pm EST
Location
Meridian Hall 1 Front Street East Toronto, ON M5E 1B2 Canada
Refund Policy
Contact the organizer to request a refund.
Eventbrite's fee is nonrefundable.
About this event
Alvin Ailey American Dance Theatre enters it's 65th year and remains unchallenged as one of America's most popular dance companies (The New Yorker). His work showcases the standard in providing a narrative for the African American experience, and it's first encounters with Native American, Afro-Caribbean and early immigrant experiences, and his contributions are classified as both transformative and highly influential in the world of modern dance.
Alvin Ailey was born in Texas during the Great Depression era. His Southern Baptist roots and years of study under Lester Horton, are at the foundation of his style of teaching. After Horton's death Ailey briefly ran the company before moving to New York City in 1969 and The Horton Technique remains one of several requirements of study at his dance company.
Join us in celebrating a piece of North American culture and tradition with an evening of dance at Meridian Hall on Friday, February 3, 2023 at 8 pm.
We are having dinner at The Keg at 6 pm if you'd care to join us!
DATE
Friday, February 3, 2023
TIME
6 pm - 11 pm
LOCATION(S)
The Keg Steakhouse + Bar (at 6 pm)
26 The Esplanade
Toronto, ON M5E 1A7
Meridian Hall (for 8 pm)
1 Front Street East
Toronto, ON M5E 1B2
EVENT FEE
$135
Includes your theatre ticket, fees, taxes and gratuity. Dinner and other incidentals are extra.
------------------------
OUR SPONSORS/ADVERTISERS
Expedia. Radisson. Belle and June. Strawberry. illy Caffe. Gabriel & Co.
#torontotourist #torontosbest #specialinterest #torontozoo #events #gatherings #parties #hobbies #tours #WWD7 #goodfood #ecsattoronto
Toronto Tourist is part of ECSAT TORONTO. We organize the best group, guided tour and social event experiences for locals, out-of-towners, international travellers and guests. Become part of an inclusive community of people who wish to cultivate and maintain particular social values, experiences and tastes. Share your adventures with us. Head Office: Toronto Tourist (ECSAT TORONTO), 1 Yonge Street, Suite 1801, Toronto ON M5E 1W7 / Phone: 416-939-4432 / Email: ecsat.toronto@gmail.com
About the organizer
Events, Celebrations, Socials & Tours TO organizes the best group, guided tours and social event experiences for locals, out-of-towners, international travellers and guests. We host unique and memorable experiences that take you out of your usual social circles and expand your personal and professional network. Become part of an inclusive community of people who wish to cultivate and maintain particular social values, experiences and tastes. Share your adventures with us. Head Office: Events, Celebrations, Socials & Tours (ECSAT TORONTO), 1 Yonge Street, Suite 1801, Toronto ON M5E 1W7 / Phone: 416-939-4432 / Email: ecsat.toronto@gmail.com