Event Information
Location
Down Yonge Street
(St. Clair Avenue to Waterfront)
Toronto, Ontario
Canada
Description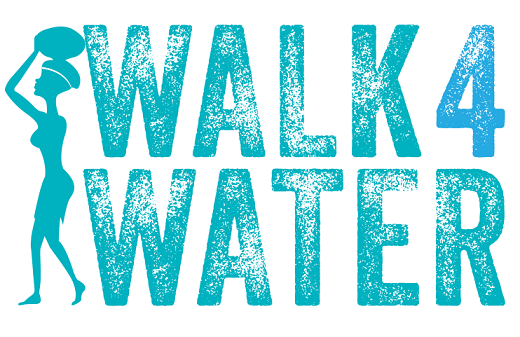 "Developing nations walk on average 6 km to water every day…
… Canadians just turn on the tap!"
When: World Water Day – March 22nd 2016
What: A 6 km walk down Yonge Street
Why: To create awareness about the lack of access to clean water in developing nations.
Who: Anyone who cares about water and people.
Event Theme
Brought to you by Ecoloodi, with support from Ryerson Urban Water and sponsored by CH2M Hill, our inaugural Walk4Water is symbolic —participants will walk for 6 kilometers down Yonge Street to represent the journey a person in a developing country takes each day to collect water. The Walk4Water is taking place on March 22, 2016 for World Water Day!
People in developing nations (i.e. in Africa and Asia) sometimes have to take this journey multiple times each day due to the inaccessibility of fresh water. People lacking access to fresh water consume far less (i.e. 20 L­ in Benin) than their counterparts in developed countries (i.e. 350 L in Canada), partly because they have to carry it over long distances and water is heavy.
The Toronto Walk4Water aims to raise awareness about water, its scarcity and will promote its responsible use. It will also show participants firsthand how hard it would be if we in Canada needed to "walk this walk" every day to collect fresh water.
The first 100 people to register will receive a T-shirt, a hot drink and a cookie!! You have until Monday March 21st, 5pm to register.
Logistics
The walk is taking place on March 22, 2016 (World Water Day!), from 4 to 6 pm, down Yonge Street from St. Clair Street to Waterfront. The walk will culminate with hot drinks and cookies at La prep, located at Corus Quay (25 Dockside Drive).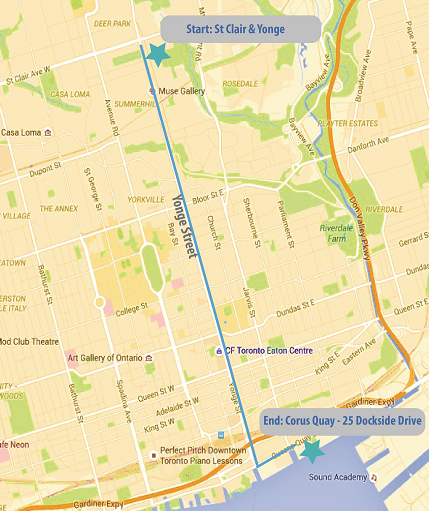 Gathering point
The starting point of the walk will be at the corner of St Clair Ave and Yonge St. A team of volunteers will be available at the meeting point to guide the participants.
Weather forecast March 22, 2016
Historical Average: 6°C, Lo -2°C, Sunset will be around 7:30pm ,so we will have plenty of daylight during the walk.
Participation
Walkers: Anyone who cares about water, the future of the world, and loves to walk is encouraged to join us. Participants will be organized in teams and will take turns carrying water to facilitate the flow of the walk. The teams will also share one hand-held sign with a short message in support of water and its responsible use. Those who are unable or don't want to carry the weight but are supportive of the cause can also join the event to show solidarity with the people of the world.
Organizations: Organizations that want their logos on the signage to associate their brands with this cause and support water conservation are welcome to contact us.
Dress code
Make sure you are warm and confortable!
More information
Visit our website for more info or email us at contact@ecoloodi.org if you have any questions. You can also stay updated by following our Facebook page.
Date and time
Location
Down Yonge Street
(St. Clair Avenue to Waterfront)
Toronto, Ontario
Canada
Organizer of Toronto Walk4Water- Ecoloodi & Ryerson Urban Water
Ecoloodi is a non-profit organization working to raise awareness about water and its responsible use. We do that by educating and engaging children in Canada, France and Benin through play-based learning tools and activities. Our goal is to empower children with knowledge and understanding of water resources. The impact of our work is reflected in the informed-participation of families in water conservation efforts and their active advocacy for the cause.