Toronto Wearables Meetup 16
When and where
Location
OCAD on Richmond 205 Richmond St Room 7301 (3rd floor) Toronto, Ontario M5V 1W4 Canada
Description
The Toronto Wearables Meetup is a gathering of people interested in wearable technology, fashion, wearable electronics, soft circuits, electronic textiles, emerging materials, and other creative and innovative approaches to things that live on the body. This Meetup is a gathering artists, fashion designers, industrial designers, textile enthusiasts, engineers, researchers, students, and anyone interested in these emerging and intersecting fields.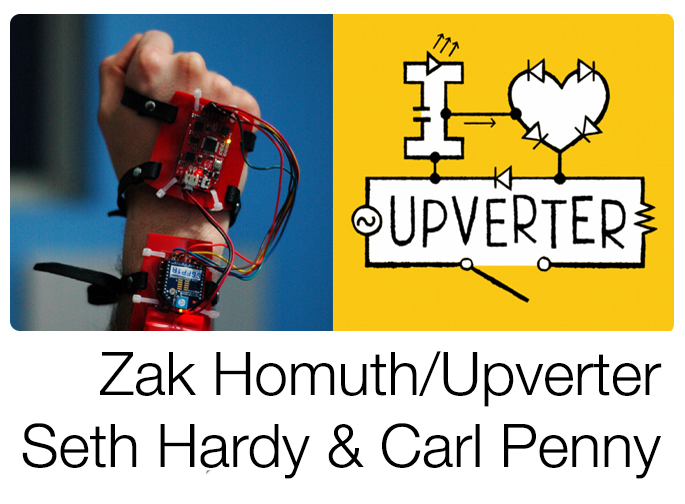 Seth Hardy and Carl Penny - Site3 CoLab
Seth's background in technology is the basis for his focus on what he's told is best described as "industrial and mixed-media interactive sculpture," but is probably better summarized as "giant interactive flamethrower things." He works primarily with fire art and lighting installations that involve physical engagement with technology, providing participants with very personalized experiences. As one of the founders of the community workshop Site 3 coLaboratory, Seth is dedicated to his vision of bringing people in the arts and technology fields together to collaborate, teach, and learn. He also serves on the board of directors for the BurnT OUT Interactive Arts Society, and has an unrelated day job somewhere in there, too.

Carl started out as a student of science and technology; now moving to art and design. He mostly creates things that can be worn. Little traditional fabric is used; alternative materials (rubber, metal, plastic, leather) and as many high tech toys (tools) that he can get hands on. Add to this a fascination with LED lights, attention to detail and a bucket of patience.

Zak Homuth - Upverter.com
Upverter is a design and collaboration platform for students, engineers, designers, inventors, makers and hackers. Upverter makes it easy to design and share electronics on the web.
Zak studied Computer Engineering the University of Waterloo doing his co-op internships at IBM, Infosys, and Sandvine where he eventually took a full-time job. At Sandvine Zak was the signal integrity and analog guru; he was responsible for both designing new hardware and scaling it into manufacturing and it was these experiences that planted the seeds for Upverter. In August of 2010 Zak left Sandvine and founded Upverter where he is currently the CEO.