Description
The Toronto Wearables Meetup is a monthly lecture series and gathering of people interested in wearable technology, fashion, wearable electronics, soft circuits, electronic textiles, emerging materials, and other creative and innovative approaches to things that live on the body. This Meetup is a gathering for artists, fashion designers, industrial designers, textile enthusiasts, engineers, researchers, students, and anyone interested in these emerging and intersecting fields.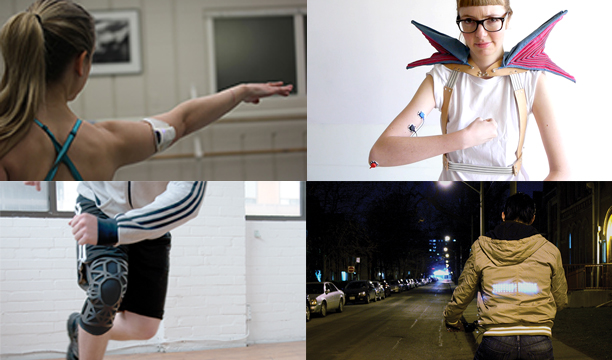 Loretta Faveri, SoMo
Loretta Faveri is an emerging Canadian artist and designer working in wearable technology and textile arts. She is a recent graduate of OCAD University (OCADU) with a BDes in Material Art & Design. With the assistance of OCADU's Social Body Lab and the Imagination Catalyst she founded Sonic Wear, a design studio that has developed a wireless, wearable sensor that generates real-time sound through body movement. The device is called SoMo, and Sonic Wear is partnering with the Studio for Movement and Ballet Jorgen to use SoMo to develop a dynamic and integrated approach to teaching creative movement and music.
Robert Tu, MeU
Robert Tu is the founder and CEO of RTD which was established in June 2013. Robert started off his career as an electrical engineer after obtaining his Bachelor of Applied Science in electrical engineering from the University of Waterloo. Robert was accepted into OCADU's Imagination Catalyst, and the MeU is the product of his time in the incubator.
MeU is a wearable LED display that can be put into clothing, bags and other wearable accessories. It is composed of a flexible LED matrix display and is controlled by a smartphone. There are several applications for MeU including safety, marketing and artistic performances. For safety applications MeU makes the wearer more visible at night which is ideal for cyclists, construction workers and police officers. MeU can also be used for creative purposes such as fashion shows, artist events and performance art.
Michael Vaughan, Lynxio
Mike Vaughan is the co-founder and product designer of Lynxio, a fully integrated electronic physiotherapy system that can be used to gather raw data from the body. He is a graduate of OCADU's Industrial Design program and was accepted into OCADU's Imagination Catalyst incubator to continue his research in physiotherapy and wearable technology. Lynxio is the product of this research.
Lynxio works as a mobile application in combination with a knee brace with embedded electronics. The application provides physiotherapy patients with their exercise routines, progress reports, therapists notes, and information on specific exercises. The data gathered from the movements and is then used to improve therapy results and reduce recovery time. All of the data is pushed to the patients physiotherapist who can then analyze the data and make better, more informed decisions about effective treatment.
Social Body Lab, Prosthetics of Being
The Social Body Lab is OCADU's research lab for wearable technologies. The lab looks to the human body as a starting point from which to consider how humans interface with and relate to the world around them. Beyond the basic functionality of incorporating technology into clothing, the Social Body Lab focuses on meaningful and provocative interactions, questioning the relationship between humans and technology through working prototypes and fully manifested projects.
Social Body Lab research assistants will present completed prototypes for conceptual wearables commissioned by Intel Research, exploring the concept of "technology as prosthesis". Expect wings that flap, hoods that deploy themselves, and textiles with morphing surface design.
Organizer of Toronto Wearables Meetup 27