Toronto's Cultural Heritage Landscapes: From Plan to Action
Description
Join us for this exciting discussion on developing effective cultural heritage landscape guidelines for the City of Toronto!
The City has been tasked by the provincial Heritage Act to come up with guidelines to help define, nominate, designate, and thereby protect our cultural heritage landscapes (CHLs).
The province defines CHLs as "a defined geographical area of heritage significance which has been modified by human activities and is valued by a community...Examples may include...villages, parks, gardens, battlefields, main streets and neighbourhoods, cemeteries, trailways, and industrial complexes of cultural heritage value."
The purpose of the Forum is therefore to stimulate awareness of, interest in, and positive action towards the development and implementation of a Toronto Cultural Heritage Landscape Guideline, as anticipated in the the Official Plan Amendment OPA 199 on new Heritage and Public Realm Policies.
The Forum is open to the public and will be broken into three sessions each followed by round-table discussions. The sessions include: an explanation of cultural heritage landscapes; case studies; and an in-depth policy discussion. Speakers include Carolyn King, Julian Smith, Catherine Nasmith, Michael McClelland, and Paul Bedford. The Forum moderator will be Alex Bozikovic of The Globe and Mail.
We're thrilled to unveil our new event poster! Thanks to Carl Shura of ERA for his excellent work.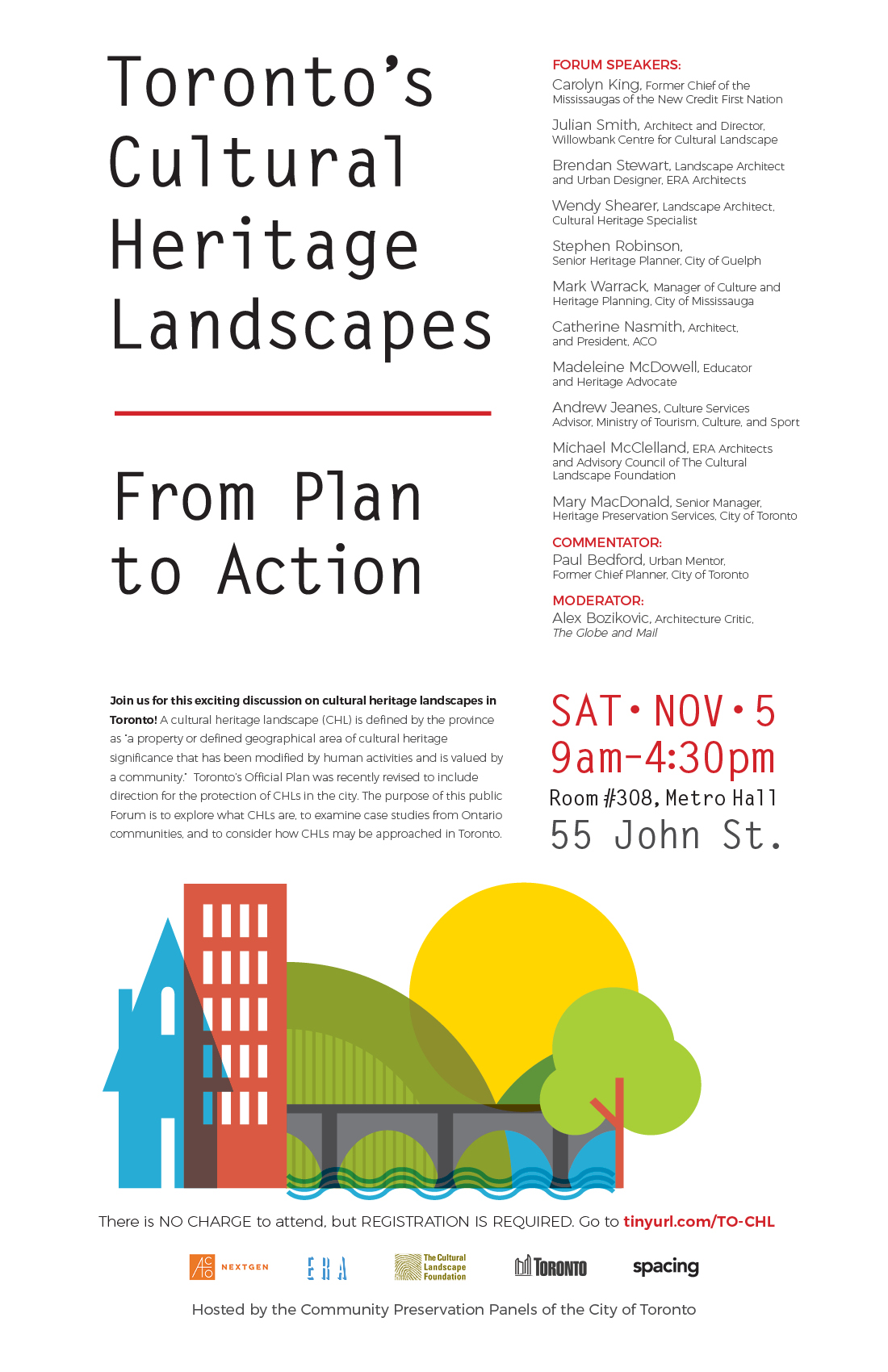 Organizer of Toronto's Cultural Heritage Landscapes: From Plan to Action