Description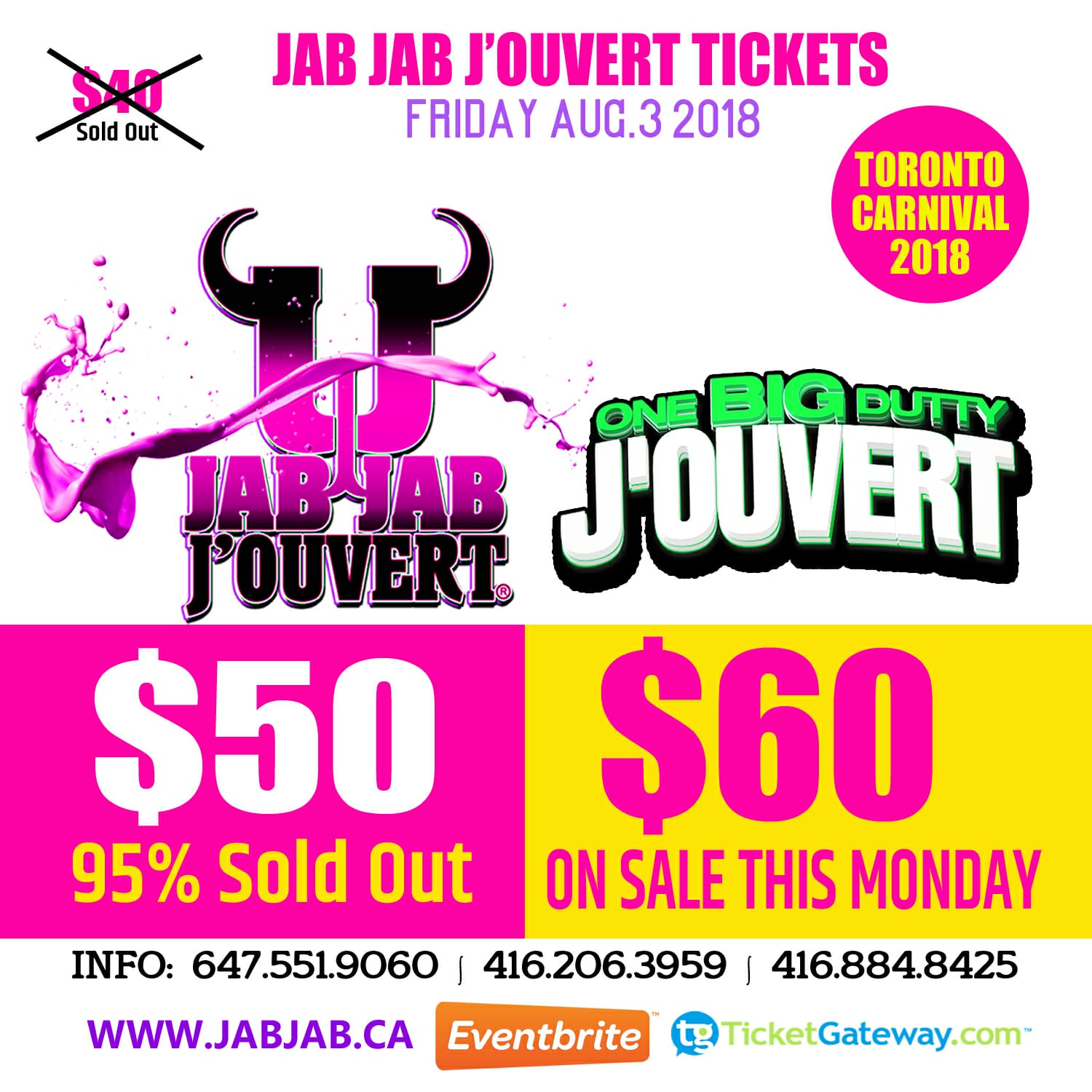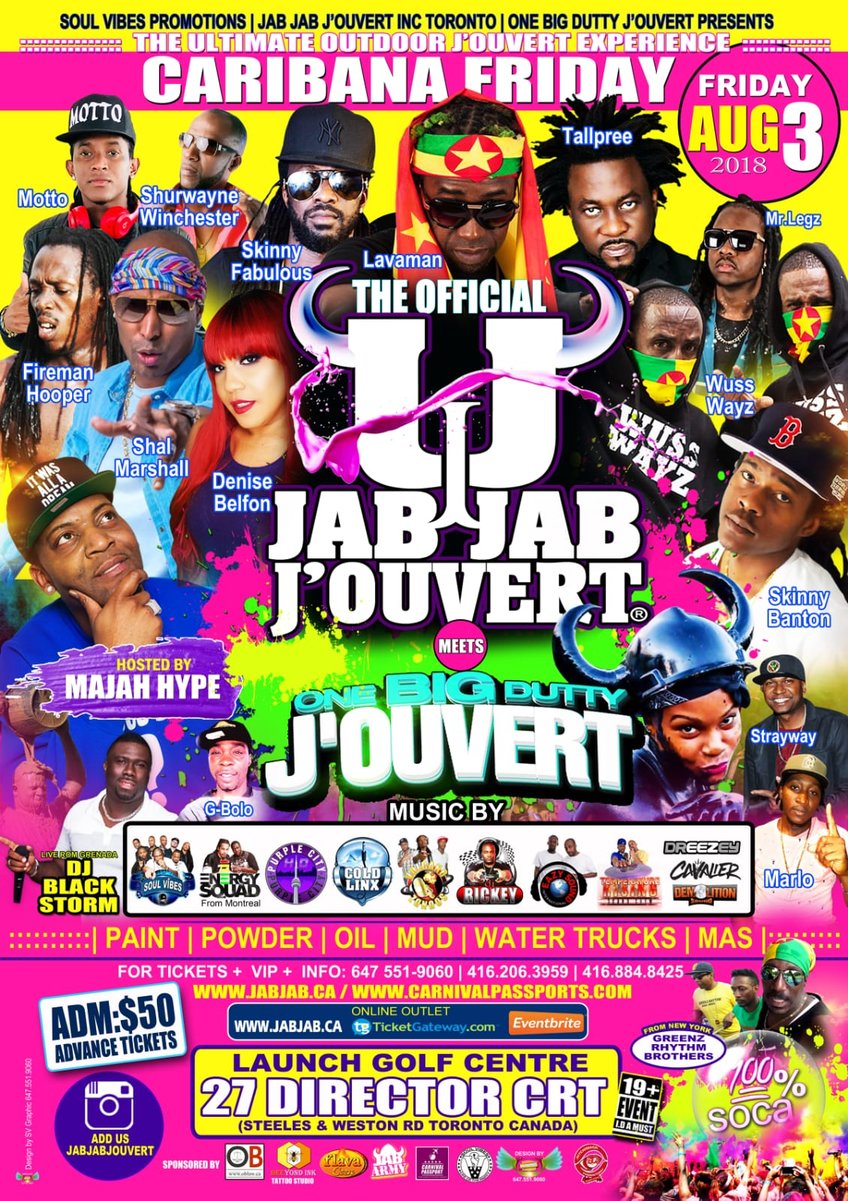 Jab Jab J'Ouvert Inc. and Soul Vibes Entertainment welcomes all of our friends from all over North America and the rest of the world for our 9th annual Jab Jab J'Ouvert on Carnival Friday in Toronto, Canada.

Jab Jab J'Ouvert is an annual event that occurs on the Friday Night of Toronto Carnival (Caribana) Weekend. The biggest Carnival Friday event in Toronto, with over 5000+ patrons enjoying themselves in the celebration of Jab Jab J'Ouvert and its culture. Water Trucks, Paint and Powder help our guests enjoy the night and start the Toronto Carnival Weekend off right. As Matty Matheson from Vicelands TV Show "Dead Set on Life", which featured our event on the episode entitled "Caribananas" said during last years Jab Jab 'Ouvert fete, "Hands Down! Jab Jab J'Ouvert is the most insane party that I have ever been to in my entire life!"
Get ready for this year's edition on Friday August 3, 2018 featuring Exclusive Performances by World Renowned artists and DJ's. Gates open at 8pm until morning. Show starts at 10 pm Sharp.
100% Outdoor event - Rain or Shine. 19+ event with ID Required. Full Bar with plenty bartenders and drink ticket outlets for fast and efficient service.
Every year Jab Jab J'Ouvert dramatically increases its entertainment package to include the best of the Soca Music Industry from the Caribbean Islands. The line up and ambiance created by our team will be sure to elevate the standards of this premier Cultural event. Visit the Official Jab Jab J'Ouvert Website at http://www.jab-jab.ca to purchase tickets for the event, view Videos, Pictures and more info.
Please view videos from previous years of Jab Jab J'Ouvert here:
https://www.youtube.com/playlist?list=PL_0no0E0c7y_bCFmO9V2hA1iV5OxkSUyw
TORONTO CARIBANA FRIDAY JUST WENT EPIC !!
The 2 largest J'Ouverts have joined forces in the name of soca.
Jab Jab J'Ouvert meets One Big Dutty J'Ouvert
presents the Ultimate J'Ouvert Experience
Friday August 3, 2018
Arrive Early - Gates open at 8pm - Show Starts at 10PM Sharp
This event will sell out - Over 5000 people in attendance.
Venue:
Jab Jab J'Ouvert Outdoor Arena
Located minutes away from all major highways. 20 minutes away from Downtown Toronto.
ALL STAR INTERNATIONAL ARTIST CAST:
Tallpree
Lavaman
Skinny Fabulous
Motto
Skinny Banton
Denise Belfon
Shal Marshall
Mr. Legz
Wuss Wayz

Fireman Hooper

Marlo

Strayway

Moralis

Hosted By: International Comedian : Majah Hype

Featuring International DJ Blackstorm
Contact Soul Vibes Entertainment / Jab Jab J'Ouvert Inc. at 647-551-9060 or 416-206-3959 for info or tickets.
Tickets Provided by: Ticket Gateway and Eventbrite


Instagram: @jabjabjouvert
email: info@jab-jab.ca
Website: http://www.JabJab.ca
All Tickets will be scanned upon entrance. Photocopies are not accepted.
Please ensure that you buy your tickets directly from http://www.JabJab.ca
or from Jab Jab J'Ouvert's official Ticket outlets listed on the event flyer.