Sales Have Ended
Ticket sales have ended
For late ticket requests, please email hello@murdermysterypenticton.com.
Sales Have Ended
Ticket sales have ended
For late ticket requests, please email hello@murdermysterypenticton.com.
Description
Join Total Restoration and JCI Penticton for our fifth annual Murder Mystery! We're heading to Craft Corner Kitchen where you'll enjoy an evening of mystery, intrigue, and murder - Pirate style! Your ticket includes a full dinner, full bar service ($), silent auction, photo booth by Something Blue Photography, and a ton of fun. With partial proceeds of this event supporting local children in Penticton Rotary's new Starfish Pack Program, it's a great way to give back to your community and have a one of a kind experience.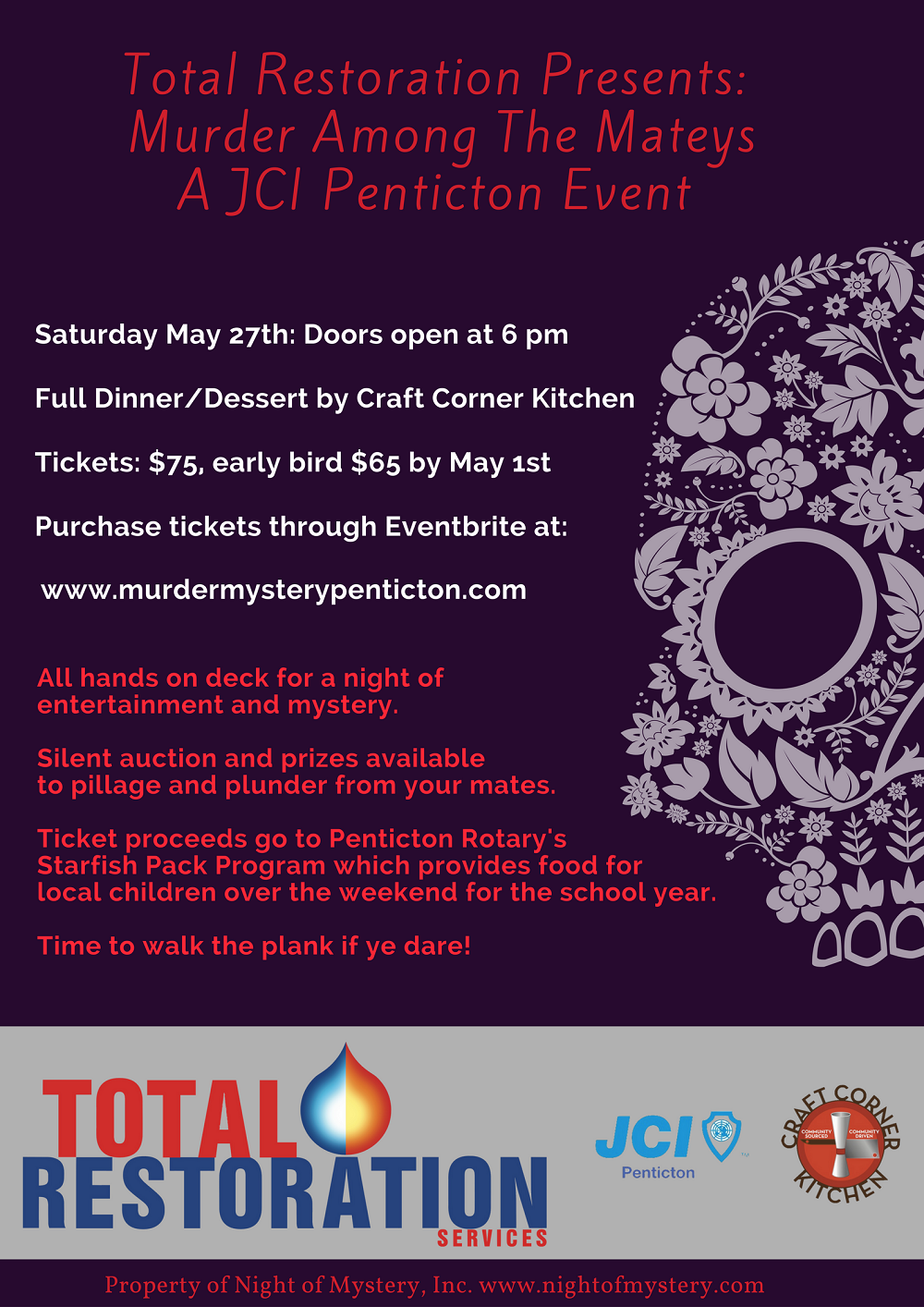 Well, shiver me timbers and sharpen me sword!

After a voyage filled with pillaging and plundering, the Jaded Jewel--a pirate ship captained by Redbeard, an old but dangerous pirate--is docked in a cove near Port Royal. As the pirates head into town to celebrate their homecoming and spend their gold and goods, a night of turmoil and trouble is sure to transpire.

As the night quickly steers out of control, one guest meets a tragic demise and ends up in Davy Jones' Locker leaving the rest of the party goers to bring the guilty to the gallows.

Is the culprit the profiteering pirate organizing a mutiny? Or, the saucy sea mistress who wanted more than a casual commitment? The perpetrator could be the swashbuckling swordsman desperate to win the love of the governor's
daughter, or possibly the treasure seeking seaperson incapable of sharing.
In a harbor village filled with backstabbers and buccaneers looking to get ahead, there is little reward for honesty and a high price to pay for deceit.

www.totalrestoration.ca
www.jcipenticton.com
www.craftcornerkitchen.com
www.starfishpack.com
www.nightofmystery.com