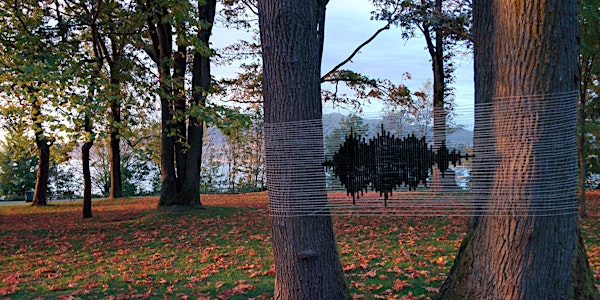 Location
Hadden Park
1905 Ogden Avenue
Vancouver, BC V6J 1A3
Canada
Outdoor Soundscape Broadcast
About this event
Touch at a distance
an outdoor broadcast event organized by Publik Secrets
Last March the implications of a globalized public health emergency forced the hand of commerce and travel to temporarily halt. In recognition of the need for solidarity and collective action to save lives, the hustle and bustle of our cities quickly shifted to a new and unfamiliar state of dense isolation and stillness. While it remains to be seen whether Covid-19 will be treated as the wake-up call to confront our growing social and ecological crises, it did temporarily show us what other rhythms of life might be like. As artists and musicians, we could especially feel the force of this relative stillness reflected in the soundscape. To our ears, sounds long drowned out by a base line of human hyper-activity suddenly became foregrounded in surprising ways. Many of us wondered, are the birds actually singing louder now or are we just now hearing the absence of an industrialized soundscape for the first time?
We have always believed in the importance of listening, both inclusive and exclusive to music, as a way to stimulate a sense of presence and meaning amongst a daily life dominated by capitalist demands for growth, productivity, and extraction. In slowing down, perhaps we can more clearly see sound not just as an element of aesthetic frustration or pleasure, but as a resource for understanding the environment and as a shared space we are always in the process of making. The intimate nature of sound, how it envelopes us, is captured eloquently in Anne Fernald's description of sound as a form of touch at a distance. In a time of physical distancing, we can perhaps perceive sounds touch ever more sharply, reminding us of our interconnections and entanglements to the environment and each other.
In light of the crisis still unfolding, this year's event shifts towards an outdoor broadcast format, continuing our focus on ambient & soundscape based practices. We invite audiences to think of ambience as a state of awareness and conduct, a kind of immersion in, and with, other entities. We've invited four Vancouver-based interdisciplinary sound artists to share soundscape compositions for Hadden Park, using a collection of field recordings collected in the park and surrounding environment as their raw materials. Their creations, diffused through outdoor speakers, provoke listening as a kind of ambient sensitivity, what thinker Thibaud describes as "not a simple passive reception but rather the power of intensification and transformation of our relation to the world".
Please register your attendance in advance of the event using the free ticket listed here (limited to 25 attendees). We will be social distancing during this event. Please be mindful of your proximity to others at all times. You are encouraged to bring a blanket+mask and join us for an evening of sounds under the canopy of trees at Hadden Park, unceded coast salish territory.
Time: 6pm to 8pm
about the artists:
Alexandre Klinke is a composer and media artist from Sao Paulo, Brazil, based in Vancouver, BC. With a background as a musician, as well as a videographer and video editor, his works encompass different fields such as media and installation art, music for film, sound design and performance. The division and sense of foreignness associated with the experience of immigration are often present in his pieces, where he seeks to find connections and patterns in seemingly unrelated events, juxtaposing audio and video material from different times and places.
Brady Ciel Marks makes sound, light and interactive sculpture. Bringing an awareness of Sound Thinking, Acoustic Ecology and Digital Media Art, Brady is concerned with our technological entanglement, and creates media configurations that express a middle way between technological fetishism and dystopian fantasies. She works with technology and against technological thinking. She holds a M.Sc. in Interactive Arts from Simon Fraser University (SFU), hosts a weekly podcast and sound art radio show – Cut and Run – on CFRO 100.5FM, she plays the Vancouver Electronic Ensemble and DJs Queer Music regularly.
Sound Artist, Nancy Tam, works and lives on the unceded territories of the Sḵwx̱wú7mesh, Musqueam and Tsleil-Waututh Nations. Her work fuses sound and performance as primary mediums to creating collaboratively devised interdisciplinary performances. She is a founding member of the Vancouver-based performance collective A Wake of Vultures, and the Toronto-based Toy Piano Composers collective. Her compositions, performances, and collaborations have toured Europe, Asia, and North America. In early 2020, Nancy focused on composing, directing, performing, and producing Double Happiness: Detour This Way, a collaboration with Only A Visitor. Her multi-media composition Walking at Night by Myself will tour across Canada in 2021.
Constantine Katsiris has been an avid phonographer for over two decades. He has participated in field recording expeditions around the world, from urban settings like Prague and Paris to more remote regions such as the Amazon rainforest. A composer of experimental electronic music for many years, his sounds have been broadcast to listeners around the world from Concertzender Nederland to MTV Brasil. Having lived in five Canadian provinces, he has been based primarily on the west coast since 2010.
Acknowledgements: This event is organized as part of the Publik Secrets residency at Hadden Park and is supported by the Vancouver Park Board's Fieldhouse Activation Program. Additional support received from the TD Park People grant.