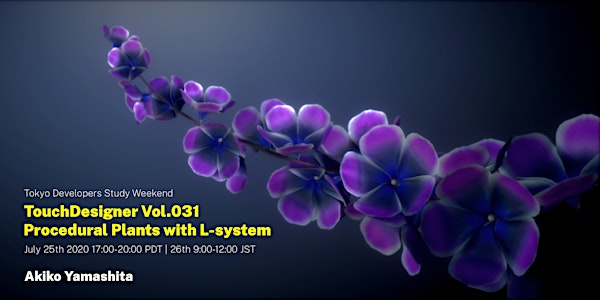 TouchDesigner Vol.031 Procedural Plants with L-system
TDSW will be hosting a TouchDesigner workshop titled Procedural Plants with L-system!
Refund Policy
Contact the organizer to request a refund.
About this event
We will welcome Akiko Yamashita, a projection and lighting artist and former professional dancer who currently works as a technical director at VTProDesign! She will teach us how to create beautiful plants with L-system on TouchDesigner!
We just started our Patreon. You can watch all of our live streaming workshops with the TDSW Excellent plan for $35/month. Please give it some consideration if you are going to continue taking our workshops as we will have two online events per month.
※※※※※※※※※※※※※※※※※※※※※※※※※※※※※※※※※※※※※※※※※※※※※※※※※※※※※※※※
This event will be held online via the Zoom webinar.
Find "Go to online event page" in order confirmation email via Eventbrite for the Zoom link.
The recording of this event is going to be shared with ticket holders within 5 days after the event.
※※※※※※※※※※※※※※※※※※※※※※※※※※※※※※※※※※※※※※※※※※※※※※※※※※※※※※※※※
■ Date
25th July 2020 17:00-20:00 PDT
25th July 2020 20:00-23:00 EDT
26th July 2020 2:00-5:00 CEST
26th July 2020 9:00-12:00 JST
We recommend you to join the webinar room at least 5 minutes prior to the workshop.
We will open the room 30 minutes prior to the event. Please complete testing your computer or device audio before the workshop.
■ Language
English
■ Level
Any skill and knowledge level.
■ Registration fees
You will get access to the live stream and recording of the event.
General live streaming & recording - 2,000 JPY + Service fee
Student live streaming & recording - 1,000 JPY + Service fee
■ How to join the Zoom webinar
Find "Go to online event page" in order confirmation email via Eventbrite for the Zoom link.
You will receive sample files via an Eventbrite email 2 hours prior to the event that day.
Please make sure you can receive an email from eventbrite.com.
■ Timetable (subject to change) time in PDT
16:30 - 17:00 Open
17:00 - 17:10 Introduction
17:10 - 18:00 Workshop
18:00 - 18:10 Break
18:10 - 19:00 Workshop
19:00 - 19:10 Break
19:10 - 20:00 Workshop
20:00 - 20:10 Update from TDSW
20:10 - 20:20 Close
■ Contents (subject to change)
This workshop will cover how to create completely procedural plants using L-system. We start with the basics of L-system SOP by making fractal-like geometric patterns, plants, and trees. Tips and tricks include techniques for generating foliage and flower geometries, animating the growth, using instances for the optimization.
■ About the instructor
Akiko Yamashita | @akikoyamashita3d
Akiko Yamashita is a Japanese artist best known for projection mapping and light installations currently based in Los Angeles. Her artworks explore visual illusions with prism inspired full spectrum of colors. She works as a Technical Director at VTProDesign, a full service creative design studio with a focus on the latest technology and techniques in Los Angeles, California. She is a former professional dancer and has 15 years of experience. She enjoys working with music, fashion, and architecture providing solutions to light up the environment. Her light hallway "Portal" won A'Design Silver Awards. Most recent work 'Hana Fubuki' was exhibited in the Main Gallery at Artechouse DC as a part of In Peaks Bloom.
Website: www.akikoyamashita.com
■ Requirements
A recent computer with the latest official TouchDesigner 099 installed and keyed (more information on installation and licenses here). If your computer is older please inquire if it will be appropriate for the workshop content.
A 2-button mouse with scroll wheel), or 3 button mouse.
Please consult the System Requirements to make sure your computer is capable of running TouchDesigner 099.
Zoom account (register for the free account here)
■ Notes
No refund even if you leave the event earlier.
The closing times may vary depending on how quickly we make progress.
Photos, videos, and/or screenshots will be taken at this event. We will possibly share them via our social media accounts.
If you have any questions please contact us.
■ About the organizer
TDSW | Tokyo Developers Study Weekend is an organization that runs workshops/events aiming to share techniques and knowledge about digital creativity and networking among creators and manages a community with creative people. We have organized more than 50 events and had more than 2000 attendees in total since April 2018. We deliver exciting after-hours and weekends to creative people focusing on visual programming tools such as TouchDesigner.