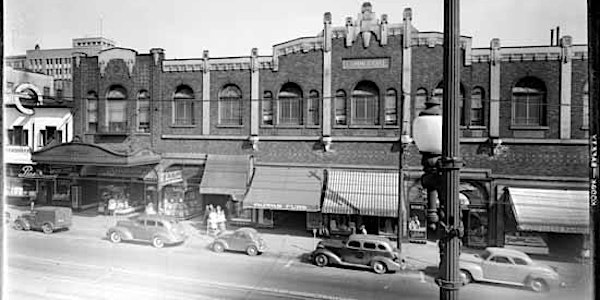 Tour: Downtown Granville & the Historic Commodore Ballroom
When and where
Location
Meet in front of the Commodore at 868 Granville Street Canada
Refund Policy
Contact the organizer to request a refund.
Description
Tour: Downtown Granville & the Historic Commodore Ballroom
The evolution of one of our great main streets and one of the world's great rock venues
Saturday, August 1, 2015; 11am to 1pm
$21; Heritage Vancouver Members $15
Meet at the entrance of The Commodore Ballroom
Join 2015 BC Book Prize winner Aaron Chapman for Live at the Commodore and Senior Downtown Planner Michael Gordon and explore the evolution of Downtown Granville – one of Vancouver's core main streets. Our main streets are at the heart of our communities and Granville has played a key role as an entertainment district and a cultural mecca.
Aaron and Michael will show how Granville and the Commodore has evolved and changed over time as a cultural landscape. They will also touch on Granville Street and its future.
The tour will comprise of two parts:
One focuses on the CPR's role in creating Granville Street to challenge Gastown as the downtown of the city. By the 20's it emerged as a shopping and banking street and challenged Hastings St. as a mecca for entertainment, later turning into theatre row. We will also learn about significance of the street as a unique collection of historic buildings and look at the street's continuing emergence as a renewed commercial street.
The other part is a tour of the Commodore building itself focusing on the history of that section of Granville being a local of how the entertainment industry grew prior to Theatre Row, and to what it is today.
We'll tour the backstage area and stand on the legendary stage as we hear about the 80 plus years of history of the establishment as well as some unique, behind the scenes stories of the venue.
Your expert guides will have an abundance of photos and images to show as part of the tour when we are inside the Commodore along with a question and answer period. Copies of Live at the Commodore by Aaron—winner of the 2015 Bill Duthie Booksellers' Choice Award (BC Book Prizes); Community History Award (BC Historical Federation)—will be available at the event.
This is a fantastic opportunity to meet the author and go on a tour led by two extremely knowledgeable experts on the Commodore and Granville Street.
Cheque payment option:
Made out to Heritage Vancouver Society and mailed to:
1020 Denman St., PO Box 47036 Denman Place, Vancouver, BC V6G 3E1
Please let us know if you've mailed a cheque at: info@heritagevancouver.org
PIBC 2.0 LUs of Organized CPLactivity AIBC 2 Non Core LUs