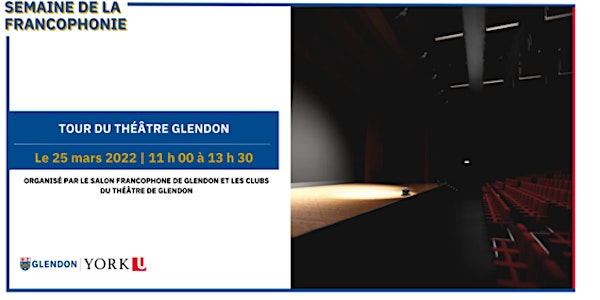 Tour Du Théâtre
A theatre workshop in french. An opportunity to meet Glendon Theatre's clubs and professors. We will also play improv games.
When and where
Location
Glendon Theatre 2275 Bayview Avenue Toronto, ON M4N 3M6 Canada
About this event
Aimeriez-vous découvrir le Théâtre de Glendon? Aimeriez-vous participer à des jeux théâtraux? Aimeriez-vous rencontrer les membres des différents clubs de théâtre et vous familiariser avec les cours d'arts dramatiques de Glendon ?
Si vous répondez OUI à l'une de ces questions, cet événement est fait pour VOUS !
Cet événement est organisé par Violette Daveau, LE SALON FRANCOPHONE, avec la participation des clubs de théâtre (GPA, ALTERI) et des professeurs Gaëlle Vercollier et Guillaume Bernardi.
« LE TOUR DU THÉÂTRE » aura lieu le 25 MARS de 11h à 13h30 au Théâtre Glendon.
Rejoignez-nous!
Would you like to learn more about Glendon Theatre? Are you interested in playing drama and improv games? Would you like to learn more about the theatre clubs and the Drama Studies courses that are offered at Glendon? All of that while practicing your French? Then, this event is for YOU!
This event is organised by Violette Daveau and the FRANCOPHONE SALON. The theatre clubs: GPA, Alteri Productions, and the professors Gaëlle Vercollier and Guillaume Bernardi will participate.
THE THEATRE TOUR will be held at Theatre Glendon, Friday March 25th from 11am to 1:30pm.
See you there!