TOURISM OPERATORS: Create & Manage an Effective Social Media Calendar
Event Information
Location
Kensington Legion
30 Garden Drive
(Old Lions Club Building)
Kensington, PE C0B 1M0
Canada
About this Event
*Please note we are still accepting registrations for this event, but as of end of day Friday, Feb. 7, the one-on-one appointments between 11:30 & 12:30 are now full. New registrants will be placed on a waiting list and provided with an appointment if it should open up. You are still welcome to register for the presentation portion between 9:30 & 11:30 am.
_______________________
A joint project of the Kensington & Area STEP 'Heart of PEI' initiative, the Kensington and Area Chamber of Commerce, and the Central Coastal Tourism Partnership.
This initiative is possible with the support of the Atlantic Canada Opportunities Agency and the Province of PEI.
______________________
This session is in response to a recent survey circulated to Tourism Operators in the Central Coastal Region, which found that many owner/operators were the hands-on people in their businesses managing social media.
This workshop will provide busy tourism operators with tools to effectively manage social media year-round (including in peak season). It may also empower operators to create social media plans that can be delegated to others within their businesses.
If possible, we suggest bringing a laptop to the session. Free wi-fi will be available.
Please note this is a scent-free event.
Storm Date: Friday, February 14, 2020
9am - Doors Open / Coffee & Tea / Networking
9:30am - 11:30am - Monette Pasher of Sea Communications:
Learn how to develop social media content plans, organize and create content, schedule and manage posts.
Get tips and tricks on preparing for peak season months in advance and how to make social work harder for your business ie. what type of content generates results in each season.
Be inspired examples of social media posts that generate engagement (along with ideas on how to create them!), and hear about tourism best practices for social
Gain insight on what's new, what's changed and the best places to spend your valuable time to maximize results.
Learn about recent Facebook algorithm changes as well as ways to boost organic impressions and engagement, improve follower base.
Hear recommendations for paid social media budget; as well as learning the advantages of monitoring and measuring performance on social media; adjusting plan & tactics to generate results.
11:30am - 12:30pm - One-on-one sessions (20 minutes each) between Tourism Operators/Social Media Managers and Local Social Media Advocates. Advocates will review the operator's social media channels, answer questions and provide hands on advice. You will automatically be registered for a one-on-one session (we will confirm your time slot 1-2 days before the event - time slots will be at 11:30 am; 11:50 am and 12:10 pm). Please note that there may be a limited number of one-on-one sessions available - register early!
Thank you to our Social Media Advocates for volunteering their time! They represent the following businesses:
Ashley Green Design | Brianna Henry | The Dunne Group | Maritime Fun Group | Murphy Hospitality Group | The RiverShed | SmardiMarketing | Spring Valley Building Centre | To The T Media | Twin Shores & Darnley Greens
________________________________________________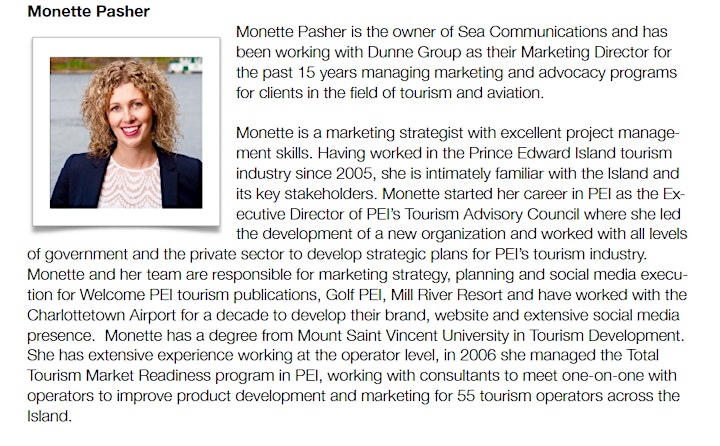 Date and Time
Location
Kensington Legion
30 Garden Drive
(Old Lions Club Building)
Kensington, PE C0B 1M0
Canada
Refund Policy