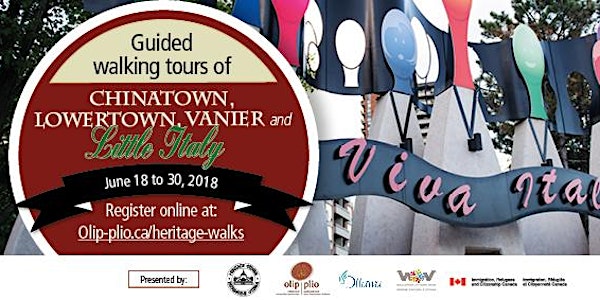 Tournée de la Petite Italie 2 (français) / Little Italy Walk2 (French)
When and where
Location
Centre récréatif Plant 930, rue Somerset ouest Ottawa, ON K1R 6R9 Canada
Description
Tournée de la Petite Italie
Visite guidée avec Luciano Pradal à travers la Petite Italie pour en apprendre plus sur la contribution des communautés immigrantes au quartier, avec son histoire, ses gens et sa culture rayonnante. Les participants feront une promenade le long de la rue Preston, en écoutant comment la communauté italienne et d'autres immigrants se sont installés dans ce coin. Ils en apprendront plus sur des institutions importantes comme le Club de football St Anthony et visiteront des lieux importants.
Little Italy Walk
Guided walk with Luciano Pradal throughout Little Italy to learn about the contribution of immigrant communities to the neighbourhood, along with its history, people and vibrant culture. Participants will take a leisurely stroll down Preston Street, hearing about the Italian community and other immigrants who settled in the area. They learn about important institutions like St. Anthony's Soccer Club and visit many landmarks.

For more info :
http://olip-plio.ca/wow-event/immigrant-heritage-walking-tour-of-little-italy-2/
Philippe Dieudonné
Phone : 819 329-9379
WhatsApp : 613 413-7993
Luciano Pradal : 613 614-9518